This week's eating adventures just go to show how much Chow, Baby has grown — not as a person, but as a Texan. Being a carpetbagger, Chow, Baby used to treat barbecue no differently from steaks, tacos, burgers, pho, and the other major food groups: If it's done right, give me thirds; if not, I'll bellyache to everybody in town. Now, however, the truth is dawning. For a real Texan, there's no such thing as "bad barbecue" — or even mediocre barbecue, as Chow, Baby is reminded every time it bellyaches about Railhead. By definition, barbecue is good. Got it.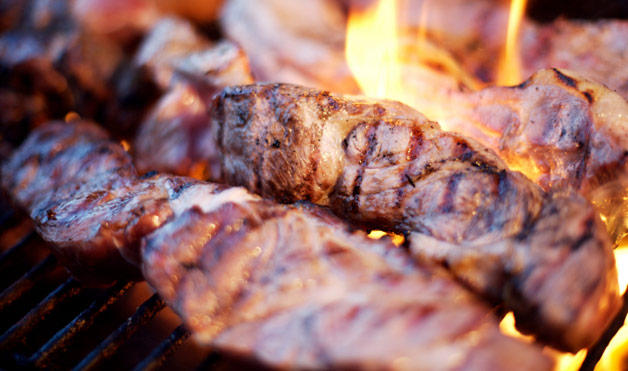 For the new, yee-haw Chow, Baby, the whimsical signage at Cousin's Bar-B-Q (6262 McCart Ave.) raised a smile rather than an eyeroll, and the wall of ancient autographed photos — Miss Fort Worth 1993, a first-term George W. Bush, a tween-age LeAnn Rimes — prompted something akin to pride. The sliced brisket and ribs (two-meat combo plate, $10.99) were of course fantastic, because this is barbecue! Even the old outsider Chow, Baby would have loved the peppery rub (light on the brisket, heavy on the ribs) and great smoky flavor, though it might also have mentioned that it personally prefers its brisket to be fall-apart tender and its ribs to leave a clean bone. But now it understands proper barbecue respect: Boy, that was a good meal!
With all barbecue except Railhead's being good to perfect, the only way to turn a great dining experience into a super-fantastic one is through setting. Like, say, chowing down on 'cue in the tree-shaded patio at Big Barn Bar-B-Que (8021 Main St., North Richland Hills) while finger-snapping to Rick Kelley and the Fort Worth Blues Band. "Boy, this is the life," Chow, Baby repeated so many times it could barely fit in mouthfuls of burnt-edge, fall-off-the-bone ribs and juicy pulled pork (two-meat combo plate, $11.99). What great barbecue this is! No great surprise, as this is the old location of and same smokers as Cotton Belt, a place Chow, Baby liked even though it didn't know it had to.
OK, we got the main part down, but Chow, Baby needs helps with the nuances: Do barbecue side dishes fall under the same criticism-shield as the meats? Chow, Baby can sincerely praise Big Barn's creamy mac (actually penne) & cheese ($1.99), which, as pasta and not meat should be, was nicely al dente; and Cousin's sweet ranch beans ($1.59) with an masterful balance of sweet and smoky. But are Texans allowed to not like the losers? Or maybe we really think that mushy, un-doctored green beans (both places) and bland rice with mere specs of broccoli and mild cheese (Big Barn) are, in fact, fantastic just as they are? Serious question.
And what about desserts — is it OK to say that an iconic barbecue dessert is mediocre? The banana pudding at Big Barn tasted better than it looked (brownish, lumpy) and the one at Cousin's looked better than it tasted (exactly like a fake-banana Now & Later). Both a notch above mediocre (whew), possibly even into good. Is "good" good enough, or would a real Texan call them fantastic? No such semantic worries with cobbler, of course. You don't have to explain this one to Chow, Baby; everybody knows that cobbler (especially Cousin's apple, $2.59) is always, by definition, super-fantastic.
Contact Chow, Baby at chowbaby@fwweekly.com.