Caro's Mexican Restaurant is the beneficiary of some slick new signage near Texas Christian University on Bluebonnet Circle. In fact, a clueless diner could wander in unaware that the place has been serving family recipes for over half a century. If you're the person who goes in and asks, "How long have y'all been here?" owner John Whitten Jr. will pull up a chair and tell you about his family.


Grandmother Modesta Caro started a restaurant in pre-World War II Rio Grande City, down on the Texas-Mexico border. Her recipes evolved a little as her daughter (John's mama) started Caro's in Fort Worth. Whitten's a bit of a character. It's hard to tell if he's curmudgeonly friendly or just ragging on the newbies because, after all, there must be something wrong with you if you don't know his family's restaurant.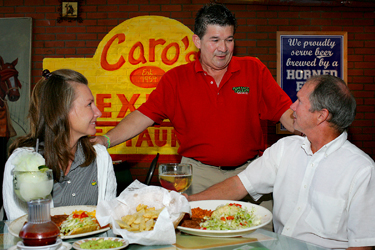 The food at Caro's has been called Tex-Mex, which may be true. Fajitas, nachos, and tostadas share the menu with more classically conceived Mexican items. As in traditional Mexican food, though, corn is king. Caro's is the home of the "puffy tostada." Instead of a basket of plain corn chips, your deliciously zingy, not-too-chunky salsa comes with a masa-heavy batch of poofy fried corn triangles. They're extremely filling and diet-busting delicious, but one has to wonder whether that much corn is necessary. The tostadas come by themselves with the salsa, under the nachos, and stuffed with meat to become "puffy tacos."
Lunch specials, which include enchiladas, puffy tacos, chalupas, and tamales, will run you $8.99 and come with your choice of nachos (a few puffy tostadas covered with cheddar cheese and optional jalapeños) or guacamole, plus a drink. The price is a bit steep for the Bluebonnet Circle end of University Drive. But Whitten will tell you that his restaurant is one of the few in Fort Worth that doesn't use a steam table, microwave, or boxed mixes to create what you're eating. The lunch price is worth it when you factor in the fresh and simple guacamole: just avocado, onion, garlic, and a little lime. No tomatoes. And the dish didn't need added salt.
The chicken puffy tacos were tasty enough, and the refried beans were satisfyingly smooth with just a hint of chunkiness. The lunch-size portion was even a little overgenerous, given the double round of baskets of puffy tostadas delivered while our table waited for lunch. The taco "shells," which were slightly larger puffy tostadas, were the teeniest bit shiny from the frying grease.
The Mexican dinner plate featured an enchilada, a puffy beef taco, and a beef tamale, along with beans and "Spanish rice." And that's where the Tex-Mex train took a little detour into old Mexico. The enchilada was Tex-Mex, mainly by virtue of its topping of cheese –– traditional Mexican cooks don't use yellow cheese. However, the tamale was a heavenly mixture of beef and fresh masa goodness: not spicy and definitely more traditional. The beef puffy taco was as tasty as its chicken cousin, although a little greasier and much heavier.
Perhaps in an effort to compete with other, newer places on Bluebonnet Circle and in the TCU area, Whitten has attempted to make upgrades. The restaurant is now open all day long. There are new daily happy-hour specials and, weirdly, karaoke on Thursdays. Which leaves a diner wondering: Is Caro's a family-friendly restaurant or TCU-area dive bar? It's hard to say.
Caro's Mexican Restaurant
3505 Bluebonnet Cir, FW. 817-817-924-9977.
11am-9pm Sun-Thu, 11am-9:30pm Fri, 11am–9:30pm Sat.
All major credit cards accepted.
Lunch tacos $8.99
Beef or chicken enchiladas $8.89
Mexican dinner $11.49