The mere existence of For Colored Girls is encouraging, though it would be unremarkable if we lived in a better world. African-American actresses have been historically under-represented in movies, so it's nice to have a film built around them. This one is based on Ntozake Shange's seminal 1974 play for colored girls who have considered suicide when the rainbow is enuf, and bringing a good play to the screen is always worthwhile, especially with so few filmmakers these days displaying an interest in theater.


Most encouraging is what it means for director Tyler Perry. With all his success, no one would blame him if he contented himself with playing Madea until he was old enough to actually be her. Here, however, he shows a desire to improve and change as a filmmaker by adapting someone else's work for the first time. Sadly, none of this is enough to make For Colored Girls into a good movie. And yet …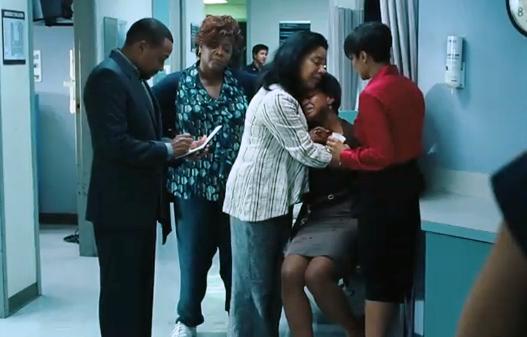 The play is a series of 20 dramatic monologues given by anonymous women. Perry gives these characters names and writes a framework of interlocking stories around them. It works surprisingly well — at the beginning, anyway. A dance student named Nyla (Tessa Thompson) delivers the feverish and joyful monologue titled "graduation nite" about her first sexual experience, a New York apartment dweller (Phylicia Rashad) tells a social worker (Kerry Washington) about the wife-beating ex-soldier (Michael Ealy) who lives next door by reciting part of "an evening with beau willie," and a nurse (Loretta Devine) laments her here-and-gone sometime-boyfriend (Richard Lawson) with "no assistance." These monologues don't seem like set pieces; they flow naturally out of the drama, and they burst with the life and music that Shange gave them.
Alas, Perry turns the material into one of his typical movies, and it's an awkward fit. The stories build toward a murder committed by Beau Willie, which not only takes the emphasis off the female characters but also diminishes the play's tragic force. This is a case when hearing someone tell what happened is much more powerful than actually seeing it unfold. For all his willingness to give roles to black actresses, he doesn't seem to give them much direction. Devine tosses off two of these difficult speeches with breathtaking ease, but otherwise the impressive talents here (including Thandie Newton as a promiscuous neighbor and Whoopi Goldberg as her judgmental mom who's in a religious cult) are left to their own devices.
Worse, Shange's inclusive approach to her characters' stories is overrun by Perry's limited, moralizing view of women. Nyla's sexual encounter forces her to visit a drunken back-alley abortionist (Macy Gray, who nevertheless gives a blood-freezing reading of the speech "i used to be in the world"). Janet Jackson plays a fashion mogul who discovers her husband is on the down-low — chalk up yet another educated, wealthy career-oriented female character whom Perry condemns to a life of misery. Tyler Perry deserves credit for using his clout to bring this important stage work to the big screen, and enough of it remains intact to make it worth a look. It's just too bad that he damaged it so much.