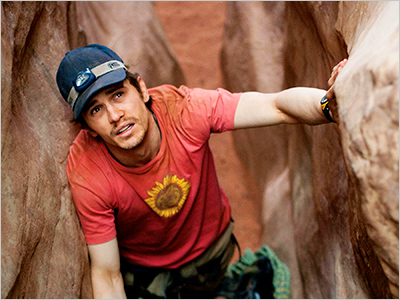 OPENING:
127 Hours (R) Danny Boyle's latest film tells the real story of a hiker (James Franco) who became trapped for five days in a Utah canyon with a rock pinning his right arm. Also with Kate Mara, Amber Tamblyn, Clémence Poésy, Lizzy Caplan, Kate Burton, and Treat Williams. (Opens Friday in Dallas)


Around a Small Mountain (NR) French New Wave giant Jacques Rivette (Celine and Julie Go Boating) directs this comedy about an Italian motorist (Sergio Castellitto) who meets a circus performer (Jane Birkin) when she has car trouble. Also with André Marcon, Jacques Bonnaffé, Julie-Marie Parmentier, Tintin Orsoni, and Hélène de Vallombreuse. (Opens Friday in Dallas)
Cool It (PG) This documentary by Ondi Timoner (Dig!) profiles Danish environmental science professor Bjørn Lomborg and his ideas for reversing global warming. (Opens Friday at AMC Grapevine Mills)
Fair Game (PG-13) Doug Liman's dramatization of the Valerie Plame incident stars Naomi Watts as a CIA spy who is publicly exposed after her husband (Sean Penn) crosses the Bush administration. Also with Ty Burrell, Sam Shepard, Bruce McGill, David Andrews, Noah Emmerich, Michael Kelly, and Brooke Smith. (Opens Friday at AMC Grapevine Mills)
Last Train Home (NR) Fan Lixin's documentary follows two Chinese migrant workers who must travel for two days to reunite with their families after 16 years apart. (Opens Friday in Dallas)
Skyline (PG-13) Special-effects artists Colin and Greg Strouse make their directing debut with this alien invasion film set in L.A., starring Eric Balfour, Scottie Thompson, Brittany Daniel, Crystal Reed, Neil Hopkins, and Donald Faison. (Opens Friday)
Unstoppable (PG-13) Tony Scott directs this thriller based on a real-life incident about a train engineer and conductor (Denzel Washington and Chris Pine) trying to stop a runaway train loaded with hazardous chemicals from crashing in a city. Also with Rosario Dawson, Ethan Suplee, Kevin Dunn, Kevin Corrigan, and T.J. Miller. (Opens Friday)
Conviction (R) Hilary Swank's artistic decline continues in this suffocating, overpraised legal drama. She plays Betty Anne Waters, the real-life Massachusetts high-school dropout who became a lawyer after her brother was wrongly convicted of murder. Tony Goldwyn's direction is not only dull but sloppy — years of life wink by in a matter of minutes, character introductions and flashbacks are handled confusingly, and subplots are forgotten. Did an editor work on this at all? A few of the actors (especially Sam Rockwell as the brother) distinguish themselves, but rectitude and moral outrage seem to be the only thing Swank can do anymore, which is one reason why this movie topples over into simplistic self-righteousness. Also with Minnie Driver, Melissa Leo, Loren Dean, Ari Graynor, Clea DuVall, Peter Gallagher, and Juliette Lewis.
Due Date (R) You've seen all this before. Robert Downey Jr. plays a tightly wound architect who hitches a ride with an aspiring actor (Zach Galifianakis) to get to L.A. in a hurry. The chemistry between the vitriolic Downey and the chaotic Galifianakis can't be faulted, and the latter mines real emotions out of an often ridiculous role. Unfortunately, too many laughs come from improvised throwaway lines rather than the situations, and there are too many in-jokes. After a while, you can only take so much inanity. Also with Michelle Monaghan, Juliette Lewis, Danny McBride, RZA, and Jamie Foxx. — Steve Steward
Easy A (PG-13) Emma Stone's easy aptitude for charm and comedy carries this comedy. She portrays a virginal high-school student who lies to her fellow students about having sex, initially to impress her best friend (Aly Michalka), then to keep her gay friend (Dan Byrd) from being harassed, and finally to change her own wallflower reputation. The high-powered supporting cast is lively, the script goes to some surprising places, and director Will Gluck's comic timing is pretty well on. However, it's the spunky, sparky, sarcastically knowing Stone and her infectious sense of fun that carry this show. Watch for the musical number at a pep rally. Also with Penn Badgley, Patricia Clarkson, Stanley Tucci, Amanda Bynes, Malcolm McDowell, Cam Gigandet, Fred Armisen, Lisa Kudrow, and Thomas Haden Church.
For Colored Girls (PG-13) Tyler Perry adapts Ntozake Shange's trailblazing play for colored girls who have considered suicide when the rainbow is enuf, and it's an awkward fit. He weaves a unifying story around the play's series of dramatic monologues, and it works amazingly well at first, with Tessa Thompson, Phylicia Rashad, and Loretta Devine doing justice to the music of Shange's words. Unfortunately, this movie then turns into a typical Perry film, with indifferent performances by much of this high-powered cast and the director's limited, moralizing view of women clashing with Shange's inclusive approach to her characters' stories. Perry's interest in another artist's material is encouraging, and he deserves credit for bringing this play to the screen. It's too bad that he damaged it so much. Also with Janet Jackson, Thandie Newton, Kerry Washington, Kimberly Elise, Anika Noni Rose, Michael Ealy, Omari Hardwick, Hill Harper, Richard Lawson, Macy Gray, and Whoopi Goldberg.
Hereafter (PG-13) Clint Eastwood's depressing dud of a supernatural drama is so woolly-headed that you're not even sure what the filmmakers were after. Hereafter tells interlocking stories of a bereaved English schoolboy (Frankie and George McLaren), a Frenchwoman who survives a near-death experience (Cécile de France), and an American psychic (Matt Damon) whose gift for communicating with the dead has taken too great a toll on his own psyche. The opening sequence with a tsunami laying waste to a tropical resort is technically impressive and fiercely rhetorical, but the director has no flair for the supernatural. Huge chunks of the movie don't work, and the romantic tableau that ends the film comes completely out of nowhere. All this movie leaves us with is an unconvincing assertion that things work out for the best. Also with Bryce Dallas Howard, Jay Mohr, Richard Kind, Thierry Neuvic, Marthe Keller, Steven Schirripa, and Derek Jacobi.
---
It's Kind of a Funny Story (PG-13) Zach Galifianakis gives a layered, subtle performance in this overly facile mental illness dramedy. Keir Gilchrist stars as a depressed teenager who spends five days in the psych ward of a Brooklyn hospital. Writer-directors Anna Boden and Ryan Fleck (
Half Nelson
) make their bid for mainstream recognition with this uncharacteristically light and conventional film, and unfortunately they wind up trivializing mental illness. Nobody in the ward seems that sick; they're just sitcom characters hovering in the background and saying crazy things. As a suicidal patient, Galifianakis alone suggests the intractability of his condition while still retaining the ability to laugh at it. If only the rest of the movie had found the same balance. Also with Emma Roberts, Lauren Graham, Jim Gaffigan, Zoë Kravitz, Jeremy Davies, Lou Myers, Bernard White, Daniel London, and Viola Davis.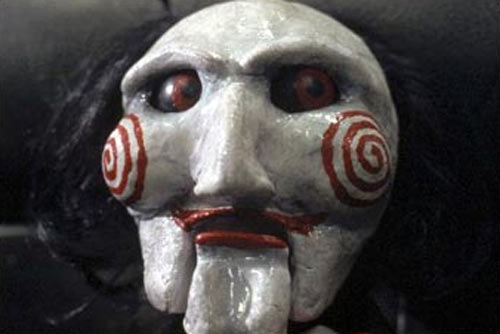 Jackass 3-D (R) Story? Character development? Artistic ambitions? Who cares! This movie has grown men running through hallways filled with tasers! Johnny Knoxville and the boys reunite for another round of cinematic self-punishment, marking Jackass' 10th anniversary. You probably already know if you want to see this or not, so let's say it's not quite as hilarious as previous versions. Viewers, though, will be smiling and laughing consistently, and the gang's good humor gives the movie a fun, positive attitude. Highlights include "Beehive Tetherball" and "Sweat Cocktail," as well as a special introduction from MTV's most infamous animated duo. –– Cole Williams
Life As We Know It (PG-13) Pure crap. Josh Duhamel and Katherine Heigl portray two single professionals who don't like each other but are forced to take care of a baby girl after her parents — friends of theirs — are killed. This is too long, too busy, and too predictable to even qualify as flawed fun. Director Greg Berlanti doesn't know how to shift between moods, and the two protagonists demonstrate a lack of feeding and diapering skills that borders on criminal neglect. Somehow this all takes place in an improbably beautiful house. It doesn't help. Also with Josh Lucas, Sarah Burns, Chanta Rivers, Melissa McCarthy, DeRay Davis, Will Sasso, Majandra Delfino, Hayes MacArthur, and Christina Hendricks. — Jimmy Fowler
Paranormal Activity 2 (R) The sequel has a different director and a much larger budget, but it sticks to the aesthetic of the original as it tells the story of a suburban couple (Brian Boland and Sprague Grayden) with a toddler son and a teenage daughter (Molly Ephraim) who set up a network of cameras in their house to document a series of sinister supernatural incidents. There's an insultingly stereotyped housekeeper (Vivis), and the film inevitably doesn't have the novelty value of the original. The approach to horror, though, is still refreshing. You'll frequently find yourself staring at the background of the frame, looking for things moving by themselves. Also with Micah Sloat and Katie Featherston.
Red (PG-13) This light and airy confection stars Bruce Willis as a retired CIA black-ops guy who's forced to band together with some of his fellow retirees — and a cubicle drone who gets caught up in the action (Mary-Louise Parker) — when they suddenly become the agency's targets. Robert Schwentke needed to direct the often physically impossible hijinks in a more cartoonlike style, but he still gives the movie the proper light tone and finds the comedy in these happy warriors put out to pasture. The movie's full of incidental pleasures, too (like the badassedness of Helen Mirren as she sprays a security detail with submachine gun fire) that make it fun to have around. Also with Morgan Freeman, John Malkovich, Karl Urban, Brian Cox, Rebecca Pidgeon, Julian McMahon, Richard Dreyfuss, and Ernest Borgnine.
Saw 3D (R) Supposedly this is the last installment, though you can't tell at all. Other than the 3-D effects (which are bad, to no one's surprise), there's no difference between this film and any of the others. The acting is still horrible. The photography is still so murky that you can barely see anything. Jigsaw (Tobin Bell) is still a tiresome bore. His traps are still bloody, and they long ago got so baroque as to stop making sense. Even the reintroduction of Cary Elwes (who starred in the very first Saw film nine years ago) doesn't accomplish anything. This series needs to die. Also with Costas Mandylor, Sean Patrick Flanery, Betsy Russell, Gina Holden, and Ned Bellamy.
Secretariat (PG) Diane Lane stars in this Disneyfied sports flick as Penny Chenery Tweedy, the Denver housewife who saved her father's horse-breeding farm from financial ruin when her horse won the 1973 Triple Crown. Randall Wallace directs this film in the studio's foursquare house style. John Malkovich steals a few laughs as Secretariat's flamboyant French-Canadian trainer, but the movie would be instantly forgettable if it weren't for Penny's speeches about how a woman can do anything. These bursts of female-empowerment rhetoric are unconvincing and hectoring, and it doesn't help that Lane is off her game here. Spend your money betting on the horses instead of this movie. Also with Dylan Walsh, Scott Glenn, James Cromwell, Dylan Baker, Kevin Connolly, Margo Martindale, Amanda Michalka, Nelsan Ellis, Otto Thorwarth, and Fred Dalton Thompson.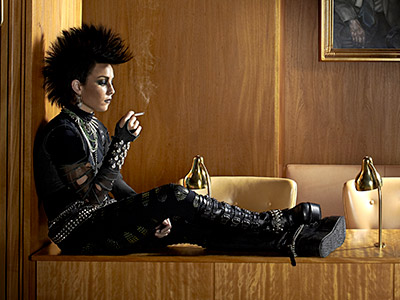 The Social Network (PG-13) David Fincher's ridiculously entertaining account of the birth of Facebook stars Jesse Eisenberg as co-founder Mark Zuckerberg. Eisenberg is a marvel, drawing a portrait of a lethally smart troll fueled entirely by resentment. No less impressive are Andrew Garfield as his Harvard pal and Justin Timberlake as a smooth-talking interloper who battle each other for influence over Zuckerberg. Veteran screenwriter Aaron Sorkin packs this movie with funny, quotable lines, and Fincher edits the thing for the right combination of smoothness, energy, and pace. There aren't any thunderbolts of enlightenment about Facebook or the nature of success, but this old-fashioned piece of fun hits all the right notes. Also with Armie Hammer, Max Minghella, Rooney Mara, Josh Pence, Joseph Mazzello, Brenda Song, Wallace Langham, Douglas Urbanski, and Rashida Jones.
The Town (R) Ben Affleck might be a major filmmaker-in-waiting. He directs, co-writes, and stars in this crime thriller as the brains behind a gang of Boston bank robbers who tries to get out after falling for a bank manager (Rebecca Hall) who was taken hostage on a previous job. Adapted from Chuck Hogan's novel Prince of Thieves, this taut, streamlined film improves on its source considerably. The role calls for Affleck to project self-loathing and disappointment, which he does quite well. He skillfully incorporates comic relief into the script and pays as much attention to character development and his fellow actors' performances as he does to the action set pieces, which he directs with flair and assurance. This is Michael Mann territory, and Affleck looks completely at home in it. Also with Jon Hamm, Jeremy Renner, Blake Lively, Slaine, Owen Burke, Titus Welliver, Pete Postlethwaite, and Chris Cooper.
DALLAS EXCLUSIVES:
The Girl Who Kicked the Hornet's Nest (R) The last installment of the Millennium trilogy stars Noomi Rapace as a private investigator who must prove her innocence in a triple homicide while immobilized in a hospital bed. Also with Michael Nyqvist, Lena Endre, Annika Hallin, Jacob Eriksson, Sofia Ledarp, Anders Ahlbom, and Georgi Staykov.
Monsters (R) Partially filmed in North Texas, Gareth Edwards' science-fiction film stars Scoot McNairy as a journalist who agrees to escort a tourist (Whitney Able) to a safe zone through an area of Mexico infected by alien creatures.
Stone (R) Edward Norton stars in this thriller as an arsonist who tries to use his wife (Milla Jovovich) to secure early release from a parole officer (Robert De Niro). Also with Frances Conroy, Enver Gjokaj, Pepper Binkley, and Rachel Loiselle.
Tamara Drewe (R) Stephen Frears' adaptation of Posy Simmonds' satirical graphic novel stars Gemma Arterton as a London gossip columnist whose return to her country home causes havoc at a nearby writers' retreat. Also with Roger Allam, Dominic Cooper, Tamsin Greig, Bill Camp, Luke Evans, and Jessica Barden.