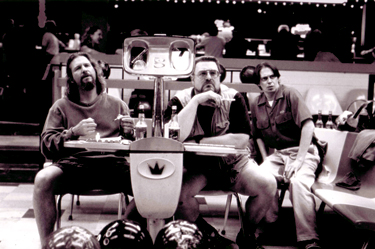 WED ? 10
The fourth Lone Star International Film Festival plays at the AMC Palace and other locations. This year's highlights include Mike Leigh's Another Year, Jeff Malmberg's Marwencol (a documentary about a brain-damaged man who's built a huge diorama of dolls and toys), and tributes to Jeff Bridges and Fort Worthian T-Bone Burnett. The festival runs Wed-Sun at various locations, FW. Individual tickets are $8-10. Passes are $79-395. Call 817-924-6000.
THU ▪ 11
The Lone Star Film Festival won't be the only place to see filmmakers this week. Spike Lee will be putting in an appearance at UNT to discuss his work so far, including If God Is Willing and Da Creek Don't Rise, his follow-up documentary to When the Levees Broke. The event is at 8pm at Winspear Hall, I-35E & Av D, Denton. Tickets are $15-30. Call 940-369-7802.
FRI ▪ 12
Samuel Barber fans have no doubt been looking forward to this week. TCU is performing his music on Monday, but you can also hear proof of his talent at Texas Dance Theatre's fall mixed repertoire program, which will feature premieres of pieces by Bruce Wood, Emily Hunter, and Wil McKnight. The evening will also feature music by Philip Glass and Cole Porter. The recitals are 8pm Fri-Sat at Scott Theatre, 1300 Gendy St, FW. Tickets are $25. Call 817-676-1514.
SAT ▪ 13
The sport of boxing has been having a rough time of it lately, but one of its few bright spots has been the charismatic Filipino middleweight (and member of Congress in his native country) Manny Pacquiao. Tonight he'll be defending his title against the larger Antonio Margarito. The opening bell of Pacquiao vs. Margarito is at 8pm at Cowboys Stadium, 1 Legends Way, Arlington. Tickets are $215.61-729.11. Call 800-745-3000.
SUN ▪ 14
There'll be a special shine around the Fort Worth Greek Festival this year. St. Demetrios Greek Orthodox Church is celebrating the 100th anniversary of its founding this month. That should give some extra flavor to the souvlaki and baklava and also extra zip to the festivities. The festival runs Fri-Sun at 2020 NW 21st St, FW. Admission is free. Call 817-626-5578.
MON ▪ 15
It's mostly about French music with the Spectrum Chamber Music Ensemble tonight. It's true that the group starts off with Bach's Oboe Quartet, but after that things go Gallic, with Debussy's fizzy String Quartet and César Franck's Violin Sonata. (The Franck Sonata is referred to by some classical music fans as "the Frank Sinatra.") The concert is at 7:30pm at First Jefferson Unitarian Universalist Church, 1959 Sandy Ln, FW. Donations of $5-10 are accepted. Call 817-377-0688.
TUE ▪ 16
The pianist Vladimir Feltsman burst onto the scene in the late 1980s by defecting to the United States from what was then the Soviet Union. Since then, his musical approach has gone from poet-intellectual to traditional Russian romantic to period-instrument specialist. Which Feltsman will show up tonight at Bass Hall to play Mozart, Schubert, and Chopin? The recital starts at 7:30pm at 555 Commerce St, FW. Tickets are $15-90. Call 800-462-7979.