Joe and the Sonic Dirt from Madagascar is the nom de guerre of keyboardist Matt Hickey (Hentai Improvising Orchestra), who's quite prolific. He's just released his third album this year. And Then … could be described as symphonic New Age. Most of the tunes just float on by: lots of sweeping, meditative sonicscapes, though occasionally a pure pop melody will surface and take hold. Think: Kraftwerk but catchier. And spacier. Overall, the album is very Klaus Schulze-y. In a good way. And Then … is available for free download at http://jatsdfm.bandcamp.com/album/and-then.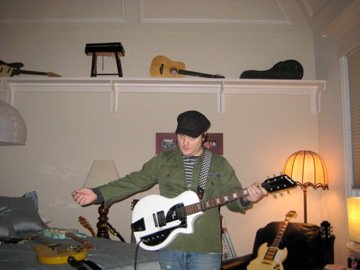 Singer-songwriter and all-around bon vivant Joshua Loewen has started a new band, the Kinks-influenced Apache 5. Though the lineup is revolving, permanent members are drummer Austin Green (Telegraph Canyon), bassist Kyle Barnhill (the cut*off), and guitarist Woodrow Morgan. Do a search for Apache 5's Facebook page to listen to the band's new song "Shiver & Shake," a concise blast of semi-rockabilly/early-Beatles pop with three-part harmonies. The band's debut show is Sunday at The Double Wide (3510 Commerce St., Dallas, 214-887-6510), opening for Leopold & His Fiction.
Weekleteer happy-hour spot The Wild Rooster (3204 Camp Bowie Blvd., 817-332-WILD) has a new manager who's all about filling the Rooster stage with top-notch talent. Nearby Lola's Saloon and The Grotto shouldn't be worried (yet), but don't be surprised to see the random Lola's- or Grotto-style musician playing the Rooster. On Thursday, the Rooster welcomes KatsüK, one of Fort Worth's premier alt-indie bands and no stranger to either Lola's or The Grotto. Lola's regular Scott Copeland plays the Rooster on Sat., Nov. 27. On Fri., Nov. 19, big-time outlaw artist Lucky Tubb will perform; openers will be Chris Zalez and the Pistoleros. For New Year's Eve, the Rooster will get Wayne "The Train" Hancock, with The Dan Family and Whiskey Dick. (Tickets are $10 in advance, $15 at the door.)
The subject of a Weekly cover story a couple of years ago, Fort Worth rapper Six 2 is back. A couple of months ago, he released a new single, "Monsta," that's crazy hooky and features Yung Lott, The GS Boyz (of "Stanky Legg" fame), and Faddy Daddy. (Snoop Dogg, yes, the Snoop Dogg, gives Six 2 a shout-out at the beginning of the "Monsta" video). Six 2's latest album, Concrete Evidence, features contributions from some of the biggest names in the rap industry, including Snoop, Dr. Dre, and Timbaland.
"We want to create good feelings and good times." That's what Hanna Barbarians' frontman Blake Parish recently told us ("Hanna Barbarians Feel Good," Nov. 3). To see if he's lying, catch them Saturday at The Grotto (517 University Dr., Cultural District, 817-882-9331), with two other up-and-coming Fort Worth outfits: Automorrow and Secret Ghost Champion.
Win two tickets for Friday's show by Calhoun, The O's, and The Orbans at the Kessler Theater (1230 W. Davis St., Dallas, 214-272-8346). Just e-mail the name that appears on your driver's license to associate editor Anthony Mariani at anthony.mariani@fwweekly.com. Put "Calhoun" in the subject line. The fifth e-mailer will win the tickets. You'll need your ID to pick them up at will call.
Contact HearSay at hearsay@fwweekly.com.