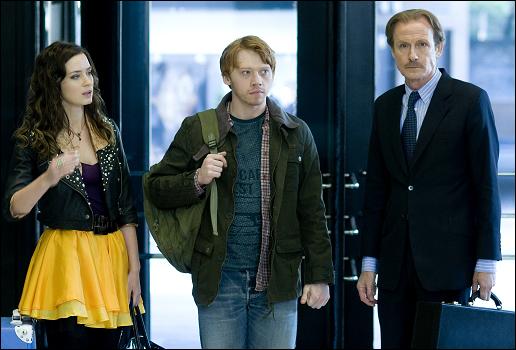 OPENING:
Wild Target (PG-13) Bill Nighy stars as a British hit man who falls under the spell of a woman (Emily Blunt) who's supposed to be his target. Also with Rupert Grint, Rupert Everett, Eileen Atkins, and Martin Freeman. (Opens Friday in Dallas)


Boxing Gym (NR) Frederick Wiseman's documentary about a boxing gym in Austin. (Opens Friday in Dallas)
Today's Special (NR) Aasif Mandvi co-writes and stars in this comedy as a Manhattan chef who rediscovers his passion for cooking Indian food. Also with Dean Winters, Kevin Corrigan, Jess Weixler, Ajay Naidu, Kevin Breznahan, Kumar Pallana, and Naseeruddin Shah. (Opens Friday in Dallas)
Cool It (PG) This documentary by Ondi Timoner (Dig!) profiles Danish environmental science professor Bjørn Lomborg and his ideas for reversing global warming.
Due Date (R) You've seen all this before. Robert Downey Jr. plays a tightly wound architect who hitches a ride with an aspiring actor (Zach Galifianakis) to get to L.A. in a hurry. The chemistry between the vitriolic Downey and the chaotic Galifianakis can't be faulted, and the latter mines real emotions out of an often ridiculous role. Unfortunately, too many laughs come from improvised throwaway lines rather than the situations, and there are too many in-jokes. After a while, you can only take so much inanity. Also with Michelle Monaghan, Juliette Lewis, Danny McBride, RZA, and Jamie Foxx. — Steve Steward
Fair Game (PG-13) Doug Liman's second film this year (after Green Zone) about the war on terror is this dramatization of the Valerie Plame incident, starring Naomi Watts as the CIA undercover agent who's exposed in 2003 when her husband (Sean Penn) questions the Bush Administration's evidence for going to war in Iraq. The movie isn't a spy thriller so much as it is a portrait of a marriage under strain, as Plame tries to silently ride out the controversy while her husband urges her to speak up in her own defense. This intelligent, well-acted film rehashes some enraging facts and builds to a rousing conclusion. Also with Noah Emmerich, Michael Kelly, Ty Burrell, Brooke Smith, Bruce McGill, David Andrews, and Sam Shepard.
For Colored Girls (PG-13) Tyler Perry adapts Ntozake Shange's trailblazing play for colored girls who have considered suicide when the rainbow is enuf, and it's an awkward fit. He weaves a unifying story around the play's series of dramatic monologues, and it works amazingly well at first, with Tessa Thompson, Phylicia Rashad, and Loretta Devine doing justice to the music of Shange's words. Unfortunately, this movie then turns into a typical Perry film, with indifferent performances by much of this high-powered cast and the director's limited, moralizing view of women clashing with Shange's inclusive approach to her characters' stories. Perry's interest in another artist's material is encouraging, and he deserves credit for bringing this play to the screen. It's too bad that he damaged it so much. Also with Janet Jackson, Thandie Newton, Kerry Washington, Kimberly Elise, Anika Noni Rose, Michael Ealy, Omari Hardwick, Hill Harper, Richard Lawson, Macy Gray, and Whoopi Goldberg.
Jackass 3-D (R) Story? Character development? Artistic ambitions? Who cares! This movie has grown men running through hallways filled with tasers! Johnny Knoxville and the boys reunite for another round of cinematic self-punishment, marking Jackass' 10th anniversary. You probably already know if you want to see this or not, so let's say it's not quite as hilarious as previous versions. Viewers, though, will be smiling and laughing consistently, and the gang's good humor gives the movie a fun, positive attitude. Highlights include "Beehive Tetherball" and "Sweat Cocktail," as well as a special introduction from MTV's most infamous animated duo. –– Cole Williams
Life As We Know It (PG-13) Pure crap. Josh Duhamel and Katherine Heigl portray two single professionals who don't like each other but are forced to take care of a baby girl after her parents — friends of theirs — are killed. This is too long, too busy, and too predictable to even qualify as flawed fun. Director Greg Berlanti doesn't know how to shift between moods, and the two protagonists demonstrate a lack of feeding and diapering skills that borders on criminal neglect. Somehow this all takes place in an improbably beautiful house. It doesn't help. Also with Josh Lucas, Sarah Burns, Chanta Rivers, Melissa McCarthy, DeRay Davis, Will Sasso, Majandra Delfino, Hayes MacArthur, and Christina Hendricks. — Jimmy Fowler
Morning Glory (PG-13) A great deal of talent comes to very little in this overacted comedy about a morning TV news/talk show's new executive producer (Rachel McAdams) who engages in a professional tug-of-war with her newly hired co-anchor (Harrison Ford), a legendary newsman with a giant stick up his ass. The focus gives short shrift to both Diane Keaton (as a bickering co-anchor) and to a romantic subplot involving an evening news producer (Patrick Wilson). Director Roger Michell looks uncomfortable with the demands of light entertainment, McAdams makes her character's upbeat professionalism look borderline crazed, and the movie isn't funny. Like its heroine, this movie tries way too hard to please. Also with Jeff Goldblum, John Pankow, Matt Malloy, and Ty Burrell.
Paranormal Activity 2 (R) The sequel has a different director and a much larger budget, but it sticks to the aesthetic of the original as it tells the story of a suburban couple (Brian Boland and Sprague Grayden) with a toddler son and a teenage daughter (Molly Ephraim) who set up a network of cameras in their house to document a series of sinister supernatural incidents. There's an insultingly stereotyped housekeeper (Vivis), and the film inevitably doesn't have the novelty value of the original. The approach to horror, though, is still refreshing. You'll frequently find yourself staring at the background of the frame, looking for things moving by themselves. Also with Micah Sloat and Katie Featherston.
---
Red (PG-13) This light and airy confection stars Bruce Willis as a retired CIA black-ops guy who's forced to band together with some of his fellow retirees — and a cubicle drone who gets caught up in the action (Mary-Louise Parker) — when they suddenly become the agency's targets. Robert Schwentke needed to direct the often physically impossible hijinks in a more cartoonlike style, but he still gives the movie the proper light tone and finds the comedy in these happy warriors put out to pasture. The movie's full of incidental pleasures, too (like the badassedness of Helen Mirren as she sprays a security detail with submachine gun fire) that make it fun to have around. Also with Morgan Freeman, John Malkovich, Karl Urban, Brian Cox, Rebecca Pidgeon, Julian McMahon, Richard Dreyfuss, and Ernest Borgnine.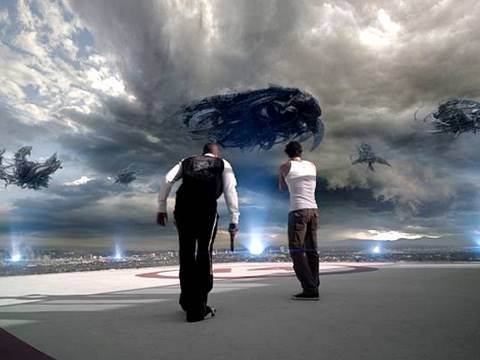 Saw 3D (R) Supposedly this is the last installment, though you can't tell at all. Other than the 3-D effects (which are bad, to no one's surprise), there's no difference between this film and any of the others. The acting is still horrible. The photography is still so murky that you can barely see anything. Jigsaw (Tobin Bell) is still a tiresome bore. His traps are still bloody, and they long ago got so baroque as to stop making sense. Even the reintroduction of Cary Elwes (who starred in the very first Saw film nine years ago) doesn't accomplish anything. This series needs to die. Also with Costas Mandylor, Sean Patrick Flanery, Betsy Russell, Gina Holden, and Ned Bellamy.
Secretariat (PG) Diane Lane stars in this Disneyfied sports flick as Penny Chenery Tweedy, the Denver housewife who saved her father's horse-breeding farm from financial ruin when her horse won the 1973 Triple Crown. Randall Wallace directs this film in the studio's foursquare house style. John Malkovich steals a few laughs as Secretariat's flamboyant French-Canadian trainer, but the movie would be instantly forgettable if it weren't for Penny's speeches about how a woman can do anything. These bursts of female-empowerment rhetoric are unconvincing and hectoring, and it doesn't help that Lane is off her game here. Spend your money betting on the horses instead of this movie. Also with Dylan Walsh, Scott Glenn, James Cromwell, Dylan Baker, Kevin Connolly, Margo Martindale, Amanda Michalka, Nelsan Ellis, Otto Thorwarth, and Fred Dalton Thompson.
Skyline (PG-13) While Jarrod (Eric Balfour) and Elaine (Scottie Thompson) visit Jarrod's best friend Terry (Donald Faison) in L.A., bright blue lights descend from the sky, heralding an invasion of brain-sucking, human-abducting aliens. Maybe since directors Colin and Greg Strause's last movie was the franchise-killing Aliens vs. Predator: Requiem, expectations were low. But this is a fun little B-movie. The directors do a lot with the one-apartment-building location, keeping things tense and moving along, and they get every dollar's worth of impressive special effects out of a minuscule $10 million budget. The intimate POV of an alien invasion has been done better in Signs and War of the Worlds, and plot holes abound, but for folks wanting an alien fix, this isn't a bad way to go. Also with David Zayas. –– C.W.
Unstoppable (PG-13) After a cargo train is accidentally let loose down the tracks with no one at the controls, veteran engineer Frank Barnes (Denzel Washington) and rookie conductor Will Colson (Chris Pine) set out to stop it. Based incredibly loosely on the "Crazy Eights" incident in Ohio in 2001, the story has been Hollywood-ed up with greedy corporate execs and melodramatic subplots, and it feels like Washington and Pine play second fiddle to the runaway train until the last third of the movie. Still, they have enough chemistry to be entertaining, and Tony Scott's frenetic directing keeps the movie tense and fast paced. It's pretty formulaic Hollywood stuff but still fun thanks to the energetic directing and decent lead performances. It's also a must-see for train watchers. Also with Rosario Dawson. –– C.W.
DALLAS EXCLUSIVES:
Around a Small Mountain (NR) French New Wave giant Jacques Rivette (Celine and Julie Go Boating) directs this comedy about an Italian motorist (Sergio Castellitto) who meets a circus performer (Jane Birkin) when she has car trouble. Also with André Marcon, Jacques Bonnaffé, Julie-Marie Parmentier, Tintin Orsoni, and Hélène de Vallombreuse.
The Girl Who Kicked the Hornet's Nest (R) The last installment of the Millennium trilogy stars Noomi Rapace as a private investigator who must prove her innocence in a triple homicide while immobilized in a hospital bed. Also with Michael Nyqvist, Lena Endre, Annika Hallin, Jacob Eriksson, Sofia Ledarp, Anders Ahlbom, and Georgi Staykov.
127 Hours (R) Danny Boyle's latest film tells the real story of a hiker (James Franco) who became trapped for five days in a Utah canyon with a rock pinning his right arm. Also with Kate Mara, Amber Tamblyn, Clémence Poésy, Lizzy Caplan, Kate Burton, and Treat Williams.
Stone (R) Edward Norton stars in this thriller as an arsonist who tries to use his wife (Milla Jovovich) to secure early release from a parole officer (Robert De Niro). Also with Frances Conroy, Enver Gjokaj, Pepper Binkley, and Rachel Loiselle.