As often as it has been emulated, the spirit of classic rock has rarely been truly reproduced. Igneous Grimm, a Cleburne-based psychedelic roots-rock quintet, harkens back to the Moody Blues, Pink Floyd (especially Obscured by Clouds), and Moby Grape in their heydays. "We're still in 1972," said Igneous Grimm guitarist Ryan Elmore, who's pretty much renounced modern society.


He lives in a trailer house that he calls The Estate of the Art with his cousin and synth player Cade Campbell and bassist Zach Stevens. The only modern electronics inside The Estate of the Art are the guitar pedals and recording equipment used to do The Man Outside, Igneous Grimm's assured full-length debut. If someone wants to watch TV, use the internet, or send a text message, he's plain out of luck.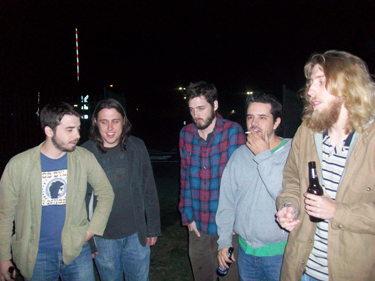 The band is a sort of a response to the members' Christian fundamentalist upbringings. The guys now live mostly unfettered lives. At The Estate of the Art, for now, Stevens brings home the paycheck; Elmore and Campbell spend their days discussing ideas, playing music, and drawing; and all three share duties around the house. Another band member, Ryan's cousin Jody Elmore, who plays guitar, said he would live with them if he didn't have a family to support. Drummer Ben Hance, who doubles as frontman for Secret Ghost Champion, lives with a family member and plays music for a living.
Music has always been a part of the guys' lives. Ryan's dad was a professional fiddle player, and Jody's was a traveling Western Swing musician. The fathers passed the craft on to their sons. Bassist Stevens grew up playing fiddle in Bowie, Texas or, as he calls it, "The Bible Belt Buckle." The music's swing feel and finger-style guitar picking stand out in songs like "Taste of Sin," in which the band mixes a roots-revival style of music with reverb.
Ryan, who does much of the singing and writing, claims he is "detached from physical reality" and "born in the wrong time." The album's opener, a slow builder that he wrote called "I Stand Idly By," is about his choice to live as an observer while people work like ants around him. While others contemplate annoying commutes or dinner choices, Ryan prefers to think about the ephemeral nature of his existence. He reads things like the 1908 philosophy treatise The Kybalion to try to give meaning to his reality, but he has yet to find a system of thought that he can embrace. The last thing he wants to do with his music is preach to others. "The lyrics are designed to be open-ended," he said. "They apply to different people's lives in different ways."
The lyrics touch on archetypes. "There's no forgiveness for your sins," Ryan sings on "In the Garden." "When you've got venom on your skin / It won't wash away." The words call up one idea only to give way to images of an entirely different nature. The Man Outside favorably compares to an acid trip or the experience of zoning out and staring at the sky as clouds pass by. The album is simultaneously that pretty and that empty. Rarely is an album also a meditative journey, which is what sets The Man Outside apart from most other contemporary music.
Jody, who alternates singing duties with his cousin, said many of the songs on the record, including the memorable "Mr. Serpentine," "wrote themselves." The running joke in the band is that Igneous Grimm pens the tunes for the guys to play –– Igneous, for the record, is either a fictional character or a hobo in Cleburne. Details are sketchy.
The Man Outside is just as nebulous a concept. "It's the thing that speaks to you from beyond," Ryan said, and he doesn't feel the need to define it further. He and his bandmates don't waste time trying to make sense of it all when time is such a precious thing. "We know how time robs you of everything," Stevens said. "We can't have anything without time destroying it."
Instead of warding off the inevitable by working hard and amassing things, Igneous Grimm creates music, which makes the most sense to the guys in the band. They want people to listen for free and take what they want from the tunes. The album will be streaming eternally for free at soundcloud.com/igneous-grimm. Sadly, no upcoming shows are planned.