Saljo's Pizza sits in what used to be Tony's Restaurant, an Italian eatery that held up this corner of a strip mall in Pantego for more than a decade. Sal Kolic, who was born in Montenegro, across the Adriatic Sea from Italy, worked for Tony from 1996 until Tony retired and closed his restaurant earlier this year. Kolic took over, changing the name but retaining a lot of the staff and a lot of the menu. "Sometimes people like change, and sometimes they don't," Kolic said. "For now, we thought we better stick with what people like."


While you ponder what's for dinner, you'll get a basket of baguette-style bread, which is delightfully soft in the center and crusty enough on the outside to leave a trail of crumbs down your front. Saljo's menu is divided into seafood, pasta, and "signature" (classic Italian) options, along with sandwiches (including hamburger), wraps, pizza, and salads. The server recommended the chicken piccata over the chicken marsala, and we weren't disappointed. The huge chicken breast wasn't pounded flat and came lightly breaded and smothered in the traditional white-wine-and-lemon sauce. Unusually, the dish also featured finely sliced sautéed mushrooms to augment the giant, tart capers.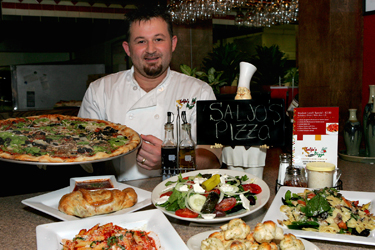 The pasta dishes all sounded good: manicotti, cannelloni, stuffed shells –– which to choose? The combo plate featured the manicotti, stuffed shells, cannelloni, and eggplant parmesan, all covered in marinara sauce and blanketed with gooey mozzarella cheese. With the exception of the eggplant, it was hard to tell most of the items apart, from the outside. That was fine –– everything tasted good, especially the eggplant. It's tricky business, getting the delicate crust to stick to eggplant, which tends to be mushy. The chef did a good job, and the eggplant parmesan came out perfectly al dente, not soggy and not over-baked. The filling in the stuffed shells and manicotti was a nice blend of ricotta and mozzarella cheeses, with just a little touch of some Italian spice. The marinara sauce was a bit on the sweet side: heavy on the basil, light on the savory spices, which was pleasant. The only complaint was that there wasn't enough sauce. When the stuffed pasta was consumed and all that was left was the plain ziti, we wanted a little more sauce.
The picky eater at the table ordered the child's plate of spaghetti, which came with one golf-ball-sized meatball. The meatball turned out to be the highlight of the plate. Light and fluffy, not too spicy, the little poofy ball of beef inspired a fit of paroxysmal joy in the picky eater, and she pleaded for more. Our amused server obligingly brought out another.
None of the desserts on the menu was homemade, but we tried the cappuccino chocolate cake on the server's recommendation. It was a generous serving of chocolate ganache, a cappuccino-creamy middle layer, and chocolate cake, but it wasn't particularly fabulous.
The food at Saljo's is good and plentiful, and the service is excellent. Every table has a designated server, but if a staffer is running out iced tea and notices that a glass at another table is empty, he'll fill it. This is a restaurant where the regulars are likely to bus their favorite table if it's not clean. The server takes a seat in a chair or booth and chats while taking your order. And occasionally when customers recognize that their food is up in the window, they may just go get it. This casual approach to service doesn't always work out so well –– we'd ordered an appetizer that never showed up, to the dismay of our server, who thought that one of her co-workers had brought it out. Maybe someone else enjoyed the fried calamari. But the entrée portions were so generous (providing a lot of leftovers) that the appetizer would have left us with not nearly enough room. Although we didn't order one, we saw a huge Sicilian-style pizza on a nearby table. The square monster was too big to comfortably fit on one table. Servers brought out stands, like the ones in hotel rooms that hold your suitcase, to handle the bounty.
If you don't want pasta or pizza, you can have steak, salad, or a burger. "We try to make something for everyone," Kolic said. "If you have dinner with the family, and someone wants a burger, you don't have to go [across the street] to Braum's."
Saljo's Pizza
2229-D W Park Row, Pantego. 817-460-6083.
10am-8:30pm Sun, 10am-9:30pm Mon-Thu, 10am-10pm Fri-Sat.
All major credit cards accepted.