For many Fort Worth theatergoers, SceneShop's annual holiday show A Fifth of Christmas at Arts Fifth Avenue is the must-attend event of the season. This collection of comic and dramatic sketches, monologues, and musical interludes has two very specific goals in mind: to cut through the avalanche of prefab glad tidings and oppressive good cheer and to remind adults that the yuletide belongs to them too.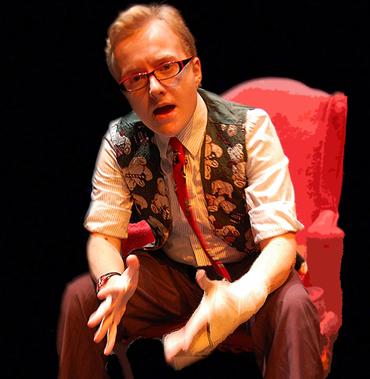 Actor-playwright Steven Alan McGaw cofounded SceneShop in 1996 with some theater pals as a workshop to hone their writing and performing skills. The group hosts two or three shows a year, but A Fifth of Christmas –– about to enjoy its eighth annual performance –– has proven to be their most popular showcase. McGaw says it's not hard to see why.
"Do you remember those commercials for the restaurant Bennigan's?" he asked. "People walk through the doors and are greeted by waiters, and everyone is stricken with Joker-like grins. They're coming apart at the seams with joy. That's the kind of pressure Christmas puts on people."
This year's show holds a special poignancy for McGaw –– his mother died last January, and it'll be his first holiday without her. "For grown-ups, Christmas is not just about who's at the table, but who's not there," he said.
Like previous editions, the 2010 Fifth of Christmas features a potent mix of observant human drama, dark comedy, and hard-earned celebration. The evening's musical entertainment will be provided by veteran Fort Worth journalist, author, and musician Michael H. Price, who'll perform original blues-fired holiday tunes and old standards with his band The Noel Laureates. (They're a yuletide variation on The Lake Rats, the group that often performs at Hip Pocket Theatre.) The Fifth Avenue Hi-Notes will also deliver some choral classics.
Then there are the short theatrical pieces. McGaw's "Hugh and Betty" stars himself and Peggy Bott Kirby as a longtime married couple whose bickering appears to be a result of holiday stress, until a quite different source is revealed. Nick Irion's "The Grumps" features Irion and Nikki Singer as young lovers seeking approval of their relationship from a pair of very bitter uncles (McGaw and Thad Isbell). Perennial favorite "Uncle Jackie's Holiday Musings" –– featuring Jackie Pickard as a debauched narrator relating sordid yuletide anecdotes –– has been retooled as "Uncle Jackie's Christmas Lesson," a two-character sketch in which Jackie seeks help from his young nephew (Peter Bowden) to cover up a holiday indiscretion.
The closer will be a Fifth tradition, McGaw's "Christmas for Grownups," in which a father (George Rodriguez) and son (Zak Dacus Reynolds) struggle to celebrate the first holiday without their wife and mother. McGaw originally wrote the piece for the now-defunct Fort Worth Men's Chorus and later adapted it for SceneShop's annual show. Though not strictly autobiographical, it's textured with details about McGaw's own parents. (His father died in 1993.)
"Christmas for Grownups," McGaw said, "is where we try to prove that we have a heart and we don't hate the holidays. It was my mother's favorite, and it was the last thing she saw me perform [at the 2009 show] before she died." For that reason, he took himself out of the piece this year. "I think I could've gotten through it, but there was no way to predict that. I didn't want the actor to be overcome by the role he was playing."
Although A Fifth of Christmas has no deep psychological mission beyond entertainment and a little sober reflection, McGaw does confess to a few agendas. SceneShop wanted to create a holiday event that respected single people, people without children, and those like himself who've recently experienced the loss of a loved one –– a huge group that he thinks is criminally neglected this time of year. He also wanted to dispel one cliché that he hears over and over again: Christmas is for children.
"I don't think that's true at all," he said. "I still look forward to Christmas every year. What's true is that adults and children experience the holidays very differently. For children, it's all about the present moment, being right there with the gifts and the decorations. For adults, it's about memories and the baggage you've acquired. Some of it's good, and some of it's not, but you're at the point in life where you wouldn't change anything."
A Fifth of Christmas
8pm Sat at Arts Fifth Avenue, 1628 5th Av, FW. $10. Reservations are strongly recommended. 817-923-9500.