Like most reasonable people and all native New Orleanians, Chow, Baby generally spends half its day eating and the other half thinking about where it's going to eat next. But occasionally other important matters interfere. On a recent Saturday shopping morning, Chow, Baby had so many other full-brain-required decisions to make — like what color collars to get for four very different-colored cats so each collar would coordinate with a cat with no duplicate collar-colors — that it was completely unprepared when the internal message came: I'm hungry. Now.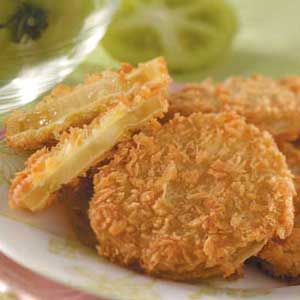 Lucile's (4700 Camp Bowie Blvd.) has for years been Chow, Baby's Westside backup plan, as in "Well, if [the Westside place I'm heading to] is closed or closed down, I can always go to Lucile's." This is in equal parts because the food is reliably delicious and because the kitchen doesn't close for siesta between lunch and dinner. You want to eat at 3 p.m.? No problem! Even better, brain-fried Chow, Baby doesn't need to deliberate over its order. The starter of (my) choice at Lucile's is always the fried green tomatoes ($5.95): thin, lightly battered, endearingly sour and crunchy, the best Chow, Baby's had since its last trip to the Whistle Stop Café in Juliette, Ga. (Well, that's not entirely true: To show off how well-traveled it is, Chow, Baby is conveniently overlooking the glorious fried green tomatoes with andouille sausage and over-easy egg it had just last year at Buttons, another reliably delicious and open-all-day Westside backup plan. Can't have too many backup plans.)
Next, Lucile's gloriously rich and creamy lobster bisque (cup $5.95), and finally chicken-fried steak ($12.95). Lucile's rendition, which takes two hands to cover and two meals to finish, has a coating so thin and crispy that you expect the meat to be dry and hard, but in fact the still-juicy sirloin is fork-cuttable. No effort required at all! Just what you need after a tough morning choosing cat collars.
Beyond Language
Having dedicated the rest of the afternoon to planning for dinner at Korea House BBQ (4750 Bryant Irvin Rd. #842), Chow, Baby and the beloved arrived — to find that the restaurant was out of bulgolgi, the traditional Korean beef barbecue. Uh-oh. Korean cuisine is probably Chow, Baby's weakest link; it's pretty much still at the newbie "dumplings, bulgolgi, and red bean ice cream, please" level of ordering. But decisions had to be made. With the help of the server, who steered us away from the grilled hairtail (a fish that looks like an eel, only uglier), we selected dol sot bi bim bap (beef, vegetables, and rice in a hot stone pot, $10.99); dumplings, of course; and — Chow, Baby really went out on a limb here — chicken bulgolgi ($11.99).
What a delightful meal. Korean fried dumplings (goon man doo, $6.99) are similar to Japanese gyoza but here seemed to have more fresh-vegetable flavor. The bulgogi's marinated chicken chunks, grilled with still-crunchy onions, were super-tender and juicy; the beloved's stone pot held a stir-fry of marinated beef, julienned veggies, and sticky rice. Bottomless side dishes — kim chee, fish cakes, soybean sprouts, seaweed, many more — were so vibrantly beautiful with their slicks of sauce and sprinkles of red pepper that their glorious texture and taste were pure sensory bonuses. The last decision we had to make was an easy one, if sad: No room for red bean ice cream.
Contact Chow, Baby at chowbaby@fwweekly.com.