The Spanish phrase "la media naranja" has a couple of different meanings. It's a slangy term of endearment for a romantic partner, as in "my better half." But it also translates literally as "half of the orange," as in the citrus fruit. When you walk into the taqueria/dessert shop La Media Naranja on West Magnolia Avenue, it's clear that the owners prefer the fruity translation: On the wall is a large drawing of a smiling cartoon orange in a cowboy hat holding a sharp knife in one hand and a sliced citrus fruit in the other.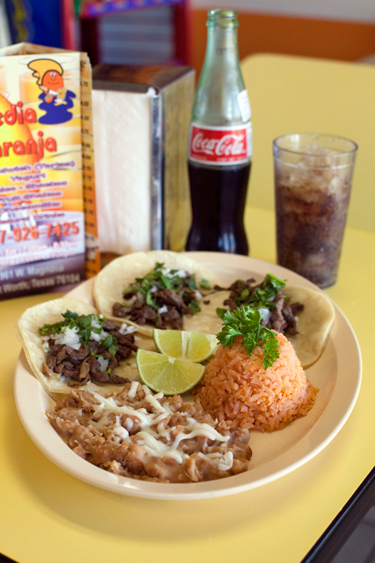 There are also big splashy photos advertising the menu's fresh-squeezed fruit juices, banana splits, and yogurt confections, plus the breakfast dishes and various tortas and gorditas that are specialties of the establishment. Many locals probably bypass this little strip-mall eatery on their way to nearby Yucatan Taco Stand. That's a shame, because La Media Naranja offers some fantastic traditional Mexican fare.
The breakfast burrito with ham and cheese was outstanding. A soft warm flour tortilla was packed with buttery chunks of scrambled egg, thin and salty slices of fatty ham, shards of white onion, gooey mild cheddar, and a thin but hearty spread of refried pinto beans. It's not exactly a light start to the day, though — if you manage to finish it, you'll likely want to go back to bed for a nap.
The roasted pork gordita was essentially a pita pocket sandwich made with grilled cornmeal bread considerably thicker than your average corn tortilla. Inside were thin strips of tasty pork sprinkled with chopped onions and fresh cilantro. With a little of the earthy, medium-hot house-made red salsa on top, the gordita was a subtly flavored and addictive eating experience.
La Media Naranja's tortas have received raves from patrons on local web sites. "Heaven in a plastic basket" and "worth dying for" are among the hosannas for the 19 varieties of this Mexican-style sandwich made here. Each is served on a grilled bolillo, a golden-brown combination of flaky croissant and silky French loaf. We tried three tortas, and all deserved the high praise. The al pastor came with savory chunks of marinated pork, shredded lettuce, white onion, and red tomato slices, plus a thin swipe of mayo, thick fiery jalapeño slices, and two large wedges of creamy avocado. The Alamena featured all those ingredients except for the pork, which was replaced by mildly spicy crumbles of lean chorizo sausage.
The king of tortas at La Media Naranja is the Cubana, and it's a belt-busting delight with succulent melted white cheese, a fried layer of egg flecked with medium-hot red pepper, a large piece of the pan-fried (though not breaded) beef flank steak known as milanesa, chunks of ham, and sliced pork frankfurters. It was surprisingly non-greasy and a total pleasure from first bite to last.
A sign on the wall says that if you can eat three Cubanas in one hour, they're on the house. Should you accept that challenge, death by deliciousness –– not to mention clogged arteries –– seems a possibility. But when sampled one menu item at a time, the wonderful flavors of La Media Naranja are their own reward.
La Media Naranja
961 W Magnolia Av, FW. 817-926-7425.
8am-5:30pm Sun, 7am-8:30pm Mon-Sat.
All major credit cards accepted.
Breakfast burrito w/ ham and cheese $5.95
Roast pork gordita $3.00
Cubana torta $6.95
Alamena torta $5.25