"People were incredibly traumatized," said Dallas filmmaker Robert Camina. He's talking about the Rainbow Lounge incident, which he almost was a part of. His friend Todd Camp had invited him to share some drinks with friends at the Fort Worth gay bar that evening, but Camina had a friend visiting from outside the country who needed to be entertained in Dallas. The filmmaker didn't find out about what had happened until the next day, from acquaintances who were there.


As more news started filtering in, Camina heard about rallies forming in Dallas and Fort Worth. "I thought I needed to get stuff on camera," he said. "I thought [the result] would be a short film. But the project grew as the situation grew." That project is now a feature film titled Raid of the Rainbow Lounge, which Camina hopes to premiere next year.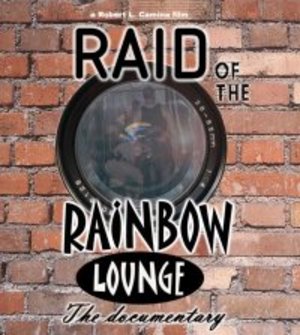 He'd rather be making comedies. With his brash, easygoing manner and quick laugh, Camina looks considerably younger than his 37 years and is no one's idea of a political firebrand or a self-serious documentarian. After spending his childhood in San Antonio making homemade music videos with a camcorder, he moved to Dallas in 1998 for a job in advertising and marketing. Feeling suffocated by his choice of career, he quit in 2006 and took a crash course in filmmaking at the New York Film Academy. While living in the Big Apple, he made his first short film, Hunter4Love, a short comedy about online dating. That film featured a crowd of extras wearing red shirts converging on the same point on a Manhattan street.
Challenging as that was to choreograph, it was easy compared to his next film, Martini the Movie, a musical short (partially filmed in Fort Worth) based on the drag act of cabaret performer Steven Crabtree that featured a cast and crew of 117 people. "We shut down a whole street in Dallas on the day of Hurricane Ike," Camina remembered. "I was freaking out because I was reading weather reports and we had permits and cops and everything. The skies opened up right after I said, 'Cut!' on the last take."
Much as he cherishes the memories of living in New York and watching passersby in Union Square, he felt pulled back to North Texas. That same intuitive process has guided his work on Raid of the Rainbow Lounge, which frequently had to take new directions as more information became available. "I want to be responsible and do the film right," he said, noting that many of the facts are subject to interpretation. "I don't want to perpetuate any mistruths."
It was easy for Camina to gain interviews with Camp and other friends who were at the bar, but the filmmaker also took pains to interview Police Chief Jeff Halstead and is trying to secure a statement from Chris Aller, the former Texas Alcoholic Beverage Commission agent in charge of the raid. While Camina is eager to get back to comedy, he's determined to finish the documentary and have its world premiere in Fort Worth through Camp's Q Cinema film society. "Q Cinema has been incredibly supportive and so has [City Councilman] Joel Burns," said Camina, who said that his extended exposure to Fort Worth had left him with "nothing negative" to say about the city. "I think what will come out of this documentary is a testament to Fort Worth's dedication to create change."