The four men and one woman who make up the Black & Blues have all blazed their own trails through the music business. Guitarist Mark Lettieri contributes to the music of marquee artists such as Erykah Badu and Tito Jackson and travels across the globe with the funk-fusion orchestra Snarky Puppy. Singer Goldie Fornow grew up singing in a gospel group with her sisters. Drummer Even Gentry, who also plays in The Boss Level, commutes from Houston to play regular gigs all over the state.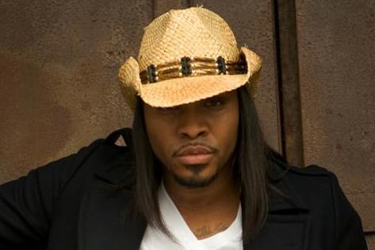 Bass player Matt Skates has been the go-to guy for prominent Fort Worth acts like Ginny Mac, KatsüK, and various jazz artists. Singer Keite Young once had a successful solo career on the label Hidden Beach Records. When it comes to making music, they know exactly what they're doing. So when they all say that the Black & Blues is the most exciting thing they've ever done, believing them is easy.
"It's fun because we are given the freedom to do what we want and what we feel," Gentry said.
For Young, loosening his grip on the reins has been one of his biggest challenges. "I've never been so vulnerable to other people's interpretations," he said. "But most of our composition is a result of us pushing and pulling at each other."
Many singers who have been blessed with a powerful, velvety voice like Young's would prefer to be the centerpiece, but by surrounding himself with the best talent he can find and trusting the players to do what they do best, Young is now a much more dynamic, authentic musician than he was as a solo artist. He is happy to have evolved. "I wanted my solo career to die," he said. "Anybody who was a fan of the last stuff didn't want this."
The band members bristle at labels like "soul" and "neo-soul," though both Young's and Fornow's emotive, broad-ranged vocals invite the descriptions. Instead of holding down a slow and predictably funky classic-soul pattern, however, the instrument-playing band members specialize in progressive, rockish parts. Although each player comes from a different musical background, all manage to synthesize with their fellow instrumentalists beautifully.
"Everybody's way different," Lettieri said. "I like being in a band with two lead singers and a solid rhythm section. I can go crazy on my guitar."
As fun as displaying musical mastery can be, "Restrictions are important," Young said.
Without a focus on the sounds and styles, the Black & Blues' most distinctive feature –– the vocal interplay between Young and Fornow –– might get lost. The two may or may not be dating. "We don't talk about it," Young said. "We write about it" in their lyrics. Regardless, they complement each other while bantering through song. Many of the band's tunes can be boiled down to conversations between lovers in the midst of a relational or spiritual quandary.
When the inevitable discord arises among the band members, the Black & Blues harness the energy, work with it, and harmonize the differences. "Everyone is adamant about what they believe," Young said. "That's the reason why there is friction."
Everyone in the band is pursuing things outside of the Black & Blues, which explains why the as-yet-unnamed EP, recorded last summer on Michael Jackson's old mixing board at Valve Studios in Dallas, has yet to be finished. "For now, it's just a square and a triangle," Young said with a laugh.
Black & Blues band members continue e-mailing songs back and forth to one another in lieu of rehearsing together. Gentry is planning to relocate to North Texas soon to allow the band to rehearse more than once or twice per month. In the meantime, everyone will be staying busy with their lives and other musical projects.
Long-term investment in the Black & Blues is worth it to all five members, though. "If you play with the wrong people, you lock yourself into a certain sound and are there forever and ever," Gentry said. "But as musicians, we are very comfortable in our own skin." And comfortable with one another, despite their differences.