To celebrate its 30th anniversary season, Jubilee Theatre wanted to reach back into the past for a holiday show that was beloved by old-timers but that would also offer newcomers an alternative to the Nutcracker/Christmas Carol doldrums. The obvious choice was God's Trombones, a 1990 piece co-written by the late Jubilee co-founder Rudy Eastman and the late composer and Hip Pocket Theatre co-founder Doug Balentine based on the sermon poems of preacher and activist James Weldon Johnson.


For this year's production –– the show's eighth staging at Jubilee –– the choice of director was also a nod to beginnings: Gloria Abbs is a veteran stage manager who's been with the theater since its founding in 1980.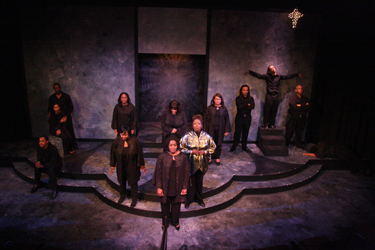 "I'm retired from the day-to-day grind [of theater operation]," Abbs said. But she instantly agreed to direct the current show because she had worked on the first production. She also served as assistant on the show several times and "knew the mechanics of the piece –– this version is more like the original one. It's a perfect piece where dialogue flows into music and back again. It doesn't need enhancement."
Eastman taught Johnson's 1927 poetry collection God's Trombones: Seven Negro Sermons in Verse while working as a Fort Worth school district history teacher in the 1970s and '80s. Johnson was a high school principal, a songwriter (who wrote the lyrics to "Lift Every Voice and Sing," a.k.a. The Negro National Anthem), a U.S. diplomat in Venezuela, and the first secretary general of the NAACP. His poetry is arguably his most lasting legacy, and the book presents seven stories from the Bible re-written in verse form and inspired by the fiery black preachers that Johnson saw as a child in 1870s Florida. (He died in 1938 at the age of 67.) Noah and the ark, the prodigal son, Moses leading the Jews out of the desert, and the crucifixion of Jesus are just some of the biblical tales. The vivid imagery and colloquial style of Johnson's poems were deliberate, Abbs noted. "Literacy was not widespread in Johnson's youth," she said, "so the preacher had to paint pictures with words, kind of like the stained glass windows in a Catholic church."
Eastman had already collaborated with Balentine on Jubilee's 1986 comic musical Negroes in Space. When the pair sat down at Eastman's kitchen table to figure out how to musicalize God's Trombones, they instantly knew they wanted to take the work in new directions. Other people had staged these "sermon poems" as solemn readings combined with interludes of traditional but basically unrelated spirituals. Balentine saw that the words lent themselves easily to song lyrics and set about to write an original score.
Meanwhile, anyone who knew Eastman can attest to his irreverent sense of humor. He wanted to modernize Johnson's biblical characters and gently tweak black church piety. Hence, when a sermon calls for the appearance of the burning bush, Eastman decided to place an actor onstage in a bag covered with Christmas lights. Or when the incident with the apple goes down in Eden, Adam says to Eve, "Baby, we need to talk." Above all, Eastman didn't want to proselytize to his audiences.
"He wanted to inject humor into the poems and let them breathe onstage," Abbs said. "But he didn't want the stories to be burdensome for people with different religious viewpoints. The moment you start preaching, people stop listening. So he decided to tell the scripture stories in a straightforward way and let people think about the message on the way home if they wanted to."
The current staging of God's Trombones features several cast members who were either children or just born when Eastman and Balentine's show debuted in 1990, including Aaron Petite and T.K. Bell. The multitalented Petite plays Pharaoh, the prodigal son, and Satan. Bell is one of the show's ensemble members. Indeed, Bell's mother, Laurie McDonald, used to change her baby girl's diapers in the dressing room before McDonald went onstage. "It's a shock to realize how many of them have grown up," Abbs said with a laugh. "But the pleasurable part is watching them reach back to help enthusiastic young performers just like they were helped."
Eastman and Balentine's musical, she added, "is one of those pieces where the actors form close friendships that last long after the show has closed."
God's Trombones
8pm Thu-Fri, 3 & 8pm Sat, 3pm Sun thru Sat, Dec 26, at Jubilee Theatre, 506 Main St, FW. $10-25. 817-338-4411.