If you happen to be cruising along FM 1187 for no particular reason, Jorge's Mexican Restaurant (100 S. Front St., Aledo) makes a great rest stop. What a cool old place: The low brick building, the faded "Jorge's" sign, and even kindly-cranky Jorge himself appear to date to Aledo's founding, in the 1880s.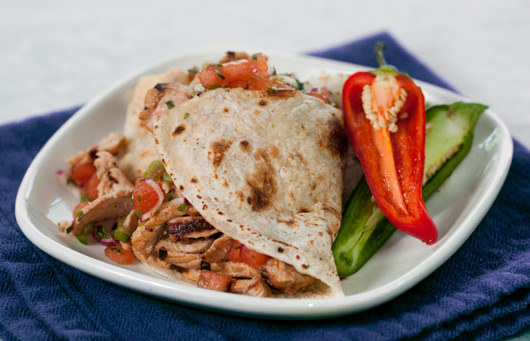 Inside are wide-plank walls painted in bright, friendly colors and floors that creak so everybody will know you're heading to the bathroom. (It was a long drive, OK?) On the menu are Mex and Tex-Mex classics: lunch specials of enchiladas, tacos, nachos, and the like ($6.45); dinner specials along the same lines, but bigger portions ($8.95). Wow, New Mexico stacked enchiladas with sunny-side up eggs — that's a definite possible. House specials (most $10.75-$13.75) include fajitas, shrimp-topped spinach enchiladas, chicken in sour cream sauce … and what's this? Tacos de pork chops ($9.75)? Never seen that before. Decision made.
After a brief internal crabbing about that price working out to a preposterous $3.25/taco, Chow, Baby dug in and found nothing like the carnitas-under-a-new-name it expected. Instead, the chewy, seasoned meat tasted exactly like cut-up grilled pork chops, and the "special house sauce" was the pan-scrapings from pork juice, jalapeño, and onion. Delightful. And prettily plated, too, atop a bed of shredded lettuce and chopped tomato and with a whole grilled onion on the side. Add a slice of astoundingly creamy housemade flan ($3.75), and Jorge's is not only worth the money, it's worth the trip.
Habit Forming
Munching otherwise-happily on its plato tipico ($8) at Los Camarones (514 W. Park Row Dr., Arlington), Chow, Baby was haunted by a statement it tossed off a few weeks ago about always ordering bulgolgi at Korean restaurants. And now here it was eating the same exact meal it has eaten at every single visit to a Salvadoran restaurant. Just like it always orders pad thai at Thai restaurants, rib-eyes at steakhouses, and pink sauce at Neighborhood Italian Gems. Familiarity is a slippery slope: Keep going for what's safe, not particularly thinking about it, and before you know it you're lunching at Applebee's every day. The horror.
But there is some reviewer-justification for the plato tipico: It's a combo plate, and thus a cheap way to try lots of different things. Los Camarones' plato doesn't come with the usual chicarrón (luscious fried chunks of fatty pork), and they were out of chicken tamales that day — darn, because Salvadoran tamales are the super-juicy greatest — but an extra pork and cheese pupusa made up for those deficiencies. Big chunks of fried yuca were a contender for best-ever, with crispy, lightly greasy outsides and warm, pillowy insides. Buttermilk-tart crema made a fantastic dip for the fried sweet plantain. With rich refried beans, thin tortilla chips, and delayed-heat salsa, this was at least half a dozen taste-tests for the price of one.
And delicious tastes they were, but a rut is a rut. Fortunately branching out is easy here, as Los Camarones is only part Salvadoran. From the mariscos side of the menu: camarones al mojo de ajo ($9), half a dozen jumbo shrimp sautéed in garlic and white wine, with fluffy yellow rice for sopping the heavenly juices. An excellent rendition of the dish — and garlic-loving Chow, Baby should know, because that's the dish it orders on every single visit to a Mexican seafood restaurant. "Practice makes perfect" applies to eating, too.
Contact Chow, Baby at chowbaby@fwweekly.com.