I just couldn't do it. I mean, everything was cooked beautifully –– the succulent beef patty topped with melted cheddar, the grilled mushrooms, the fried egg, the strips of chicken-fried applewood-smoked bacon, the slices of roasted ham –– but it was all just, well, too decadent. Maybe if I had run two marathons before sitting down to the Magnolia Custom Burger at Magnolia Motor Lounge, I would have been more willing to chow down on the whole thing, a culinary monstrosity that stood about six inches tall and weighed about 10 pounds.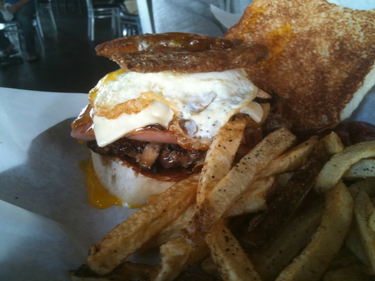 But I hadn't and just couldn't bear the pressure that surely would have been exerted on my arteries by the sandwich, one of several signature sammys on Magnolia Motor Lounge's menu. Did I finish the Custom (and some accompanying fries)? Well, kinda. I had to take off two remaining slices of ham, though. Did the subtraction make me feel less manly than usual? Actually, a little. But when I tackle a Custom next year –– my wife will allow me only one per year, for the sakes of my waistline and heart –– I'll be sure to get in a good workout beforehand (and maybe afterward as well).
Magnolia Motor Lounge brands itself as a politically incorrect establishment for unadulterated beer drinking, occasional live music, and, of course, pigging out. On the bar/restaurant's web site, www.magnoliamotorlounge.com, managing partner Mark Euckert writes, "If you're easily offended, there's a good chance you will be offended at some time during your visit to our humble little place. … Magnolia Motor Lounge is not the public library. It's a privately owned bar and restaurant, and, as such, we enforce a very strict 'no whining' policy. … Additionally, at Magnolia Motor Lounge, the customer is not always right. … We work hard to keep our little 'motor lounge' an idiot-free zone at all times." But wouldn't the people doing the offending be the idiots? Anyway, like I said, Magnolia Motor Lounge is a take-no-prisoners kind of place, whose vibe is also reflected in the tough-guy automotive-themed décor. Car parts (a grill, a door), vintage black-and-white photos of classic cars, gas company logos, and the face of a vintage gas pump hang on the walls; some staffers sport mechanics' shirts, and sitting in a corner by the main entrance is a 1931 Ford Model A coupe, a.k.a. The Beast. Looking like a cross between a Model T and a drag-car, the low-riding Beast has a boxy hood, thin horizontal cracks for windows, and a front end that's all exposed engine and wheels. The bar/restaurant is currently raffling off the machine. Tickets are $40 apiece, and all proceeds will go toward St. Andrew Catholic School in Fort Worth. The drawing will take place at 4 p.m. on Super Bowl Sunday, Feb. 6, 2011.
The Beast is pretty macho, but the menu is easily Magnolia Motor Lounge's most macho attribute. In addition to the Custom, the bar/restaurant also offers the Model A sandwich. No doubt modeled after Pittsburgh's famous Primanti Bros. sandwiches, the Model A is a belt-buster featuring your choice of ham, turkey breast, bacon, or pastrami and your choice of cheese plus –– yes, everything's on the sandwich –– fries and cole slaw (and, for an extra buck, a fried egg). A native Pittsburgher, I took the most authentic route and went with the pastrami and Swiss. ("Truly authentic" would have been pastrami and provolone. But we're not keeping score.)
First of all, the Model A, like the Custom, is about six inches tall and demands to be eaten in large bites (or two smaller bites without swallowing in between), to get all the ingredients in your mouth at the same time, because a sandwich isn't a sandwich if all the ingredients are separated from one another. But I wasn't complaining. For one thing, I was starving, and, for another, the combination of juicy pastrami, salty Swiss, earthy fries, and refreshing, zesty slaw was awesome. Secondly, the sandwich is the only one of its kind in North Texas (as far as I know, and I've eaten at a lot of sandwich shops here). You'd have to travel all the way to the 'burgh for anything similar. So thanks to Magnolia Motor Lounge for bringing the 'burgh to us.
The bar/restaurant also specializes in gourmet gut-busting hot dogs. The Slaw Dog consists of one thick, juicy frank, Texas chili, shredded cheddar, and some of that slaw. "Decadent" is right, though not too decadent for me to handle. (Forewarned, I'd worked out the day before in preparation.) The frank had grill marks on it and was succulent and, mixed with the chili, cheese, and slaw, made for one helluvan artery-clogging delight. My only quibble is that the cheese wasn't melted thoroughly.
My next visit to Magnolia Motor Lounge may include a tango with the Junk Yard Dog (a deep-fried frank –– deep fried! –– topped with chili, spicy Magnolia sauce, jalapeños, mustard, and onions) or with the Sloppy Jalopy (chicken-fried steak, chicken-fried applewood-smoked bacon, lettuce, tomato, and spicy Magnolia sauce).
On New Year's Eve, Fri., Dec. 31, Magnolia Motor Lounge is throwing a party with the Josh Ingram Band, the Kala Travis Band, prizes and giveaways throughout the evening, and a champagne toast at midnight. The best part? Admission is free.
Magnolia Motor Lounge
3005 Morton St, FW. 817-332-3344. Noon-10pm Sun, closed Mon, 11am-10pm Tue-Wed, 11am-2am Thu-Sat.
All major credit cards accepted.
Magnolia Custom Burger $9.89
Model A sandwich $7.47
Slaw Dog $5.26