Alfred Hitchcock popularized the term "MacGuffin" to mean a plot device that engages the viewer's attention. It makes sense, then, that MacGuffin's is the name of the full-service bar in the foyer of AMC Grapevine Mills. For moviegoers who haven't visited that theater lately, it's quite a change to see a bar with beer taps, ranks of liquor bottles, and high-definition TVs in addition to the old counter with popcorn, Jujubes, and signs listing inflated soda prices.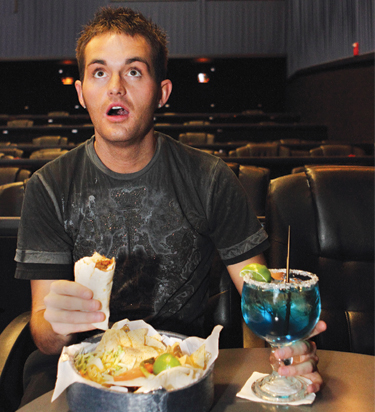 Beyond that, instead of the usual auditoriums, there are dining rooms complete with waitstaff service and, in some cases, hot towels and chocolate mints. The menu choices go far beyond fake butter on the popcorn, extending all the way to crab Rangoon dip, lobster ravioli, citrus cake topped with key lime and white chocolate shavings. All this, and you get to watch a movie too.
That AMC Dine-In Theatre, which opened three weeks ago, is the latest piece of one-upmanship in a competition that's been going on for a while now in these parts. With home entertainment systems approximating the theater experience more and more closely, movie theater operators are being forced to find new ways to induce people to leave their houses. The fight, which Fort Worth Weekly took note of three years ago ("Beyond Popcorn," Oct. 10, 2007), is for patrons who want a combination of fine dining and first-run movies and are willing to pay for it.
The two chains leading the pack nationally in offering first-run cinema eateries — known as FRCE in the trade — are both based in Dallas. In the last three years, both have expanded into other parts of the country, and now a powerhouse nationwide movie theater chain is joining the game. North Texas is the center of the action, and local moviegoers are smelling the bruschetta.
The idea of serving restaurant-style food to moviegoers dates back to the 1970s, when a Florida-based chain called Cinema Grill started slinging pizza and sandwiches along with second-run films. Some of those establishments still exist as independent businesses, but it wasn't until 1998 that the current trend began to take shape.
Brian Schultz had spent the mid-1990s operating Dallas' Granada Theater as a second-run theater with food options and had just bought a defunct United Artists theater in Addison with five screens so he could try out the concept there. The breakthrough came when the Disney subsidiary Buena Vista Pictures agreed to send him a print of a first-run movie, the Adam Sandler comedy The Waterboy, to show at what would be the first Studio Movie Grill.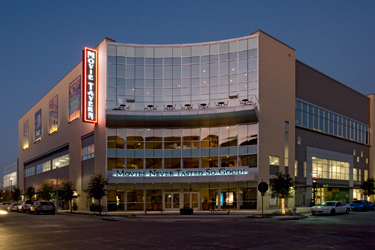 "It was probably more of a situation of, 'Let's give this guy a chance. It's probably not going to work out anyway, so he'll stop calling us,' " Schultz recounted in a 2004 interview with In Focus, the news magazine for the National Association of Theater Owners. "[It] was not so much an evolution in distribution's thinking as it was a wearing-down process. We just kept asking for a chance to show them what we could do."
That initial SMG location in Addison closed down last June, but that's because four larger, more handsomely appointed SMG locations across North Texas have superseded it. There are two more in Houston and a recently opened location in Atlanta. The chain's creative director, Lynne McQuaker, says that four others are in the works and that the chain is now on track for nationwide expansion.
The cheap prices at the major chains are a big selling point in a down economy — none of the entrées cost more than $15, and many of the pizzas and burgers can be had for less than $10 on top of the movie's ticket price.
McQuaker also points to demographics as a reason why FRCEs are thriving in North Texas. "With theaters in shopping malls, you get lots of teens who can't drink," she said. "North Texas has a lot of families and young professionals with disposable income." To further attract such customers, Studio Movie Grill recently updated its menu, supplementing its functional Chili's-style burger and sandwich options with more exotic choices like Greek pizza and Korean tacos, the food fad that swept the West Coast last year.
Such moves doesn't come as a surprise to Jeffrey Benson, founder of the Movie Tavern chain. "You have to refresh your theater every 10 years or so," he said.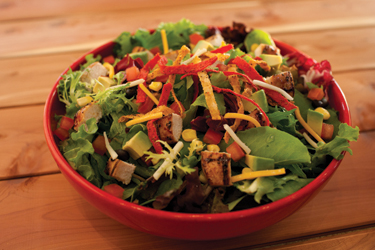 Trained as a CPA, Benson took on a few movie theaters as clients in the mid-1990s and segued into the movie-exhibiting business soon afterwards. The Dallas native was operating a conventional movie theater in Granbury when the General Cinemas chain shut down its theater near Fort Worth's Ridgmar Mall. "That theater and the ones on Hulen Street were the closest ones to Granbury," Benson remembered.
He knew about the eatery businesses being run at both the Studio Movie Grill and Austin's Alamo Drafthouse. With the Ridgmar location's projectors and equipment still in place, he sensed an opportunity to try out his own concept. He bought it and opened it as the first Movie Tavern in November 2001.
The origins of Movie Tavern were humble indeed — it served only hot dogs and low-quality pizza in addition to the usual movie theater concessions. "Our approach was very experimental," said Benson, who partnered with his wife Jamie and his friend Dennis Butler. "We didn't really have a strategy. We just thought, 'What about pizza?' We didn't have the money for a full renovation. I built the tables myself."
The Ridgmar Movie Tavern didn't have a full-service bar, either, just beer on tap, and the dingy auditoriums tended to smell of the stuff. This wasn't without its advantages — it was the perfect atmosphere for watching sleazy crime thrillers and other B-movie fare. Still, the theater didn't provide the most welcoming environment for, say, a family with small children.
Movie Tavern became more restaurant-like when Benson and partners bought a second location in Bedford in 2003. That city's ordinances at the time stipulated that 50 percent of any eatery's sales had to come from food rather than alcohol. The laws didn't recognize movie theaters that served food, so the sales of movie tickets didn't figure into the 50 percent. "The liquor laws basically forced us to become a restaurant," Benson said.
---
Bedford has since changed its ordinance, but Benson finds it cumbersome being in the full-service restaurant business. "I prefer selling food over the counter," he said. "It's easier for me, and the customer doesn't have to tip." That's why Benson and his partners sold their stake in Movie Tavern in 2008. He now runs two theaters in Corsicana and Copperas Cove that are joined to large video arcades that serve pizza and also offer bowling and miniature golf. "It's basically a Chuck E. Cheese crossed with a movie theater," he said. He thinks this model will be the next big wave in moviegoing, as trendy as FRCEs are now or stadium seating was 10 years ago.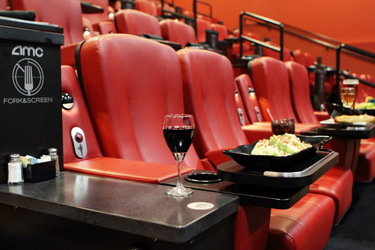 Movie-theater restaurants do tend to be labor-intensive. When the Movie Tavern location in Lexington, Ky., opened, local newscasters announced that it was the city's largest restaurant. Indeed, most restaurants aren't set up to handle 1,000 to 1,500 diners at a time, the kind of numbers that FRCEs deal with routinely. The Studio Movie Grill employs 750 people for its four locations, while the AMC Grapevine Mills alone hired 100 new workers to deal with the foray into the restaurant and bar business.
In the meantime, the chain that Benson started has gone on to offer large emporia like the one on West Seventh Street, whose rooftop location affords an expansive view of that tony Fort Worth retail district. Meanwhile, the Ridgmar Mall location, while hardly palatial, is now much cleaner and has upgraded its facilities to serve a stripped-down version of the Movie Tavern menu. Along with its nine Texas locations, the chain has theater-restaurants in five other states.
Patrick Corcoran, research director for the theater owners' group, foresees more such theaters. "Too many theaters saw dollars walking out the door to the restaurant down the street," he said.
Benson takes credit for AMC's Dine-In Theatre as well, saying that he went to the Kansas City-based chain three years ago and pitched the idea of converting some of their facilities into FRCEs. According to him, they rejected him only to unveil their own similar plan shortly afterward. AMC Theatres couldn't be reached for comment.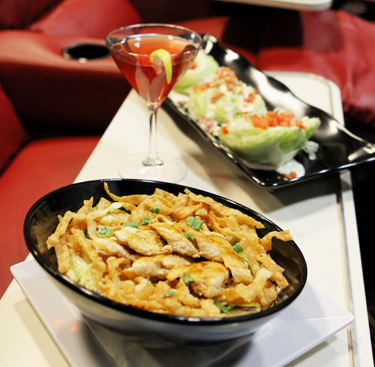 Regardless of its origins, the Dine-In Theatre at AMC Grapevine Mills represents the latest step. Its 13 dining rooms come in two distinctive classes. The "cinema suites" offer reclining cushioned seats (each with a small table attached to the armrest), the aforementioned towels and mints, and a few more choices on the menu, while the "fork & screen" theaters offer non-reclining seats and service with fewer frills. For this, a ticketbuyer pays an "experience charge" of $10 to $15 on top of the movie ticket price. This surcharge, which effectively functions as a cover charge, is then deducted from the price of whatever food or drink that patrons order. Prices are a bit more expensive than at the other chains — the lobster ravioli will run you $17.99.
Interestingly, the selection of movies available in the dining rooms will be somewhat limited. For one thing, AMC has promised that they won't show gory horror films where people are trying to eat. Also, AMC — unlike Studio Movie Grill and Movie Tavern — will bar moviegoers under the age of 21 from its "cinema suites." (Attendants will be checking identification at the door of each screening room.) This means that movies aimed at families will be confined to the slightly less ritzy "fork & screen" theaters, which allow kids in with adult supervision.
AMC Theatres' public relations spokesman Justin Scott said that the ban on children in the cinema suites isn't due simply to the fact that alcohol is being served there. "We're trying to create a specific vibe," he said. "We want this to be a place for adults."
Another part of attracting a more adult crowd is the bar. "In the past, people wanted to stick around and discuss the movies they'd just seen, like Inception. Those conversations were taking place out there," he said, pointing to the public area just outside the theater's entrance, where no one is selling anything. "We wanted to give them a place to hang out after the movie, make this more of a communal experience."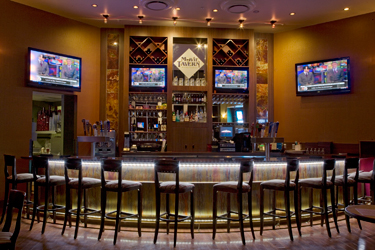 The dining room atmosphere can't help but change the moviegoing experience in unpredictable ways. The impact of an intense dramatic film like Black Swan is muted in the plush setting of a dining suite. That setting fits better for a lighter, more spectacle-oriented movie like Unstoppable or The Tourist. When the film is supremely awful (like Gulliver's Travels), the food is a welcome distraction but also makes it harder to walk out mid-movie, since you have to wait for the check.
To create an experience satisfying to both moviegoers and diners, AMC needed to make all sorts of adjustments. For example, the plates are made of composite plastic instead of china, partly to reduce breakage but mostly to reduce the noise of flatware in action. This consideration affects the menu as well; preliminary research indicated that customers wanted a steak option, but rib-eyes or New York strips would need to be cut up in the dark. The compromise: tenderloin beef tips, which need no carving and thus can be eaten more quietly. Waitstaffers have been specially trained to interfere as little as possible with diners while the film
is running.
For more traditionalist moviegoers, the old standbys of popcorn and candy are still available, and 17 of the Grapevine multiplex's 30 screens remain devoted to the old model of moviegoing.
This is one of only six such AMC theaters in the country. (The others are in New Jersey, Kansas City, and Atlanta.) Officials for the theater chain said that the Grapevine location was chosen for the new restaurant service because of the crowds attracted by the nearby Grapevine Mills mall. "There's a lot of retail and shopping among the crowd," said Scott. "People spend a few hours shopping, they want to cap it off with dinner and a movie and make a day of it."
This culinary/moviegoing trend could go in several directions. The Australian-based Gold Class Cinemas (which has Texas locations in Austin and Fairview, in Collin County) offers restaurant-style service, and its location in Scottsdale, Ariz., is even attached to an independently operated Mediterranean restaurant called Tanzy — diners order their food in the restaurant and can then carry it into the theater. Then again, high-end gourmet restaurants tend to pride themselves on food presentation, an element that a moviegoer might overlook when the lights dim.
Some experts are skeptical that the menus at movie theaters can progress much beyond the current meat-and-potatoes fare. McQuaker said that salad sales vary depending on the weather, but "The core of items will always remain the same, comfort foods that you can eat with your hands: burgers, pizzas, chicken tenders, nachos, quesadillas."
Even if many of us aren't interested in dining in style every time we go to the movies, the convenience of eating while taking in the latest George Clooney flick in a single two-hour stretch (not to mention for one ticket price) is hard to shrug off. Theaters that bring food to your table seem fated to remain part of the cultural landscape for the immediate future.
As Benson said, "It took me and Studio Movie Grill to prove that it can work."