Fort Worth painter Carol Benson has a show up now at William Campbell Contemporary Art of paintings of houses, and since she grew up in the 1950s in a small East Texas town, we could be forgiven for thinking that we're in Thomas "Painter of Light" Kinkaid territory. But we couldn't be further from it. Benson's houses are semi-abstract, with their quiet but compelling details, and supremely postmodern.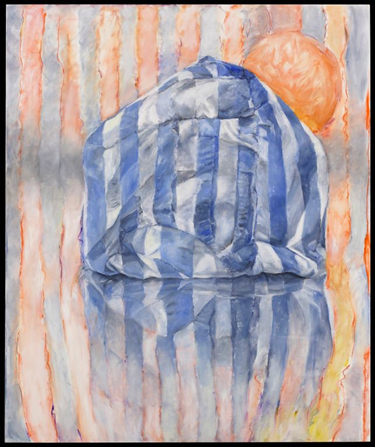 They pull you in and make you ask questions. "Tapestry III" features a house shape in warm pastels that's either being shielded or smothered by a billowing pattern of leaves and birds. "Wrapped" depicts a house completely covered in white twine, glowing solitary against a dark metallic background. If you were wandering alone in a dark forest, would this house represent refuge or rebuke? The house in "Protected (Aqua)" appears to be made wholly of clear bluish plastic, and it's starting to buckle near the base. The viewer wants to help even if there's obviously nothing inside the phantom home.
Benson had her first art gallery show in 1991 at the Fort Worth space that is now Gallery 414. Her work has shown across the state and in Louisiana, Arkansas, and New Mexico. She taught painting at Texas Christian University and the University of Texas at Arlington and currently teaches art classes for adults and children at the Modern Art Museum of Fort Worth. In 2010, she was a finalist for the Hunting Art Prize, one of the most competitive honors for an artist in Texas.
And yet, for all these accomplishments, Benson began her career as a serious artist somewhat late in life. (She politely declines to reveal her age.) She has drawn, painted, sculpted, and assembled pieces since she was a child but spent the first several decades of her professional life as a teacher in public and private schools. Art was just something she always had to do. During her early years, Jasper Johns and Ellsworth Kelly were among her chief influences. She began with an interest in abstract shapes and bright colors. After her son was born –– he's now 38 –– she started drawing him, and her work turned more representational. Many years later, after being accepted by gallery shows throughout the '90s, she entered the MFA program at TCU and received her degree in painting in 2002. "I like to work through a single image and see where it takes me," she said. "When I was earning my MFA, I worked on a certain flower. I've done nests and bowls –– the bowls remind me of the Buddhist idea of a giving and receiving container. Who knows how much longer I'll do houses. Sometimes I think I'm finished, and then the image resurfaces."
To Benson, the house image does not represent a brick and mortar structure or even necessarily a family shelter –– it's not where your heart is, she said. It's a state of mind, a feeling of self-sufficiency and stability. In three of the paintings in her Kalahari series, a house shape sits contentedly wrapped in blue-and-white-striped material –– the pattern on a dress that belonged to her Scottish grandmother –– with an orange, desert-like background. With each successive painting, the sun rises a little more behind the house and reveals that the desert floor is reflective, mirroring the blue and white stripes until they start to take over the final canvas.
Although Benson notes that she can't control the experience that viewers take from her work, she insists that her house imagery is not literal. To clarify, she said she was particularly struck by a remark she heard from a woman at a YWCA who had left everything behind –– home, spouse, and family –– to end the abusive situation with her husband. That disruption caused the woman to have an epiphany. "She felt alone until she realized that you carry your house with you wherever you go," Benson said.
New Paintings: Carol Benson
Thru Sat, Jan 15, at William Campbell Contemporary Art, 4935 Byers Av, FW. 817-737-9566.