Foodies should flock to the Modern this weekend to catch Kings of Pastry. This documentary film follows three French pastry chefs as they take part in the 2007 version of the Meuilleurs Ouvriers de France, a grueling three-day competition in which 16 finalists must make 40 different recipes — including brioche, éclairs, profiteroles, dipped chocolates, lollipops, a three-tiered wedding cake, and a giant molded-sugar sculpture — and submit them for taste-testing by a panel of judges.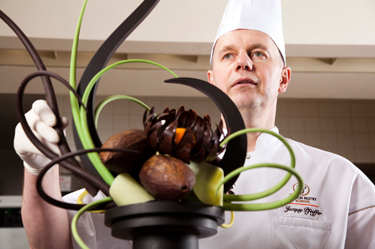 "Le mof," as the competitors call it, is held once every four years, and only the winners can wear the red, white, and blue collar denoting the highest level of achievement in their field.
The filmmaking team of Chris Hegedus and D.A. Pennebaker is better known for documentaries that take on politics (The War Room) and music (Don't Look Back), but they pay this world every bit as much attention. We see Chicago-based chef Jacquy Pfeiffer design the layers of an intricate cream-filled dessert with the analytical precision of an architect. The directors leave some questions unasked, but they capture the event's glitz (President Sarkozy and his personal pastry chef make a cameo) and the MOF's high-running emotions, especially when one chef drops his sugar sculpture, a misfortune that reduces not only the chef himself to tears but several competitors and judges as well. Screening Friday and Sunday, this movie will bring your moviegoing year to a sweet end. Or kick off a new one in style.
Kings of Pastry runs Fri and Sun at Modern Art Museum of Fort Worth, 3200 Darnell St, FW. Tickets are $6.50-8.50. Call 817-738-9215.