In my list of top 10 movies last year, I took note of a resurgence in American films. That continued this year, and even the entries in my top 10 from Canada (No. 3) or Britain (No. 4) would have been impossible without American talent. Also enjoying a great year were the South Koreans, who did well whether they were dealing with reality, fantasy, or some mad combination. And I notice a lot of these movies are primarily about women, even if they're directed by men. That's refreshing.

As in previous years, an asterisk (*) denotes an official 2010 release that hasn't yet played in North Texas theaters. Also as in previous years, my lists of great performances, breakout stars, and other notable movie bests will be posted to Blotch in the coming days, so log on to www.fwweekly.com.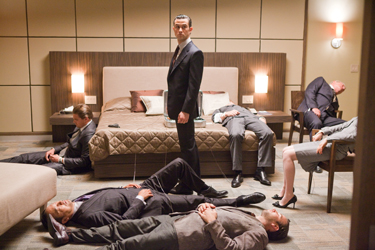 1.) Inception. I'll admit I didn't wrap my head around this gigantic puzzle the first time I saw it, but then, who did? Christopher Nolan's fantasy goes five layers deep with dreams within dreams, and no matter where you think the line between dream and reality might be, the film still coheres as a meditation on the way movie logic mimics dream logic and as a commentary on the filmmaking process itself. Making such a complicated story understandable is impressive enough, but packaging it as a blockbuster action-adventure film that millions of people around the world would pay to see? That's just one more thing about this movie that blows your mind.
2.) The Kids Are All Right. A movie as rigorously edited as Inception, though you don't pick that up until you've seen it a few times. What you see the first time is a warm, funny movie with clever jokes and great performances. (Where is the Oscar buzz for Mark Ruffalo, by the way?) Lisa Cholodenko's domestic dramedy offers a groundbreaking depiction of lesbian parents as the new norm, but even if it were about a straight couple it would still be a great film. Small-scale movies that closely observe comfortable middle-class families have mostly been left to the French, but this masterpiece beats anything the French came up with this year.
3.) Splice. The three characters in Vincenzo Natali's science-fiction horror film all do things that are completely indefensible. (Not one but two sex scenes late in the film will make you want to jump in the shower, curl up in a fetal position, and cry.) Yet the two human characters' actions spring from recognizable human failings that undo their attempts to play God. As for the mute mutant clone that the geneticists create, she seems authentically governed by an inscrutable alien intelligence. The movie plays on your worst fears about genetic manipulation plus your worst fears about having kids, and its patches of cuteness and humor only make it creepier.
4.) Kick-Ass. Oh yes, I went there. Matthew Vaughn's volatile, blood-soaked, unabashedly decadent comic book adaptation shows us why we love comic-book superheroes and why we shouldn't try to emulate them. This densely plotted work has notes of grim reality counteracting its wicked subversive wit and, uh, posterior-booting action sequences, yet the director makes it feel all of a piece. Aaron Johnson and Chloë Grace Moretz both deliver breakout performances, and even Nicolas Cage helps out as a vigilante cop channeling Adam West's Batman. The general exuberance here is unseemly and awesome.
5.) Secret Sunshine*. Lee Chang-dong's film begins as a mild dramedy about a single mother and her young son relocating from the big city to a South Korean hamlet. Then it turns into an action thriller. Then it turns into a shattering tragedy and then into a redemptive drama. And that's just the first half. All this movie's plot twists are eminently logical, yet you can't possibly predict where the story is going to go. Jeon Do-yeon's fearsome, raw performance as the mother goes hand in hand with the movie's depiction of a spiritual crisis brought on by the unspeakable. The film opened in New York two weeks ago; you should lobby IFC Films to bring it to our screens.
6.) Black Swan. Darren Aronofsky's pulsating, unhinged fantasia works equally well as a clinical study in deepening paranoid psychosis, catty backstage drama, love letter to the masochistic work of ballet dancers, and horror flick with lurid sexual overtones. It's all held together by Natalie Portman's career-defining performance as a ballerina whose delusions free her and destroy her at the same time. No wonder this film feels like such a stew of creative triumph and personal hell, transcendent beauty and shudder-inducing nightmare, all set to the heaving swells of Tchaikovsky's music and the beating of swan wings.
7.) The Social Network. Everybody has David Fincher's tech story on their year-end best list, which is why this delectable piece of entertainment is currently vacuuming up awards left and right. That's because it's easy for everyone to appreciate the movie's old-fashioned intelligence, workmanship, and construction. For all that, the film doesn't capture How We Live Today. It's simply a crackling good yarn with loads of clever dialogue and brilliant performances by Andrew Garfield, Justin Timberlake, Armie Hammer, and especially Jesse Eisenberg as a geek with a host of grudges and one big idea.
8.) Blue Valentine*. Oh, this one's painful. Ryan Gosling and Michelle Williams play a married couple in this indie drama. At the same time that the story of their falling in love unfolds before us, so too does the one about their dismal lives together six years later, when they're heavier, about to divorce, and starkly disappointed in each other and themselves. Director/co-writer Derek Cianfrance conducts an unsparing examination of a marriage in its death throes, while his valiant and nakedly vulnerable actors locate embers of the couple's previous love amid all the rancor. The result is unflinching, tremendously sad, and always truthful.
9.) Winter's Bone. Another movie on this list that could be classified as a horror flick, Debra Granik's adaptation of Daniel Woodrell's novel turns the story of a 17-year-old's search for her bail-jumping, meth-cooking dad into a phantasmagoric journey through a frigid Ozark backdrop. The heroine's quest shakes loose increasingly nasty backwoods types from her own family tree, and as it does, Jennifer Lawrence's quiet resolve and bravery in the lead role dominate the film more and more. Most of the praise for this film has gone to its depiction of rural life, but the expert way that Granik tightens the screws is what makes this such a draining experience.
10.) Mother. The unnamed main character of Bong Joon-ho's film has gone insane, but then so has the world she lives in. After playing a string of comforting, loving moms on South Korean TV, Kim Hye-ja makes a fierce impression as a mother who can't let go of her mentally retarded son even if he's killed someone and she has to kill more people to cover it up. Bookended by two crazed dance numbers and cut with interludes of slapstick comedy and biting social commentary on South Korea's justice system, the subject matter — the power of a mother's love to consume everything else — still holds its power to disturb.
Honorable mention: Banksy's the-joke's-on-me satirical documentary of the art world, Exit Through the Gift Shop; Andrea Arnold's sensitive British coming-of-age story, Fish Tank; Nicholas Stoller's uproarious rock-star road-trip comedy, Get Him to the Greek; Fan Lixin's searing exposé of Chinese capitalism, Last Train Home; Noah Baumbach's dissection of a middle-aged bastard, Greenberg; Juan José Campanella's Argentinian revenge-minded legal thriller, The Secret in Their Eyes; Mia Hansen-Løve's study of a family coping with suicide, The Father of My Children; Nicole Holofcener's guilt-ridden comedy among the rich, Please Give; Charles Ferguson's angry documentary about banks and bailouts, Inside Job; Edgar Wright's video game-inspired romantic comedy, Scott Pilgrim vs. the World; Gaspar Noé's Purgatory-in-a-Japanese-nightclub fantasy, Enter the Void; Olivier Assayas' five-hour saga of a terrorist who sinks into irrelevance, Carlos*; Glenn Ficarra and John Requa's sweet gay caper flick, I Love You Phillip Morris; and Kim Ji-woon's cartoonish epic Korean Western, The Good, the Bad, the Weird.