Hot Tub's Back Porch Grotto is a new restaurant that features neither a hot tub nor a grotto, although you'll find a lovely cedar bar area and back porch that, on the right kind of evening, might be magical. Not too long ago I wandered in on a rainy, non-magical night, wondering if I was going to be seated by a Hooters-esque waitress in a tank top. I was not. Hot Tub's is nowhere as scandalous as I'd thought (or perhaps had hoped). There are white tablecloths on the tables, for pity's sake. And the menu is definitely more high-class than a wings and beer joint. The restaurant is meant to be a little fancier, but the bar is more casual.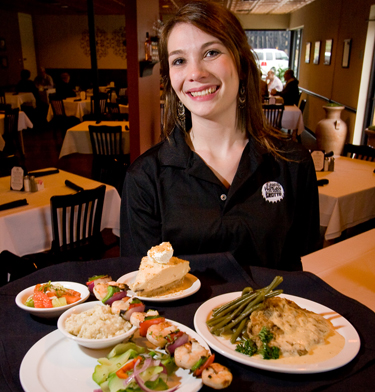 Turns out that the "Hot Tub" is owner Danny McGuire's nickname, and apparently that's not a reference to size. According to Chef Stephen Preston, McGuire is well-known among his buddies for his imitation of Eddie Murphy's James Brown in the old Saturday Night Live hot-tub skit. You know the one: "Rubbie-dub-dub in the hot tub! Hey!"
Preston is an interesting story, having come up the cooking ranks in several country clubs and the Ashton Hotel. His menu is eclectic, offering a little bit of everything: Tex-Mex, Southern comfort food, and a lot of fish. While I was waiting for my dining partner, fellow Weekly writer Caroline Collier, who lives nearby, server Amber brought out a bowl of what I thought was soup. Turns out the complimentary starter was a thick, tasty, spicy mess of Cajun-style beans, minus the rice. Some finger-sized hush puppies also made an appearance and were useful for sopping up the broth.
As of now, according to Amber, the restaurant's signature drink is a Key Lime Margarita, which came to the table in a slightly whimsical Mason jar. Undeniably not the color of anti-freeze, the drink had the fresh, slightly sweet flavor of key lime and packed a substantial tequila whammy.
The lump crab cake with avocado salsa appetizer was a petite ball of mostly crab, very little filler, and a light dusting of panko bread crumbs. The appetizer was missing a little something flavor-wise, maybe some spice, although the sweet flavor of the lump crab meat was just lovely. Still, with a crab cake, I was expecting a little more seasoning.
Big Daddy's Chicken-Fried Steak lived up to its name. The almost plate-sized portion of cast-iron pan-fried (not deep-fried) CFS was satisfyingly crispy and just a little chewy. The cream gravy was fairly standard, but the accompanying home-style mashed potatoes, with skins on, were absolutely superb, and I'd almost recommend doubling down on the starch. The entrée also came with nicely al dente green beans, although Chef Preston says he's changing up the presentation this month.
Perhaps the best entrée was Primm's Grilled Redfish: local redfish seared with a light, delicate, buttery sauce and spiced perfectly. I wish I could say the same for the chili cheese grits. They were definitely homemade, chunky, and satisfying, but they needed more seasoning. All entrées come with a second side, and on a whim I picked the tomato and cucumber salad. The refreshingly cool, tart, simple dish, replete with house vinaigrette, packed all of the flavor that the grits lacked.
We wrapped up dinner with the chocolate decadence cake and weren't disappointed. Creamy and dense, with just the right balance of dark chocolate and sweetness, the flourless cake was a great way to end the meal.
The service was excellent and well-paced, and the owners deserve props for setting up shop in a neighborhood as opposed to a strip mall or some trendy West 7th or So7 spot. But as I walked out past the bar, I couldn't help feeling that Hot Tub's Back Porch Grotto suffers from an identity crisis. In actuality, it may be two different places in one, kind of like a mullet: upscale-casual inside and a party on the cedar-lined patio out back.
Hot Tub's Back Porch Grotto
4413 Trail Lake Dr, FW. 817-923-2092.
11am-3pm Sun, 5-10pm Mon-Thu, 11am-11pm Fri-Sat. All major credit cards accepted.
Lump crab cake w/avocado salsa. $10.50
Big Daddy's Chicken-Fried Steak…. $14.95
Primm's Grilled Redfish……………….. $17.95
Chocolate decadence cake………….. $6.95