According to its college smoochie and still good pal — see, it can happen — Chow, Baby spent a significant portion of its U-years at the original Chuy's, on Barton Springs Road in Austin. ("I've been there?" "Yes, we went there all the time –– how could you not remember?") With its memory shot by many, many Chuy's Famous 'Ritas (price back then: wicked cheap, even for a college student), Chow, Baby and pal were curious whether visiting the Fort Worth Chuy's (2401 W. 7th St.) could reconnect the neurons. Flashbacks are sometimes good things, especially if they involve a Chicka-Chicka Boom-Boom platter. A wha? … Wow, the memories are starting to come back already!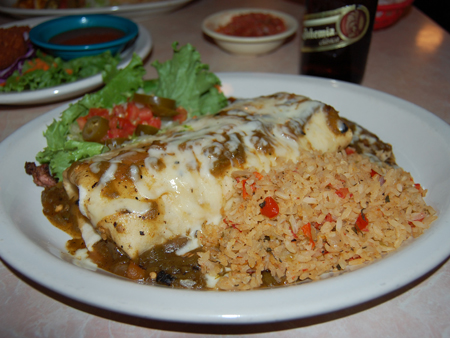 Note that this Chuy's is not related to the same-namers on Granbury Road, River Oaks Boulevard, Northeast 28th Street, or any other Chuy's this side of the one in Arlington Highlands. Bonus sociolinguistics lesson of the week: Chuy is a nickname for Jesús, so if your name's Jesús, and you don't need people making jokes about your "holy guacamole" (Chow, Baby, "Holy Guacamole," Oct. 27, 2004 [review of Jesús Barbecue]), you might want to use your nickname on the storefront. That's probably why we have more Chuy's than Jesús'. This Chuy's, the out-of-Austin one, now has 30 company-owned locations spreading from San Antonio to Clarksville, Ind. Chow, Baby's definition of "[evil] chain" varies by whether it likes the place in question, but 30 is kind of pushing it, not to mention Indiana. Enough background; now we're going in.
Whoa. What a loud, teeming rush down memory lane. Maybe these are implanted memories –– Chow, Baby is highly susceptible to those –– but still it's all so familiar: the noise, the crowd, the Elvis shrine, all the delicious smells of good Tex-Mex. The kitsch puts Chili's and Fishbone to shame: wacky stuff wall to wall, floor to double-high ceiling, hanging from the rafters, in little kitsch-nooks everywhere. The pal said this was an accurate recreation of the Austin original, and Chow, Baby memory-implantedly instantly agreed. Does replication of coolness add or deduct chain-y points? Probably adds a few.
Even with the slamming crowd, it was only a 10-minute wait at lunch for our table, thankfully up on the quieter mezzanine and thus slightly more conducive to not destroying Chow, Baby's one working eardrum. (Say, maybe this explains how it became half-deaf in college.) Deduction from chain points: The Chicka-Chicka Boom-Boom (chicken and cheese enchiladas, $8.99) is one of the few silly names here; most dishes are titled things like "tortilla soup" (small but fully loaded, $3.99) and "chile rellenos" (starting at $8.99). We started with the "appetizer platter" ($8.99), which was big enough for lunch for two: a large bowl of chile con queso, fabulous cheese and green chile quesadillas, a couple of chicken flautas, and a scoop of pretty good guac.
Chow, Baby's Elvis Presley Memorial Combo ($9.99) ("That's what you always get!") was a trio of plump, very tasty enchiladas, each with a different stuffing (beef, cheese, chicken) and sauce (warm chile con carne, mild ranchero, tangy tomatillo). Paired with a ground sirloin crispy taco and a couple of queso-schmeared tostadas, it was enough for two meals and a snack. Chain points for huge portion size, which totals up to … looks like a chain, tastes like a real restaurant. Go for it. Bring earplugs.
Contact Chow, Baby at chowbaby@fwweekly.com.
Chuy's 2401 W 7th St, FW. 817-332-2489. Fort Worth location of the highly acclaimed Austin Tex-Mex restaurant has all the kitsch, all the noise, all the crowds — and all the great New Mex-Tex-Mex dishes.$