Sonar Lights frontman George Miadis could have been "the next Elvis Presley" in Greece, said Sonar Lights bassist Artell Vincent. When drummer Roy Oteo traveled with Miadis to the frontman's homeland last summer, he was amazed at all the attention Miadis received. "He was on all these national TV shows," Oteo said. "He really could have been an international Greek folk singer."

The twentysomething Miadis had mastered the Greek folk hero persona and wanted something more from music. Four years ago, he departed from Athens for American soil because here is "the land of opportunity," he said. "The U.S. is the mother of rock 'n' roll. What can I say?"
Now that he's in Fort Worth, Miadis has switched gears completely by throwing his creative energy into the radio-friendly hard rock band Sonar Lights.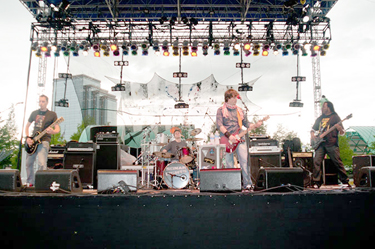 Miadis initially came to the States to study music production. He chose Texas because of the reputation of Irving's MediaTech Institute, which he feels was much better than similar schools in Boston and Los Angeles.
At MediaTech he met Oteo, and the two started a band, EpiTas, which Oteo calls a "much softer, mellower" version of Sonar Lights. Eventually they recruited a classmate, guitarist Daniel Schmidt, who helped push them into their current heaviness.
The guys found Vincent by an online ad that read either "Still Looking" or "Ready to Rock" (depending on which Sonar Lights member you ask), and by last March, they were ready to hit the scene full-throttle.
Miadis had the bones of several songs already structured into partial songs, and after a few months of full-band practice, Schmidt, who is now a full-time producer, recorded the band's eponymous debut EP. Now that Sonar Lights have played shows at The Aardvark, Pour House, and Wildflower Festival, where they opened for Cowboy Mouth and the B-52s, they can claim with certainty that a live show is an exact replica of what listeners hear on the disc.
"There is no smoke and mirrors," Oteo said. "Our strengths are full guitar sounds, rhythmic textures, and melodic vocals over the top. It blends together to make us a powerful rock band."
Both Miadis and Schmidt are intuitively rhythmic guitar players, and the two constantly trade tasteful solos on the Sonar Lights EP. Only after Vincent and Oteo fit their parts into the mix with mathematic precision during the writing process did Miadis feel comfortable enough with the full expression of the songs to write lyrics.
Crossing over from Greek to English has been more of a challenge than he anticipated. "Most of the time I think in Greek," he said. "Sometimes [the translation] is interesting. It makes no sense, but that's rock 'n' roll."
No matter the language, Miadis tries to hit on experiences that he feels are common to the human condition. "Hopes and fears, any type of social problems, injustice, even conspiracy" are among his main messages, but no matter which dark areas he explores lyrically, he tries to keep the overall vibe of the songs light. "I want to have a positive thought in everything," he said. "I want to make people think, then give them options."
The "think for yourself" mentality was part of what drew Miadis to Texas in the first place. He expected to find cowboys and shotguns, and though that part didn't quite meet his expectations, he has found plenty of opportunity. Instead of working at a boring job, he makes his living playing in a classic rock cover band, The Back Pages, and by toting his acoustic guitar to local eateries like Potbelly and Up N Smoke to entertain diners with his vast repertoire of rock songs sung in a voice that retains a slight Greek accent.
As blessed as he feels to be making a living in America playing the music that he loves, Miadis moved here to watch his original creative experiment flourish. Sonar Lights is hoping to break away from the local scene and start building tours as soon as possible. The band will finish work on its debut full-length album, tentatively titled Wardance, this spring. In the meantime, the guys are trying to network globally by sending material to internet radio shows and podcasts. They want to be as big in scope as possible because American rock has a huge global influence, and no one understands this more than George Miadis.