We recently reported a story about a dog who was accused of attacking an 84-year-old man ("Mimi and the Man," Dec. 8, 2010). The 4-year-old dog, Mimi, became the biggest pit bull celebrity since Spuds MacKenzie –– though Mimi, unfortunately, was known more for being accused of attacks than being the four-legged life of the party.

What made Mimi's case so high-profile is that her owner, Steven Woods, spun a pretty good sob story. He told the Weekly (and several other news agencies) that he was an injured Iraqi veteran who needed the dog to help him cope with his severe post-traumatic stress disorder. To save his dog, Woods, who lives on less than $800 a month disability payments, would have to come up with $1,000 to pay various fees.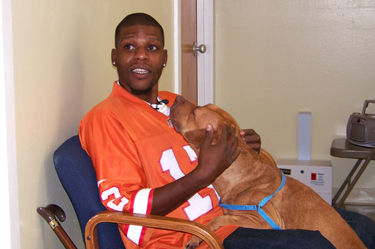 His attorney, Randy Turner, contacted several animal welfare activists, who in turn spearheaded what can best be described as the Save Mimi Craze. The blogosphere lashed out against the city of Fort Worth for taking a wounded vet's dog. E-mails, phone calls, and letters poured into the city. Newspapers and television news stations reported the story. Concerned citizens raised $16,000 in two days to pay Woods' fines and get Mimi released.
But Woods never served in Iraq. In December, WFAA/Channel 8 news reported that Woods served in the Arkansas National Guard, and Veteran Affairs has no record of his ever being sent overseas.
Woods also has a rap sheet and a record of his dogs being involved in attacks. On four occasions, since last April, police and animal control officers have been called out to Woods' neighborhood in response to a dangerous pit bull. In each case, the animals –– he has several –– retreated back into Woods' house.
He also has a history of making things up. On one occasion, he produced a notarized bill of sale and told city officials that he sold the dog to a person in Arkansas. When the city asked him to bring his dogs to be identified by an attack victim, he brought the wrong two pit bulls.
Woods, who is now on the hook for thousands of dollars in fines, told the city that he was homeless, according to Brandon Bennett, the city's director of code compliance division. Woods was trying to take advantage of a program that works with homeless people who are accused of small crimes.
Bennett told the Weekly that Mimi and Woods were in compliance as of the city's last inspection, but, because of her history, she is likely not the type of dog that would get another chance should she be accused of another attack. Mimi's best shot, he said, was for Woods to be a responsible dog owner.