The drawbacks to all-you-can-eat buffets are legion: the near-obligation to overeat, because after the first bite it's all "free"; too often the food is steam-table soggy or heat-lamp dried out; and worst of all, no leftovers for a midnight snack. On the upside, buffets offer a chance to try a little bit of everything, and maybe discover something you never knew you liked (e.g., fried cauliflower). Plus, if a dish is really good, you don't have to fork-fight your dining companion over it — just get more! So when senior executive legman Michael B. proposed a state-of-the-indies summit over Sunday brunch buffet ($11.95) at Greek/Lebanese Al Wadi Café (2712 Brown Tr., Bedford), Chow, Baby considered all the plusses, minuses, and Al Wadi's pistachio-and-cinnamon-dusted rice pudding ($2.95), and said, "Hell yeah, I'm in!"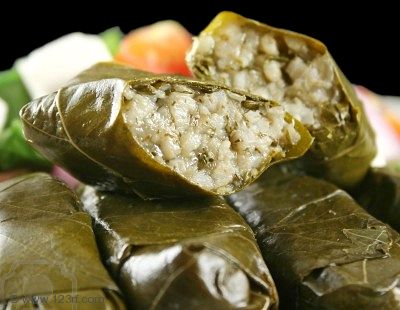 So we were at Al Wadi last Sunday, but the buffet wasn't, because the buffet is only on the first Sunday of the month. Huh? The TiVolution of our species has cost us the ability to reckon what day it is, much less the day's relative position in the month. Luckily, two people can make their own buffet if they sufficiently over-order. We began with a head-to-head between Lebanese stuffed grape leaves (six for $6.95) and Greek dolmas (six for $4.95), and loved them both — the Lebanese for the extra sparkle of lemon and tomato and the Greek for the dip of housemade tzatziki sauce. Otherwise, near-identical leaf-purses of intriguingly spiced rice, both of them winners.
Three entrées gave the two of us plenty to sample, with a (yay!) hefty midnight snack left over: a classic Greek moussaka ($9.95) of baked eggplant, potatoes, and ground beef with marinara and béchamel sauces; a roasted lamb shank ($10.95), great for playing caveman with and also useful for eating; and a combo shawarma plate ($8.95) in which the chicken, but not so much the beef, was juicy and wonderfully spiced. Because Chow, Baby temporarily forgot that Al Wadi has fabulous baba ghannouj, made with fresh-roasted eggplant (not canned!), it chose for its sides Lebanese-style green beans, heavenly hummus, and a double order of rice that seemed, well, gummily inauthentic. Chow, Baby needs to get its ever-fatter butt to Lebanon, see what the real deal is. Meantime, it'll just have to keep visiting Al Wadi on days that might be Sundays and hope it hits the lucky one eventually.
Peaceful Tex-Mex Joint of the Week
Just a week ago Chow, Baby was yearning for a good Tex-Mex restaurant that wasn't screechy loud and had only a minimal amount of kitsch, and voilà: Up pops Miguelito's (209 W. Bedford-Euless Rd., Hurst.). Well, it's been there 15 years, so "up pops" is probably the wrong phrasing, but it was new and welcome to Chow, Baby. In time with the relatively low-key mariachi music on the speakers, sweet-smiling and efficient Joaquin delivered a hot "Miguelito's dinner" ($9.95) — can't go wrong with the brand name — which features a couple of saucy enchiladas, a puffy taco that's a rival for Caro's best, and a small bowl of excellent guac. That's about all there is to say about Miguelito's, and that's what Chow, Baby likes about it.
Contact Chow, Baby at chowbaby@fwweekly.com.