Istanbul Grill sits in a tiny storefront space all but hidden in the middle of the overcrowded metropolis of shopping centers that is South Cooper Street in Arlington. It's clear when you step through the doors, though, that the proprietors want to offer a calm, unfussy elegance. As a friend of mine would say, it's a "napkin hat" kind of place –– the cloth napkins are folded into vertical structures on the plates, all resting on white tablecloths. Our server was unfailingly prompt, a little formal, and very friendly. Luckily, the food was as classy as the establishment.


The appetizer part of the menu features many of the same items that fans of Middle Eastern fare have come to love: hummus, baba ghannouj, tabouli, falafels, and dolmas. (The rice-stuffed grape leaves here are called yaprak sarma.) But we decided to try some specialties that don't often pop up in the typical Greek/Lebanese/Turkish mishmash and were delighted with the results. Most were served with a generous heap of warm pita bread triangles.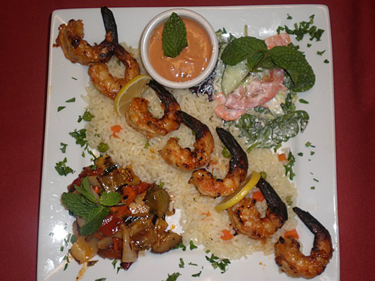 Cigarette borek were four French-fry-sized tubes of golden, deep-fried filo dough stuffed with succulent feta cheese crumbles. They were slightly oily and surprisingly satisfying, and the small side of cacik (yogurt sauce) was cool and tangy. The eggplant spread was a little like traditional baba ghannouj but with less garlic, no tahini paste, and more pure veggie flavor –– the roasted eggplant had been puréed into a smooth and pulpy dip drizzled with olive oil and flecked with parsley. We actually preferred its simplicity to many of the baba ghannouj dips we've tried. Similarly marvelous was the piyaz, a salad of hearty white beans, strips of red bell pepper, chunks of savory onion, and a sprinkling of parsley in a spiky, clear vinegar sauce.
The entrées were more traditional: different grilled combinations of beef, lamb, and chicken in the forms of kebabs or doner (the Turkish equivalent of Greek gyro meat, which is ground, formed, and then sliced). The meats were also served in sandwich form on pita bread with veggies and condiments. Your best bet might be the karisik izgara (mixed grill plate). Though it's hardly cheap at $17, the entrée offers an excellent selection for the carnivore. It was served with a generous heap of fluffy, steamy rice. Everything we tried was silky, juicy, and flavorful: succulent pieces of grilled lamb and chicken breast on thin wooden skewers; little spiced patties of beef and lamb ground together; and the doner, which was pure ground lamb that was paler and lighter on the palate than the rough dark gyro meat in most Middle Eastern haunts. That seems to be the mission of Istanbul Grill: to take old favorites and render them a little more delicate, subtle, and delicious than you remembered.
Istanbul Grill
6204 S Cooper St, Arlington. 817-557-3377.
11am-10pm Sun-Thu, 11am-11pm Fri-Sat.
All major credit cards accepted.
Piyaz………………………………… $4.50
Eggplant spread…………………. $4.75
Cigarette borek…………………. $5.50
Karisik izgara (mixed grill)… $17.00