Last week's icy roads and rolling blackouts (no TV for several minutes at a time!) meant that homebound Chow, Baby actually had to turn to books for entertainment while (the whiny tone spikes here) it cooked for itself using whatever it happened to have in the fridge, which fortuitously included shiitakes, truffle butter, and Velveeta. Following much frigid experimentation, here we offer the winter-storm edition of Chow, Baby's Three-Step Recipes!!!™, inspired by some recent yummy sides it's had outside the house. Outside the house … that sounds so nice.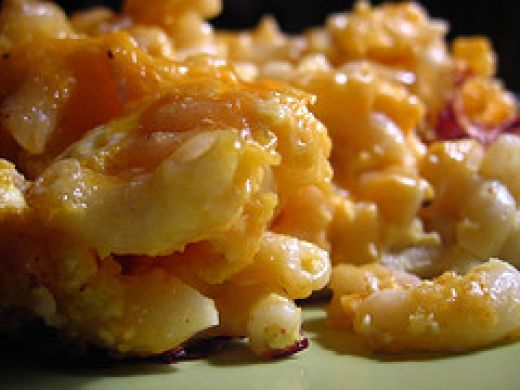 Cauliflower Levantine
1. Put your largest cast-iron skillet in the oven and heat to 500 degrees.
2. Core a nice cauliflower and cut it into one-inch slices, or separate into florets if you're fancy. Toss with olive oil and sprinkle generously with Himalayan salt and whatever exotic spices have been languishing in the cupboard for a year (curry, cumin, turmeric, garlic, pimentón, paprika).
3. Add the cauliflower to the skillet and roast until the bottom sides are deeply browned, then turn the slices/florets over and roast until the other sides are browned. Serve with tahini and warm pita bread.
Book pairing: Lonely Planet Syria & Lebanon (it's a balmy 60 degrees in Beirut right now!) and Arabic Made Easy (a lie).
Joe's Warm Spinach Salad with Shiitakes, Corn, and Bacon
1. De-stem 3 cups packed baby spinach leaves and put the leaves in a bowl.
2. Sauté 1 slice bacon, cut into half-inch pieces, in oil until crispy, 2 to 3 minutes. Scoop out the bacon (leave the oil) and add 4 ounces shiitake mushrooms caps, cut into half-inch slices, to the skillet; cook just until they exude their liquid, 2 to 3 minutes. Add the kernels from 1 ear fresh corn and cook until it turns bright yellow, 2 to 3 minutes. Stir in sherry vinegar, kosher salt, and pepper to taste.
3. Toss everything together in the bowl and eat for 2 to 3 minutes or to taste.
Book pairing: Serve Yourself: Nightly Adventures in Cooking for One, by Chow, Baby's college buddy Joe, from which this recipe is very loosely adapted.
Gourmet Mac & Cheese
1. Boil the shells from a box of low-class Velveeta Shells and Cheese according to package directions except undercook them a little bit; meanwhile, grate/shred/crumble various gourmet cheeses (Rouse Smokey Blue, mmm) from Whole Food's "Under $3" remnants bin until you have a big handful (total, not each). Drain the pasta.
2. Melt 1 oz. black-truffle butter over very, very low heat. Don't worry; it's supposed to smell like that. Whisk in the Velveeta "cheese" until smooth, then incorporate the handful of grated real cheeses. Add the shells, which by now will be all clumped together because it's cheap pasta, and mix together.
3. Dump the sticky mess into a bowl that you already know for a fact can go in the broiler, and broil until the top is attractively burnt. Serve with your favorite whimsically named drink.
Book pairing: Class: A Guide Through the American Status System, which doesn't discuss mac & cheese in particular but has a lot to say about calling things "gourmet."
Contact Chow, Baby at chowbaby@fwweekly.com.