Somewhere between the hair-metaldom emanating from joints such as The Rail and Tomcats West and the proto-punk and hardcore from 1919 Hemphill there's doom. As unhurried but heavy as stoner rock (EPIC RUINS, Jefferson Colby, Blood of the Sun) and as loud and obsidian as death-metal (Turbid North, Earthrot, Dead Rising), doom music has roots in legendary bands such as Black Sabbath, Sleep/OM, and High on Fire and is represented locally by two or three really good outfits.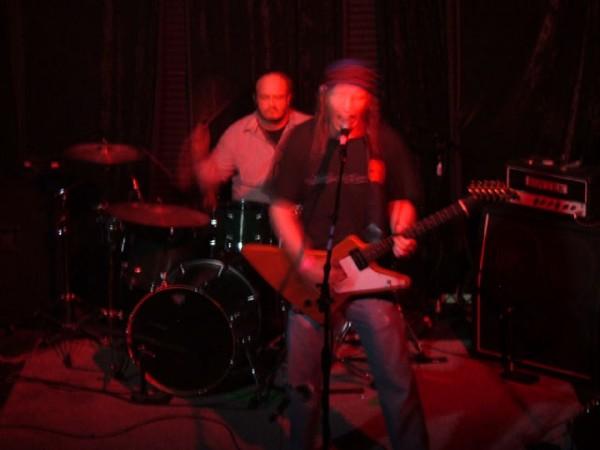 The best might be Stone Machine Electric, a powerful twosome a la OM but with a guitarist/vocalist and drummer instead of a bassist/vocalist and drummer. (But, yes, Stone Machine is looking for a bass player.) Stone Machine Electric guitarist/vocalist Dub and drummer Kitchens blend bone-crushing rhythms with semi-Eastern melodies and tribal beats just as often as the duo stomps forward, honking out monstrous, sludgy riffage. A bassist would seem superfluous. The band recorded its debut album, the demo Awash in Feedback, totally live and released it last December. Consisting of just five songs but lasting about 30 minutes, the demo is a transportative listen, full of interesting textures (amazing for just a guitar and drums), walls of sound, and sweeping, ominous passages. You can practically see Conan praying to Crom right before a battle. The sonic architecture of the extended instrumental "Echoes of Garnath" is one in which variations of a theme appear, disappear, and reappear, keeping the progressions fresh and interesting. "Nameless" is one of the demo's stronger tracks, a dirge whose math-rock-y bridge comes out of nowhere but still somehow fits. Judge for yourself on Friday, when the band plays at Hot Licks Barbecue Saloon (formerly Rock Dogs Sports Bar, 7120 S. Fwy., FW, 214-276-2085 — yes, "214"). The bill also includes three other 817 outfits –– the thrashy (trashy?) China Kills Girls, the Southern-fried Rome I$ Burnin', and the bluesy Gruesome Twosome –– and Dallas' Ravencroft.
OK, I know I'm getting old. My creaky bones do a swell enough job of reminding me of my advanced age, so keep your snide comments to yourself. Were I still 17 and the year still 1987, I would eat up LuVa's "Sexx Remote." Except for the studio wizardry that warps the music and vocals, the young Fort Worth rapper's song could have come from an album by Al B. Sure!, New Edition, Johnny Gill, or some other '80s-era manufacturer of panty-droppin' music. Alas, I'm in my late 30s and have a hard time with easily classifiable music. But LuVa (né Christian Love) definitely has at least one thing going for him: his smooth voice, not as agile as Usher's but still Usher-esque in its silky texture. Last we heard from LuVa was a couple of years ago, when he released "Club Scene Queen (She Roc)," a balla anthem of sorts. (Well, that's what we used to call danceable rap songs back in the '90s.) (A "balla" is urban slang for "successful, fun-loving chap.") Young Mr. Love is currently studying for his doctorate in computer forensics at the University of North Texas. I doubt he has time for music anymore, but I'm glad I came across "Sexx Remote" online the other day. It took me back. Just don't make me tell you again how far.
Contact HearSay at hearsay@fwweekly.com.