When Brian and Lori Aitken went house-hunting about seven years ago, they settled on the circa-1925 house on Scott Avenue in the West Meadowbrook neighborhood for several reasons — they liked the proximity to downtown Fort Worth and Gateway Park, and they liked old homes.


Sure, they knew about the cluster of homeless shelters nearby on East Lancaster Avenue and crime issues like drug dealing and prostitution. "But we could see this neighborhood changing for the better," said Brian, a general manager for a local construction company. "I grew up over here, liked the house, liked the neighborhood. We saw it as a good investment for us."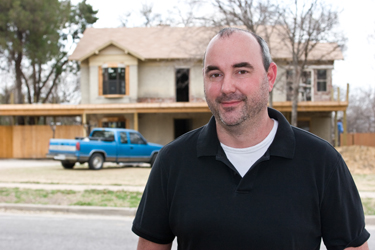 But now the Aitkens are thinking about selling. The reason: the renovations going on at a formerly abandoned house across the street.
One might think that changing a long-vacant house into a livable property would be a positive for neighbors. But many West Meadowbrook homeowners are skeptical about the renovations because of rumors of what the house might be used for. They fear it might house recently paroled inmates from Texas prisons.
Joyce Ann Brown of Dallas, whose company is renovating the house, has been helping parolees for 21 years with job assistance and housing placements through her nonprofit group Mothers (Fathers) for the Advancement of Social Systems, Inc. (MASS).
Last August, the Scott Avenue home was purchased not by MASS but by Brown's for-profit company called Jab Productions. The two companies are not related, according to Brown's attorney, Cheryl Wattley.
Brown didn't return Fort Worth Weekly's calls, but Wattley said there will be no halfway house on the Scott Avenue property. However, it's still not clear who will live there. Brown could live there with her family or rent the house out. Under Fort Worth zoning laws, up to five unrelated individuals may live in a single-family-zoned house. Under state and federal equal-housing laws, the city cannot deny permits or housing on the basis of someone's criminal record.
One aspect of the renovation that particularly bothers neighbors is a rather large wraparound porch on the second floor. "Whoever lives there will be able to sit up on that deck and stare into our house," said Lori Aitken. "How the city allows that to be done astounds me."
Brown is well known in Dallas. She's a former aide to Dallas County Commissioner John Wiley Price, but she first gained fame when she was exonerated in 1990 from her conviction 10 years earlier in a robbery and murder case. She has written a book about her ordeal, and according to news reports, Hollywood might turn it into a feature film.
According to MASS' web site, the nonprofit helped 682 formally incarcerated individuals in 2008, including several hundred who got assistance with housing and jobs.
On the web site, MASS says it gets funding from the Texas Department of Criminal Justice (TDCJ) through its Family and Children Enhancement Services program. But TDJC spokesman Jason Clark said that contract has not been in effect since 2002.
"She does not operate a contracted halfway house," Clark said. But Brown does have a relationship with the TDJC parole division. "Regional staff have referred offenders to MASS for non-contracted services and resources, like job search, housing, and counseling programs," he said.
Wattley, a member of MASS' board of directors, said the renovations have nothing to do with a halfway house. "The neighbors have been told repeatedly that it will be a single-family residence under the local zoning," she said. "MASS has never operated, owned, or managed a halfway house, so the neighbors' [worries] that this will happen are misguided fears.
"If a doctor buys a housing property and renovates it, you don't assume he will be opening up a medical clinic," Wattley said. "There is no story here. Joyce has submitted plans to the city that comply with the single-family zoning requirements, gotten the proper permits, and city inspectors have found the work follows those plans."
In an e-mail to several homeowners in the neighborhood, Brown said, "If … the work that I do made people assume that a halfway house was going up on Scott [Avenue], tell your friends that I don't have, nor do I keep secrets. My intentions from the start were to buy, renovate, live [with my family] or sell."
The neighborhood association was not informed of the project until the permits were issued and construction began. But under city policy, a new property owner is not required to contact any neighborhood association before plans are approved.
The second problem, from some residents' point of view, is the perception that the Near East Side is the dumping ground for far more than its fair share of social service projects for the poor.
"We have to fight for everything we get over here," said Wanda Conlin, head of neighborhood affairs for the West Meadowbrook Neighborhood Association. "They dumped the homeless shelters on us through the years, and it was always like, 'Let's give them some more.'
"There has to be a better way to notify neighborhoods about projects like this, because as the city zoning [law] on single-family homes is written, Ms. Brown could lease out the space to as many as five parolees," Conlin said.
Conlin is right. Halfway homes are operated as part of the TDCJ's parole division, with the prison agency doing the management, counseling, and inspections. But under the Fort Worth ordinance, a single-family zoned property can have as many as five unrelated people living under one roof. Under federal and state fair housing laws, those small groups of unrelated people cannot be denied living arrangements due to criminal or medical history or other factors in their pasts.
"We understand neighbors' fear and concern, but inspectors have visited the site and found work that was consistent with plans submitted," said David Hall, assistant director for the city's planning and development department. "We can't cross that legal line that involves fair housing. She has the right to lease the property to whoever she wants."
Hall said Brown "has vehemently denied that this property will be used as a halfway house, but she has never said she would rule out renting to people who have criminal pasts, as is her right as a property owner.
"It's not much different than five college fraternity members wanting to lease a house together," Hall said. "Maybe the neighbors nearby don't like that, but the city can't address their concerns because the city has to follow the law."
And that is part of the conundrum here. The homeowners near Scott Avenue espouse their rights as property owners with as little government interference as possible. But they also want those rights to include some ability to determine who lives in their neighborhood.
"I have the right as a property owner to make our neighborhood safe and secure," said Jan Cermak, who lives a few blocks from Joyce Brown's property. "I don't care what Ms. Brown says. She has a long history of getting the recently incarcerated into housing, and I have no doubt she will do it in our neighborhood. Because of recidivism rates, I worry that crime will increase, even if only five parolees are in that house."
Don't recently incarcerated individuals have to live somewhere?
"Our experience in this neighborhood is that houses [that landlords rent] to various unrelated individuals are where the drug dealing and prostitution take place." said Cermak, a teacher at Burleson High School. "Maybe we have to redefine what single-family housing is. Because we don't want more of the criminals and the filth living over here."