Rappers Big Cliff and JKush will never replicate a performance. In fact, they will never even come close to doing a song the same way twice. Even asking for a repeat would be futile, as the friends and lyrical partners make everything up as they go. Big Cliff, the alias for Fort Worth native Cliff Watkins, is the recognizable face of rap for local rock fans. He regularly contributes his freestyle talents to performances by Rabbit's Got the Gun, Four Corners, and D-Snacks and the After-School Special.


He and Detroit native JKush, a.k.a. Joshua Williams, joined forces in September and are in the process of building a live band to back up their relentless improvisational flow. Donning the odd moniker O.T.H.E.R. G.U.Y.S. (Off The Head Entertainment Records. Grind Until You're Satisfied), Big Cliff and JKush might be on the brink of something big.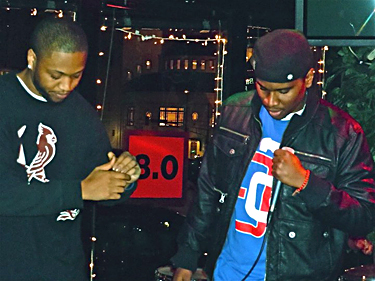 When Big Cliff started rapping in 2003, he and his friends made music as the lyrical conglomerate F.T.F. (Funky Town's Finest). Not knowing any solid producers, the duo copped industry beats from the internet and recorded rhymes and stories on top of the rhythms.
Friends enjoyed the resulting mixtapes, but F.T.F. had nowhere else to go with the project. With no outlet for live performances and with the onset of adult responsibilities, F.T.F. fell apart. But Cliff, who once wrote catchy marching cadences for his high school band, still wanted to make music. He had spent years developing a dynamic, engaging flow about a range of topics, but now he was wandering around town without a musical home.
In 2008, he met the multi-talented Raj Chauhan, who encouraged Cliff to invest more heavily in his rapping potential. While Cliff's girlfriend, Leslyn Pennington, was pregnant with the couple's son, Cliff and Raj built a high-tech garage studio and started performing in the acoustic roots-rock band Four Corners with Cody Admire (owner of The Grotto) and Sally Majestic's Scott Vernon.
Other local non-rap artists who had been considering adding rap to their rock finally had a local hip-hop artist willing to pitch in. After-School Special's Deric Merrill jumped at the chance to feature Cliff, mainly to broaden the band's appeal. When Rabbit's Got the Gun gained momentum over the summer of 2009, the Fort Worthian funk-rock band found its audiences clamoring for Cliff. He has participated in almost every Rabbit show since the beginning and appears on the band's self-titled album in the song "Get Away." "It's always been my passion to be with a live band," Cliff said. "I never wanted to be like everyone else."
The majority of hip-hop artists perform over digital music tracks, and some rap acts such as the Rivercrest Yacht Club and Dru B Shinin' orchestrate original music to support the rapping. Cliff always felt most at home assuming the microphone while a live band was playing decidedly un-rap material. "I feel it's a better show all around," Cliff said about that kind of performance.
While Big Cliff's calendar continued to be dominated by his appearances with other acts, he still wanted to launch an original hip-hop group in which he would be the main MC, not just the sideman who played the shakers almost as often as he spat into a mic. In the meantime, JKush, who left Detroit because "you couldn't even get a job at McDonald's," had been hitting open-mic nights with local rapper Ruben "BornKnowledge" Salazar. JKush, an only child, had been having rhythmic conversations with the music in his headphones for years, but in 2009, he was still hesitant when it came to freestyling in front of an audience.
Last September, Dru B Shinin' hosted a house party to celebrate the release of his Admission One album, and Big Cliff and JKush, the area's pre-eminent improvisational rappers, finally crossed paths. They felt the chemistry and immediately started performing together. In October, Cliff invited JKush to appear on The Art of Freestyle, Vol. 2, an album that Cliff was making at producer/DJ Alandres Rather's home studio in town.
Cliff and JKush released the mixtape via Bandcamp and use it mainly to promote themselves –– they're not planning on making any more music to generic beats. "Too repetitive" is how they're described by both Cliff and JKush. For their band-band, Cliff and JKush aren't "just slapping something together," Cliff said. They want to take the time to get the instrumentation right before hitting the club scene full throttle.
As opposed to only a couple of years ago, Fort Worth now has a legitimate live hip-hop scene. Dru B Shinin' has invited Cliff and JKush to do free-form sets at all of his monthly Cellar gigs, an opportunity for which both freestylers are thankful. "It's awesome what Dru started," Cliff said. "It definitely shows there is a want for hip-hop in Fort Worth."
A freestyle artist in a live setting has infinite opportunities to choke, but neither Big Cliff nor JKush has really experienced any creative letdowns. The words just keep on flowing. "I'm permanently inspired," Cliff said. "One word can make you think of a million other things."