FedEx delivered a settlement package from the National Football League to Fort Worth resident Steve Sparks yesterday, providing a resolution to his nightmare visit to Super Bowl XLV at Cowboys Stadium.

"The NFL sent me a cover letter which has quite the apology in it about what happened — a pretty nice letter; I can't imagine a corporation writing such a letter," he said. "They sent a packet on frequently asked questions, a plan for reimbursement, and a settlement agreement for each ticket."
Sparks and his 11-year-old son, Will, were among the many fans who experienced ticket problems at the big game on Feb. 6. The pair eventually got inside to see the game, but only after a long ordeal. The NFL offered them reimbursement of face value for those tickets or two new tickets for a Super Bowl of their choice. The NFL promised the new tickets would be in a fixed section (meaning not the claptrap temporary seating that Dallas Cowboys owner Jerry Jones tried to pass off to fans here).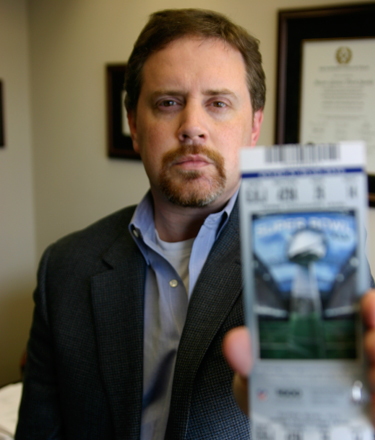 "And the letter says they'll be in a section below the top-level seating area in the stadium — in other words, we'll be provided better seats than our Super Bowl XLV tickets," Sparks said.
He considers the offer fair, and he's going to accept the two tickets to a future Super Bowl. He wants to show his son a good time after the disaster in Arlington.
Sparks was among 500 fans who won an NFL lottery last year and were given the opportunity to purchase two tickets at face value. Sparks paid $1,200 for two cheap seats just for the thrill of taking his son to their first Super Bowl.
"We were excited about going," Sparks said.
Excitement faded to frustration, anger, and exhaustion. Hundreds of fans were displaced after Jones and the NFL failed to get proper installation of temporary sections of seats completed in time for the game. An estimated 1,250 people lost their seats after some sections were deemed unsafe. Two class-action suits have been filed over the foul-up.
Last week, Jones addressed the problems vaguely at a press conference, saying, "I do, along with the NFL, take responsibility for the seating issue."
Trouble began not long after Sparks arrived at the stadium more than four hours before game time and faced an attendant scanning tickets at a turnstile.
When the attendant passed his scanner over Sparks' tickets, the attorney said, "It made a terrible sound. The guy looked at me and said, 'There's a problem with your ticket.' "
A flabbergasted Sparks asked for more information. "He said, 'Sir, I don't know, but you need to step aside.' At this point we were completely dumbfounded about what to do, where to go, who to talk to," Sparks said.
Another worker pointed them to something called NFL Resolution in a tent outside, across a bridge, and near the Ballpark in Arlington. Father and son doubled back and made their way outside against the flow of the crowd.
"You could see the crush coming, and we were in no-man's-land at this point," Sparks said. "I thought, so much for getting here early."
They reached the small tent where an unhappy crowd stood listening to an NFL worker with a bullhorn.
"No one could understand a single word he said," Sparks said. "He was like the NFL ghost whisperer. It was like they said, 'Who has the softest voice in the NFL?' And then they sent him out there to talk to us."
Fans were told to go back to the stadium to section E-1 where they would be given $10 vouchers for food and drink while they waited. The paltry offer was a slap in the face to people eager to get inside the stadium.
"It was so unexpected — this is the Super Bowl, the mega-sports event of the world," Sparks said. "How could things go so wrong?"
A confused Sparks stood in a long line and eventually faced the same ticket attendant, who scanned their tickets, got the same horrible sound, and refused them entrance. Sparks wandered around in a breezeway until he found E-1. An NFL worker directed them to a gated, chain-link–fenced area to wait. Nobody offered $10 vouchers.
They waited with hundreds of other fans for two hours in the chain-link pen. Fans chanted "Jerry Jones sucks," "NFL sucks," and "We want our seats."
An NFL worker handed out letters promising a refund of three times the face value of their tickets. The letter blamed "unforeseen conditions" and said that "installation of temporary seating for Super Bowl XLV was not fully completed and your assigned seat is unavailable for today's game."
The letter didn't pacify. "Everybody, especially these guys who flew in from all over the country, went crazy," Sparks said.
The NFL rep quickly left.
"We never heard another word again from the NFL" while in the pen, Sparks said. "That's what was so frustrating. Nobody was talking to us."
Arlington police began hovering around the rowdy pen, which offended the displaced fans. "We were the ones who were done wrong, and the Arlington Police Department was coming around like we were the bad guys," Sparks said.
As it turned out, police were sympathetic. Some fans stormed off, but others stayed to grouse to the cops. The temperature was plummeting, people were shivering, and it was 30 minutes until kickoff. Suddenly, a police officer demanded that a gate into the stadium be opened for the group.
"It was like a jailbreak at that point," Sparks said. "There was a group up front that just started running. I asked the police officer, 'Where do I go?' He said, 'I have no idea, just try to go in and make the best of it and have a good time.' Nobody scanned our tickets — we just walked in."
It took Sparks half an hour to find section 429-A, where he noticed shaky handrails and poor quality seats, but no ropes or tape preventing them from sitting. "They felt like high school gymnasium seats where you kind of step on one, and the whole row shakes," he said. "We were absolutely exhausted by what we'd been through."
The view was horrendous and the stadium loudspeakers inaudible.
"My son was so deflated by the whole thing," Sparks said. "That killed me. Here was an 11-year-old so excited about going to the Super Bowl, and now he just wanted to go home."
Everyone around them was complaining. During the game, an NFL worker came by and handed out letters promising a full refund for each ticket's "face value." Sparks figured the offer was reduced since they'd been able to watch the game, although the experience was far from fun. "I wanted to be there for the pre-game experience and all the festivities, and we were denied that, which is not what you expect when paying that kind of money for a ticket," he said.
Just before game time, Arlington officials had ruled that about 1,250 temporary seats could not be used. About 850 ticket holders were given seats that for the most part had been intended for NFL and Cowboys employees, but about 400 others ended up getting no seats. Sparks and others were allowed in just before game time to sit in temporary seats that had apparently passed inspection.
Sparks blamed the fiasco on Jones' desire to break what the attorney called a meaningless attendance record.
The seating fiasco can be traced back to September 2009, when Jones was vying to set the NFL regular-season attendance record during the first game at Cowboys Stadium. Jones got the record (105,121 in attendance) after selling 30,000 "party passes," or standing-room-only tickets for the decks and plazas above the playing field. But the crowd became unruly. Most couldn't see the field, and some couldn't get in because it was too crowded. Arlington fire marshals limited the party passes to 10,000 for future games.
Jones wanted to get at least 104,000 fans into the stadium on Feb. 6 to set a Super Bowl attendance record and decided to build temporary seating in those decks and plazas. But Arlington fire and code inspectors cited unsafe handrails and seats in some sections. The NFL offered settlements to the approximately 400 fans who missed the game, including a lump sum of $5,000 or the total of their verified expenses from Super Bowl XLV, whichever is greater.
Those who got into the game, such as Sparks, were offered a face value refund or a free ticket to a future Super Bowl. Sparks and his son aren't sure which Super Bowl they'll attend, but the attorney said they won't be returning to Cowboys Stadium. For any reason. Ever.
"They don't deserve to have another Super Bowl," he said.
Staff writer Dan McGraw contributed to this article.