So here's Chow, Baby standing paralyzed in moral combat before the self-serve soda dispenser at Spiral Diner (1314 W. Magnolia Ave.), having filled its glass to the brim with agave-sweetened watermelon cream soda, then having taken a sip: ew, way too sweet. Dump it? No, you can't just throw away perfectly good anything at ultra-green, super-vegan, recycling-is-fun Spiral Diner. But I don't wanna drink this. What to do?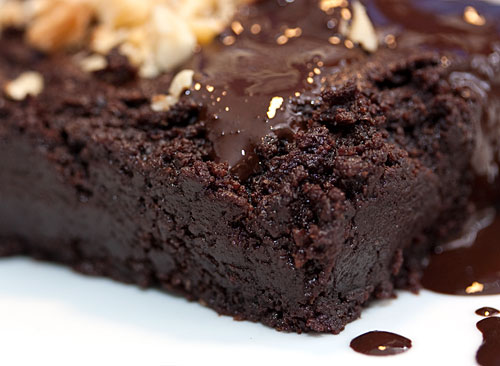 Right then a guy walks up to the soda dispenser singing a ditty that went something like "I love watermelon cream / Yes, I love watermelon cream." Chow, Baby holds up its glass: "I find it way too sweet for me." Guy says, "Really, you don't want it?" And he takes Chow, Baby's glass and dumps the contents into his own! After I already drank from it! (But hey, germs are organic.) Astonished yet relieved, Chow, Baby refilled its glass with not-too-sweet, real-ginger ginger ale, and everybody was happy. Especially Mother Earth. Who knows where dumped soda winds up?
Chow, Baby and the beloved had picked Spiral Diner for our birthday dinner because we wanted something different and special. This is hard when you eat out for a living. Nice steak? Great sushi? Lamb chops? Did all that yesterday. Ah, but when's the last time we began a meal with organic chips and salsa'd-up quinoa ($3.95)? Never. That's also when we last had a nut patty, amazingly satisfying, with all the fixings and a toasted wheat bun ($7.25, plus $.95 for very realistic "cheese"). And if Spiral Diner wants to maintain that its chocolate mountain mudslide ($5.75) — the best brownie in town, topped with vanilla "i-scream," chocolate syrup, whipped cream, and peanuts — is really made with no trace of milk or eggs, well, whatever you say. It made a fine birthday cake. And thanks to not-afraid-of-germs guy for the best birthday present ever: the eco-pride that comes from helping to save Mother Earth from excess watermelon cream soda.
Trend Watch: Flat Iron Steak
According to Chow, Baby's flat-iron-steak-spotting graph, this cut of meat, so far spotted only occasionally on local menus, is poised to take off. And why not? It's quite tender, pretty flavorful, yet a lot cheaper than a rib-eye or strip. The only thing is, it looks more like something you'd get from the Automat than a real steak. What is it, exactly?
Flat iron steak is the monkfish of meat: One day that hideous sea creature was considered a trash fish, the next day it's "poor man's lobster" and all over your bistro menus. Same for flat iron steak, which is cut from the unfashionable shoulder muscle and until 2002 was considered fit only for hamburger — but then a meat science professor (his real title) at the University of Florida said, more or less, "You know, if we just took out this tough connective tissue, this could make a good, tender, juicy steak." He hooked up with the National Cattlemen's Beef Association, who are less evil than but not as promotion-savvy as the Angus people, so no national TV ads yet. Still, Chow, Baby thinks it's only a matter of time before this value cut is the top-selling steak in the country. Get ahead of the curve at Cat City Grill (1208 W. Magnolia Ave.), where the Sunday brunch offering of a large (10 oz.), super-tender flat iron steak with over-easy eggs and grilled potatoes ($20) is a steak-lover's delicious bargain.
Contact Chow, Baby at chowbaby@fwweekly.com.