Lucky, lucky people in North Fort Worth: You're in easy reach of several superb family-owned, family-friendly, out-of-the-ordinary restaurants, including Celio's, Two Brothers Bistro, MK's Sushi, Oyster Ranch, and OC Burgers. And as I have recently discovered, one more.


A friend who lives in the area recently directed me to Sea Siam Thai Restaurant, saying it was the best Thai joint in the entire area. The place is not new, not sleek, not fancy, and not modern-looking, but the dining room on a recent visit was busy, which is always a good sign, especially for a specialty restaurant in the middle of North Fort Worth.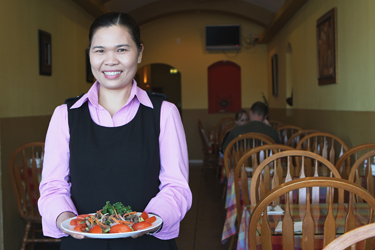 The fresh spring rolls came with two sauces: one peanut, the other a syrupy, lime-garlicky concoction with the consistency of honey. Both were good, although I could probably eat my weight in the lush, slightly sweet peanut sauce. The spring rolls themselves were a little on the chewy side. The mee krob appetizer was simply chicken and crispy noodles in a sweet sauce. The noodles had a caramel-like flavor, almost like Kettle Corn and just as addictive. The only sour note among the appetizers we tried was the shrimp plah. Seven nicely grilled, plump shrimp were presented in a red chile-infused tomato sauce along with a plethora of raw onion. Though the menu clearly broadcasts the onion, I guess I was expecting something a little more sautéed, to mitigate the bite of the tear-jerking bulb.
The lunch specials run an unbelievable $6.95, and lunch includes tom kha gai (Thai coconut chicken soup) and a salad. The soup was soothing, heavy on the lime, and not particularly spicy. It was also thinner than many of the other versions I've tried, with not a lot of coconut milk but tasty — a nice accompaniment to the lunch. The salad included mixed greens, carrot, and cucumber, along with more of that excellent peanut sauce as dressing. We also tried the wonton soup, which isn't very traditionally Thai but was still excellent, boasting a gingery heat. Crunchy bok choi augmented the plump wontons.
My dining partner is a pad Thai aficionado, so we were eager to see how Sea Siam's take on the traditional dish stood up to what he's used to. There are lots of ways a cook can mess up the dish: soggy noodles, limp scrambled egg, too much sweet sauce. Supposedly, good pad Thai represents a balance of bitter, sweet, sour, salty, and spicy. Sea Siam's version was pretty darn good: not spicy but offering a nice balance of sweet, hot, and sour, along with noodles that were neither too dry nor too greasy. We both were a little surprised that something so tasty came out of a strip mall in Keller, but it serves us right for making assumptions.
The green chicken curry was definitely spicier, and the generous helping of chicken chunks was joined by green chiles, al dente zucchini, red pepper, and fresh basil. Simple and fresh, the dish was tasty but not as good as the pad Thai. The yellow tofu curry was a symphony of cinnamon, nutmeg, turmeric, and a little cumin. Not as fiery as its green cousin, the sweeter, creamy yellow was Southeast Asian comfort food at its best. It's also a good starter dish for people who aren't sure if they like curry, since it doesn't contain the actual chile pepper that enhances red and green curries.
Sea Siam's cooks determine how spicy the food is here, which is a little unusual. Although you could probably ask for more heat, the kitchen fixes many of the lunch and dinner specials one way: on the mild side. Sea Siam is a bit like a diner. There a lot of choices, and the food is plentiful, tasty, and presented well, if not elegantly. But you won't leave feeling hungry. Or broke.
Sea Siam Thai Restaurant
940 Keller Pkwy, Ste 230, Keller. 817-431-3745.
Closed Sun, 11am-2pm, 5pm-9pm Mon-Fri, 12pm-9pm Sat. MasterCard, Visa accepted.
Spring rolls………………………. $3.95
Mee krob………………………… $5.95
Shrimp plah salad…………….. $6.95
Pad Thai………………………….. $6.95
Curry lunch special ………….. $6.95