Lucky, lucky people in North Fort Worth: You're in easy reach of several superb family-owned, family-friendly, out-of-the-ordinary restaurants, including Celio's, Two Brothers Bistro, MK's Sushi, Oyster Ranch, and OC Burgers. And as I have recently discovered, one more.


A friend who lives in the area recently directed me to Sea Siam Thai Restaurant, saying it was the best Thai joint in the entire area. The place is not new, not sleek, not fancy, and not modern-looking, but the dining room on a recent visit was busy, which is always a good sign, especially for a specialty restaurant in the middle of North Fort Worth.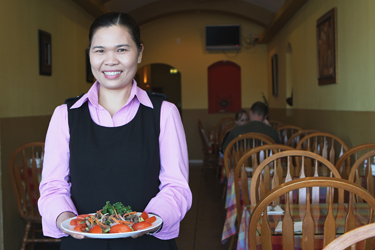 The fresh spring rolls came with two sauces: one peanut, the other a syrupy, lime-garlicky concoction with the consistency of honey. Both were good, although I could probably eat my weight in the lush, slightly sweet peanut sauce. The spring rolls themselves were a little on the chewy side. The mee krob appetizer was simply chicken and crispy noodles in a sweet sauce. The noodles had a caramel-like flavor, almost like Kettle Corn and just as addictive. The only sour note among the appetizers we tried was the shrimp plah. Seven nicely grilled, plump shrimp were presented in a red chile-infused tomato sauce along with a plethora of raw onion. Though the menu clearly broadcasts the onion, I guess I was expecting something a little more sautéed, to mitigate the bite of the tear-jerking bulb.