Long before Randy Rogers, Casey Donahew, and the Eli Young Band ever performed at Billy Bob's Texas, they were all regulars at little place called the Thirsty Armadillo. Opened in September 2000, by Eric Dawson and his father, Robert Dawson, and closed in March 2003, the Thirsty Armadillo was located at the corner of 25th and North Main streets in the Stockyards.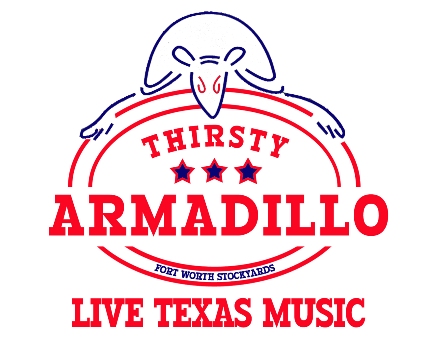 The Armadillo was so popular among the Texas Music crowds that even long after it closed, Dawson was regularly asked by friends, family members, and fans if he intended on reopening someplace else. He also heard that artists who had played the Armadillo were giving it shout-outs during performances at other venues and that some members of Austin's super-popular Reckless Kelly were regularly seen sporting Thirsty Armadillo t-shirts onstage. "The place became more popular after it closed," Dawson said frankly.
Though Dawson was reluctant to reopen, he scoured the town for available space but couldn't seem to find a location that spoke to him. When he finally did, he was outbid by someone –– that place is now the popular Ridgmar Mall-area sports bar Spencer's Corner.
But Dawson couldn't shake the feeling that he should reopen. In October 2010, he enlisted the help of his sister and former employee Victoria Miller and found a primo Stockyards spot. But the Texas Alcoholic Beverage Commission threw a rusty beer can into those plans. After the November elections, a bunch of previously dry Dallas County precincts became wet, which meant that Thirsty Armadillo's liquor license would be merely one of hundreds if not thousands that the TABC would have to go through.
Finally, though, in the middle of January 2011, about eight years after closing up shop, the Thirsty Armadillo was back, in the Stockyards, to boot, but at 120 W. Exchange Ave. About 125 folks turned up to celebrate the opening and take in performances by Donahew and others, nearly 25 in all, who all played for free –– some artists, when they heard about the Armadillo's reopening, came out of the woodwork and asked Dawson if they could be a part of the celebration.
Dawson said the reopening brought back a lot of good memories for him. He said he was humbled to spot a lot of old regulars, most of whom he hadn't seen in nearly a decade. "It was a very emotional and heavy day," he said.
Dawson said the initial idea for the Armadillo came from a combination of his love for live music and the movie Cocktail starring Tom Cruise. But as with any good bar, Dawson knew his would need a name that customers would remember.
The summer before the bar opened, Dawson and his best friend sent out a mass e-mail asking family and friends to come up with a name. The suggestions soon came pouring in. The leading candidate? The Texas Armadillo.
It was Dawson's friend's aunt who suggested the bar's current name.
Though the original bar held only 100 people and sold only beer, Dawson said there was never a shortage of customers. The bar specialized in blues and country before eventually migrating to Texas Music exclusively.
Not long after Dawson's dad pulled a publicity stunt by parking a huge 1964 car hauler in the bar's rear parking lot, Dawson decided to build a stage on the back of the trailer. A lot of noteworthy local and touring bands played there.
Dawson never imagined the fame that some of his regular artists would find after the Thirsty Armadillo closed its doors. "Every month, between four and six of the eight bands currently playing at Billy Bob's played at the old Armadillo," Dawson said.
Dawson decided to close after seeing several other bars in the area go down the tubes. And while Miller saw the ending coming, she said that didn't make her last night any easier to deal with. "It was a very bittersweet night that we just didn't want to end," she said.
With a new audio system worth around $20,000 and the addition of liquor to the bar, the new Thirsty Armadillo is arguably better than its forebear. But don't be fooled, Dawson said. The bar still has the old place's comfortable vibe. "I'm just happy to be back," he said. –– Courtney Ortega
Thirsty Armadillo
120 W Exchange Av, FW, Stockyards. 817-624-2770.
Contact Last Call at lastcall@fwweekly.com.