It isn't easy for a small school to put on a first-rate dance program. The logistics of corralling dancers, costumes, lighting, music, choreography, and rehearsing on a suitable stage are daunting, not to mention costly. Ballet Frontier, now in its fourth season as the performing wing of Ballet Center of Fort Worth, bridges the gap between everyday dance recital and engaging performance with commendable results, even flair.

Last week's mixed repertory program at Scott Theater was one of the company's most ambitious, which may have accounted for some of the unfamiliar ragged edges and tentative moves. The company beefed up its male wing with four young dancers from Texas Ballet Theater –– Paul Adams, Dustin Geradine, Joamanuel Velazquez, and Simon Wexler –– along with Derek Flowers of Tuzer Ballet of Dallas, which created a strong base and secure partnering.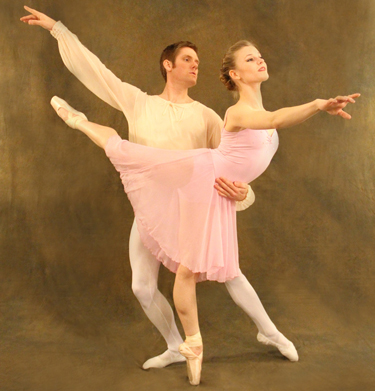 And they were needed in the flowing, imaginative choreography by company director Chung-Lin Tseng. His gentle setting of the slow movement of the Tchaikovsky First Piano Concerto, which opened the program, was a joy, even with a hesitant young Holloway Bird partnered by Wexler, and a corps of eight ballerinas who all seemed uncertain. Tseng's wondrous view of the score still showed through. The same was true in his setting of Smetana's popular Moldau, a symphonic voyage down the Czech river that Tseng choreographed for the Taipei City Ballet in 2000. In subdued lighting, his modern movements reflected the river's ever-changing moods, from burbling brook to surging cascade. Four ballerinas in wavy-lined leotards supported two couples on the journey: company regulars Erin Reece and Daniel Westfield, along with Kerri Westfield and Velazquez. Even though they weren't always on the same page, they allowed the choreographer's intent to come through. A second performance may well have ironed out the wrinkles.
More problematic was Tseng's new version of The Lady of the Camellias, set to the first movement of the Chopin First Piano Concerto (brilliantly played in a recording by Emanuel Ax, who will appear here as part of the Cliburn Concert Series next season). Going from Alexandre Dumas fils' 1848 novel Camille to Paris stage play to Verdi opera, La traviata, in five years, it's one of the most popular stories of the 19th century. But Sir Frederick Ashton's 1963 adaptation for Margot Fonteyn and Rudolf Nureyev, called Marguerite and Armand, is perhaps the best known in the dance world. With all of this going on before, including numerous stage productions for every important actress of the last 150 years, and several movie incarnations, Tseng had to work hard to produce something that would stand out. For this viewer, he tried too hard, hitting the story's highlights so rapidly there was little breathing space for character development or emotional involvement. All too soon, Marguerite was dying and Armand was left alone. Their final time together was the only really moving moment. Tessa Moore was an affecting Marguerite and Westfield a forceful Armand, but few sparks had a chance to fly in this fast-paced relationship.
The program ended on a happier note with a revival of Roy Tobias' Wedding Party, set to the elegant ragtime music of Scott Joplin. The full company gave a rousing account of the festivities in a ballet reminiscent of the curtain-closers popular years ago, with wonderful performances of confections such as "Graduation Ball" and "Gaîté Parisienne" ending the evening. The large audience responded with cheers and a standing ovation.
Next on Ballet Frontier's schedule is a full-length production of La Sylphide, in May, a first for the city and probably the Southwest. l