When I found out that up-and-coming Americana singer-songwriter Hayes Carll was going to kick off his national tour right here in North Texas — and not in his hometown of Austin — I squealed (a little) and marked my calendar. Not only is Carll supremely talented, he is –– to put it mildly — flippin' hot, with his shaggy brown hair, scruffy beard, and piercing blue bedroom eyes. In the last week of February, Carll, who's backed by two Fort Worth guys, drummer Kenny Smith and guitarist Scott Davis, was scheduled to perform at five North Texas venues of various sizes.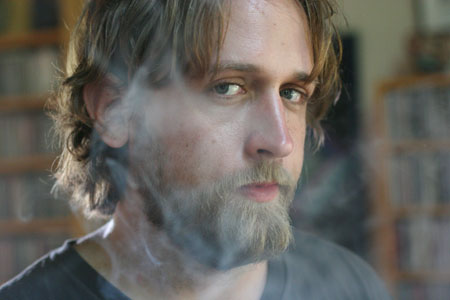 As a huge Hayes Carll fan, I wanted to go to all five. But I didn't necessarily want to spend my entire paycheck on tickets and booze. (Yeah, I guess I could have gone and not had any drinks, but how likely is that?) I put on my cutest face and asked associate editor Anthony Mariani if he could use his influence to get me in the doors for free. And maybe float me a couple of cocktails on the company tab. He said maybe but only if I reported back to him. He also may have said something about "color and characters," but I can't be sure. I was too busy fantasizing about Hayes stripping down to his birthday suit while singing to me.
The good news, for Anthony, is that as a mother of two young girls, a devoted wife, and, let's face it, someone who's 15 years past her partying prime, I realistically wasn't going to stay out very late or get blotto. Seriously, to catch all of Carll's shows, I would have had to hit The Double Wide in Dallas on Tuesday, The Aardvark on Wednesday, Dan's Silverleaf in Denton on Thursday, Lola's Saloon on Friday, and, finally, Poor David's Pub in Big D on Saturday. Talk about draining. And expensive. As it turned out, I hit two of the five shows, and that proved to be more than enough.
At the Weekly, we put the paper to bed late on Tuesdays, so getting to that night's show was nearly impossible. But on Wednesday, I duly got all dolled up and headed out with my little sister, the person who had turned me on to Carll. (Normally, I don't enjoy country music recorded after 1979, but I had instantly fallen in love with Carll's music one Saturday afternoon when my sister made me listen to "Beaumont" from his third album, Trouble in Mind. And I've been hooked ever since. Every one of his songs packs an abundance of imagery, and the emotion that he puts into his smooth voice (kissed ever so slightly by a little Texan twang) is downright captivating, occasionally chill-inducing. With the exception of a couple of songs on Carll's most recent album, KMAG YOYO, he writes all of his material.)
We got to the 'vark a little before 10 p.m. The place was comfortably crowded, and the night's openers, Shovels and Rope, were doing their alt-Americana thing onstage. It was pretty hot inside, so we decide to go out on the front patio for some fresh air and for my sister to suck down a cig. But when a very wasted guy got booted from the club, he stumbled and muttered in our direction, slurring something about a cigarette. We were afraid he was going to puke on us, so we went back inside.
Just in time, Carll and the guys — Davis, Smith, and Keanu Reeves lookalike Ray Jackson, Carll's new bass player — took the stage. Hayes opened with a request, "I Got a Gig," an old song that kind of set the tone for the rest of the evening. Though the show was supposed to be a celebration of KMAG YOYO, Carll performed a lot of old favorites. Which isn't saying his new stuff wasn't played or didn't go over well — it was, and it did. The crowd seemed to especially dig the ballad "Chances Are." Carll also sang a new never-released song, "One Bed, Two Girls, and Three Bottles of Wine," which made me want to arrive at the next show with three bottles of wine. Sadly, we couldn't stay for the entire show — we split around 1 a.m.
Just as well. Thursday morning reminded me why I'd sworn off whiskey a decade ago. My hangover from the Aardvark had finally subsided by the time Carll's Friday gig at Lola's came around. I told myself I was going to stick to beer Friday night. That didn't happen. And Carll's partially to blame.
My sister and I were frantic we were going to miss the start of the show because of delays getting out of the house. Plus, by the time we got to the West 7th Street corridor, parking was a bitch. We finally found a spot about five blocks away. But we arrived on time — right on time. On our rush down the street to Lola's — in high heels, mind you — we passed an occupied white van. "Wait a second," I said, and we backtracked a few steps. Lo and behold, sitting inside were guitarist Davis and the man of the hour himself, Hayes Carll. Of course, my sister and I forced an introduction, and when Carll said he recalled me from the audience at The Aardvark, I nearly passed out. But I kept my wits together enough to tell him that I had a blast at the gig and that I hadn't had whiskey in nearly 15 years. His response? "Wanna swig?" I then noticed that he was holding a large bottle of Crown Royal. "Hell, yes!" I said and took a huge swallow, praying that it wouldn't come back up. Thankfully, it did not. (That bottle would sit at Carll's feet — and its contents would shrink — throughout the performance.) My feet barely touched the ground as Carll walked us into Lola's and introduced us to the rest of his entourage before taking the stage.
After meeting everyone, my sister and I hit the bar. Breaking my rule but not really wanting to stick to whiskey, we proceeded to drink Purple Panty Droppers, Lemon Drops, and imported beer. Lola's was packed, and age range was pretty expansive. Guys and girls as young as 21 and folks as old as about 80 were there. (I heard that at one point the front bar had run out of beer.) Carll and his crew closed down the joint. Afterward, he sat around and signed autographs, chatted with fans, posed for photos, and was just a swell superstar all around. To which I can only say, "It's a shame we ain't lovers / It could have been something / So big and grand." Yes, even a devoted wife and mom can dream.
— Andrea McDaniel-Brentz
Contact Last Call at lastcall@fwweekly.com.