Back in the post-bicentennial '70s, pioneering Dallas punk-rock kingpins The Nervebreakers opened for The Ramones, The Sex Pistols, and The Clash, but their performance that's most indelibly etched in my shaky memory took place right here in Cowtown, at Tootsie's on White Settlement Road, to be exact. It ended when the Fort Worth police arrived to break things up; I don't remember helicopters specifically, but I've recently read that they were there, and I do vividly recall an officer prying Mike Haskins' guitar from his hands after his fellow Nervebreakers had exercised the better part of valor, put down their instruments, and slunk off the outdoor stage. It was, to my 22-year-old eyes, the most rock 'n' roll thing I'd ever witnessed.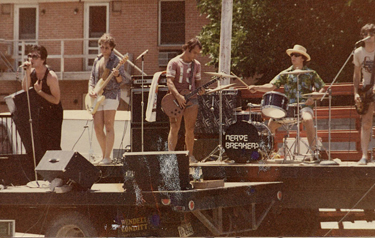 Battered but unbowed, frontman Thom "Tex" Edwards and guitarist-singer Barry Kooda have both battled and beaten hepatitis C. The Nervebreakers' longest-lived lineup (with original über-fan "Barbecue" Bob Childress on bass) regrouped in 2007 to record some tunes they'd never gotten around to waxing the first time. They resumed live performance at SXSW in 2009 and headlined the Hot Klub reunion in Dallas last year, demonstrating that they haven't lost a step since they folded the tent in 1981. With their three original Wild Child Records singles about to be reissued on Pittsburgh-based garage label Get Hip and an archival compilation and a brand-new album poised to follow, The Nervebreakers return to the Fort this weekend.
Tootsie's is long gone, so the guys will hit the boards at The Aardvark — original punks and punkettes will recall the place as the site of The Hop, stomping ground for the Fort Worth Cats (the band, not the ball club) back in the day. It was the Cats who opened for The Nervebreakers on that fateful night at Tootsie's, and they'll be in the direct supporting slot this Saturday. Like the 'breakers (a band since '73), the Cats were no Johnnies-come-lately. Frontman John Seibman, a.k.a. Johnny Icicle, played in a late lineup of Back From the Grave/Fort Worth Teen Scene '60s garage guys The Nomads, while bassist David "Kid" Daniel was renowned for his back-bending version of Gene Vincent's "Be-Bop-A-Lula." Back behind the traps for this show will be original Cats drummer Johnny Johncock. This promises to be a night of manic punk thrills that have nothing to do with nostalgia.
The Nervebreakers, Fort Worth Cats, My Three Sons Sat at The Aardvark, 2905 W Berry St, FW. 817-926-7814.