"Everything is a gift of the universe," wrote the late Buddhist author Ken S. Keyes Jr. Of course, this can be difficult to believe if your spouse has recently dumped you or a loved one has died violently or you're an adult who's never experienced true love. But this complex idea — that all events and circumstances should be respected because they shape us — is at the core of playwright Rajiv Joseph's Animals Out of Paper, currently enjoying an elegantly gritty Southwest premiere courtesy of Amphibian Productions. The show is running for only four more performances, and if you're a fan of top-notch actors' providing intimate explorations into uncomfortable but very recognizable emotions, you should make room for it on your calendar.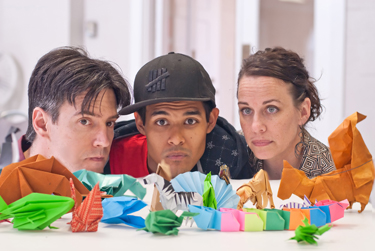 The show's 36-year-old Indian-American author is hot property these days. His 2009 play, Gruesome Playground Injuries, a dark comedy about a pair of accident-prone lovers, had its world premiere at Houston's Alley Theatre and has received rave reviews from stagings around the country. His fantastical Bengal Tiger at the Baghdad Zoo — told partly from the point of view of a caged big cat who witnesses the Iraq War — was a finalist for the 2010 Pulitzer Prize in drama and is set for a Broadway debut starring Robin Williams. Some of Joseph's main themes are alienation — be it racial, cultural, or romantic — and the forming and reforming of human identity. As directed by Evan Mueller for Amphibian, Animals Out of Paper deftly and knowingly depicts the precariousness of personalities under stress.
The three characters in Animals are like metal rods slowly, painfully bending over an ironsmith's fire. Ilana (Laurel Whitsett) is a world-renowned origami artist unable to touch paper since she was abandoned by her husband first and then her dog. She's confused, fearful, and really pissed off. Her turmoil doesn't deter Andy (Marshall York), a lovelorn schoolteacher but inveterate optimist who's practically memorized the only book Ilana has written, the second largest-selling origami instructional guide in the United States. Andy convinces her to tutor Suresh (Andres Ortiz), a hip-hop-loving Indian-American high school student and origami prodigy who can instinctually create anything from a Moroccan hissing cockroach to an anatomically correct human heart out of folded paper. For much of the play, Ilana doesn't know if she'll ever create again, Andy keeps falling more clumsily in love with her, and the impetuous Suresh, who's grieving the death of his mother via a hit-and-run accident, is unsure whether origami even qualifies as an art form.
Animals Out of Paper has many elements. It's partly a romantic comedy; partly an intellectual reflection on the themes of chaos, control, and creativity; and partly a tragedy about people futilely searching for emotional safety. But playwright Joseph overlays it with touching moments of poetry — when Ilana and Suresh travel to Nagasaki, Japan, for an international origami convention, a restless Suresh visits that city's atomic bomb memorial and decides to fold weary paper blackbirds amidst the other artists' hopeful white paper doves. Meanwhile, Andy constantly updates his personal notebook of little blessings in his life (more than 7,000 so far) to remind himself why he should be grateful. Ilana reads it and is appalled by his desire to search for positive aspects in loneliness and tragedy. Now tainted by her judgments, Andy's book of blessings becomes a painful reminder of his own frustrated search for happiness.
Amphibian's cast is flawless in its depictions of desperately flawed people. It's a thrill to watch Whitsett –– one of the most versatile actors on the North Texas theater scene –– slowly emerge from hot bitterness and attempt to engage both her young origami protege and her would-be boyfriend in tender exchanges. Her face poignantly registers Ilana's struggles to overcome cynicism and do the right thing. The charismatic York makes Andy's aw-shucks, find-a-silver-thread-in-every-cloud defense touchingly fragile from the character's first words. We are just waiting for this mild-mannered school teacher's angry meltdown, and York delivers it eloquently. Ortiz expertly juggles a variety of personae: a foul-mouthed, hard-shelled rapper, a son faithful to his widowed Indian immigrant father, and an artist tempted to reject his own gifts. Indeed, Animals Out of Paper is all about soldiering forward despite rejections and losses. The portrayals of woundedness in Amphibian's production are memorably, bracingly fearless.
Animals Out of Paper
8pm Thu-Sat & 2pm Sun thru Mar 27 at Fort Worth Community Arts Center, 1300 Gendy St, FW. $15-25.
817-923-3012.