INTERIOR FANCY-FRENCHY BISTRO — DAY — TABLE BY THE WINDOW
CHOW, BABY and THE BELOVED are brunching at SAPRISTI (2418 Forest Park Blvd.), a cozy bistro with soothingly warm yellow walls, stained-glass lampshades, antique-looking ceiling fans, live plants, even tablecloths. Soft FRENCHY-GIRL VOCALS waft from the stereo. Gracious CHEF CARLOS has just personally delivered our appetizers (included with brunch entrées): shallot-spiked shrimp scampi and a puff-pastry tartlette of caramelized onion, roasted tomato, and brie.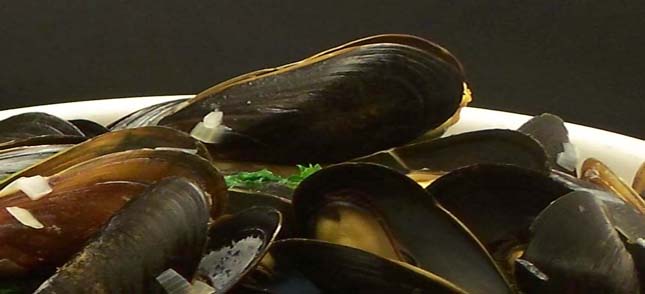 CHOW, BABY: I feel so … privileged to be here in this beautifully decorated room with this great Frenchy food, pretty music, and confident servers. I can really relate to this.
THE BELOVED: You just don't let things go, do you.
CHOW, BABY: Sure I do. I let Yucatan Taco Stand's "lamb cabrito" go, didn't I?
THE BELOVED: After a year and several "research" trips to Spanish-speaking countries, yes.
CHOW, BABY: I let Terra Mediterranean's "saffron rice" go, didn't I?
THE BELOVED: After eight months and because you couldn't afford to go to Beirut, yes.
CHOW, BABY: Well, I can't afford to go to France, either. But here, I don't feel like I have to.
CHOW, BABY and THE BELOVED eat and share their appetizers, making yummy noises. Busgirl DANIELLA refills their water glasses. Server KINDY stops by to check on things.
KINDY (to Chow, Baby): How was the bread pudding ($6; magnificent) you took home the other night?
CHOW, BABY looks up and to the left like on Scrubs and we…
DISSOLVE TO FLASHBACK — THE PREVIOUS THURSDAY NIGHT — THE SAME TABLE BY THE WINDOW
CHOW, BABY (attempting a French accent): I'd like the chicken cordon bleh ($22), please.
KINDY (not smirking): Of course.
CHOW, BABY VOICEOVER: I should be eating tacos right now. I really can't afford this place (entrées $22-$35) after blowing my budget so badly and painfully at So 7. In fact I have to eat there again tomorrow [remember, we're in flashback to the previous week], and I still haven't pinned down what bugs me the most about it. Could it be the wall colors? Sapristi's walls sure are pretty. But there has to be more to it than that. [KINDY delivers the cordon bleu. CHOW, BABY takes a bite.] Omigod. What is that, prosciutto and brie? This is nothing like Stouffer's frozen dinners. Budget be damned; I'm coming back for Sunday brunch with the beloved.
FADE BACK — PRESENT TIME (BRUNCH)
DANIELLA refills the water glasses as KINDY delivers roasted duck hash with poached eggs ($18) and German apple pancakes ($12). Eating, sharing, and yummy-moans ensue.
THE BELOVED: What are you pondering, darling?
CHOW, BABY: This is the same breakfast — hash and eggs, German pancakes — that we always get at Ol' South. There it costs less than half as much, but here I'm enjoying myself at least eight times more. So I'm thinking about value versus cost.
THE BELOVED: You think about that a lot, sugar plum. [Chow, Baby may have edited certain parts of the dialogue.]
CHOW, BABY: I'm also trying to identify this wonderful spice on the hash's fingerling potatoes. But mainly I'm pondering why I'm so happy here. It's more than just the fabulous Frenchy food, stellar service, and non-strident walls. There's something else at the root of it all. Some kind of … je ne sais quoi.
MONTAGE: CHEF CARLOS handsomely and genially answers Chow, Baby's endless meal-prep questions (it's paprika). Boy, he really seems to value his customers. END MONTAGE.
THE BELOVED: Why don't you just obsess on that thought for a few months or years.
CHOW, BABY: I'll let it go someday. Probably.
And … scene.
Contact Chow, Baby at chowbaby@fwweekly.com.