The Vietnamese owners of Cajun Café on Cooper Street near UTA had another location nearby on Pioneer Parkway. A few months ago, the owners sold it to new proprietors who recently remodeled and reopened the space as Joe Cajun. The new menu includes most of the beloved rustic Louisiana staples –– gumbos, étouffées, fried seafood, boudin sausage, dirty rice –– plus a few Vietnamese items, including seafood hot pot soups, spring rolls, and fish cakes. Overall, we found the Viet-Cajun approach in this spare, laid-back establishment a mostly familiar but delicious experience.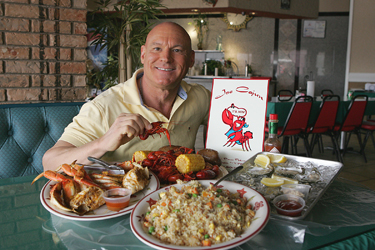 The appetizer of boudin sausage arrived as a generous-sized, deep red link. A heavy dose of cayenne pepper and flinty black pepper provided a nice fiery counterpoint to the silky texture and rich flavor of the ground pork and pork liver meat. The liver seemed more prominent here than in other boudin I've tasted, so beware if you're not a fan.
The other appetizer we sampled was from the small Vietnamese section of the menu, and it was excellent. The banh xeo, or pan-fried rice cakes with shrimp, consisted of three lightly crisp crepes made from rice flour and coconut milk, folded taco style, and stuffed with little plump shrimps, bean sprouts, and scallions. A small plate of fresh romaine lettuce leaves –– to wrap the crepes in –– as well as pungent cilantro branches, fresh mint leaves, and a small plastic cup of thin, spicy fish sauce completed a superior dish.
Next we tried a platter of deep-fried alligator and oysters. The breading was home-cooked satisfying: cornmeal flecked with sparky pepper bits but cakier than usual, almost like a cornbread. The eight oysters were larger than quarters, fresh, and deliciously fleshy but encased in fried cornmeal, creating balls the size of hushpuppies –– a little less breading might have worked better. The alligator pieces were smaller and more numerous –– they looked sort of like the popcorn shrimp at fast-food joints –– but the tender, buttery texture and pork-like flavor of the 'gator meat came through loud and clear. The fried platter was heaped with hot but unremarkable Cajun-spiced fries.
It seems that Joe Cajun has already earned a neighborhood following: On the midafternoon weekday we visited, there were three large Vietnamese families with children eating, laughing, and chatting it up. Annoying purists can debate how authentically Cajun the recipes are, but the food here was high quality enough to declare, Oo-ee, jes shut up and eat, y'all!
Joe Cajun
1115 E Pioneer Pkwy, Ste 101, Arlington. 817-801-7188.
Noon-midnight Sun, Mon, Wed-Sat. All major credit cards are accepted.
Boudin sausage……………….. $2.99
Crawfish étouffée……………. $6.99
Fried alligator platter………….. $9.99
Rice cake with shrimp……….. $5.99