By some mysterious confluence of events, a large number of local theater troupes are unveiling musicals this weekend. Theatre TCU is putting on Rodgers and Hammerstein's stalwart Oklahoma!, while UNT is staging Stephen Schwartz' Godspell (a show that began life as a piece of college theater). Also the touring production of A Chorus Line occupies the stage at Bass Hall in the early part of this week, while Broadway star Patti Lupone sings at Fort Worth Symphony Orchestra's gala on Tuesday. Still, readers of this publication will probably be looking for something a bit more adventurous.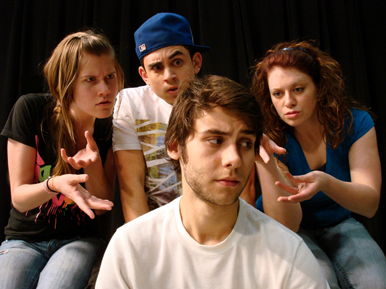 To that end, Pantagleize Theatre Co., for one night only, is putting on a revue called Panty Glee, which presumably isn't a parody of the TV show done by people wearing women's underwear but rather a show with some pirate characters performing sketches, songs, and comedy routines about local politics and theater.
Lasting only through the weekend is Arts Fifth Avenue's The Twilight Zone, which faithfully stages two episodes of the 1950s TV show. This isn't technically a musical, but with the TV commercials being staged as well, you can expect some to hear some music. Meanwhile, Rose Marine Theatre is hosting a production of Kiss of the Spider Woman, a musical adaptation of the Manuel Puig novel (which also inspired the 1986 film) with music and lyrics by John Kander and Fred Ebb, the same songwriting team that created Cabaret and Chicago. We look forward to the day when we can measure this show against the Spider-Man musical.
Check Calendar for run dates, locations, prices, and contact phone numbers for these various shows.