This week we revisit the concept of added burger juice! This is the phenomenon whereby burger places overcook their meat, then compensate for the resulting dryness and flavorlessness by ladling on after-market juice, presumably (in Chow, Baby's imagination) from a five-gallon bucket supplied by Ben E. Keith or Sysco. (Restaurant manager's song cue: "Sysco truck / was a friend of mine.") Chow, Baby noticed this a couple of times last year, deliberated over the ethics of it — despicable cheating? mere flavor enhancement? — and then forgot all about it.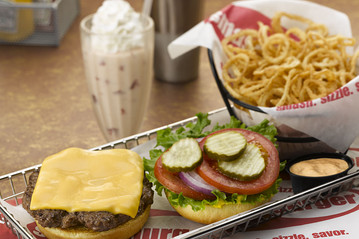 Until the other day, upon visiting Smashburger (1605 S. University Dr.). Now, there's a lot Chow, Baby likes about this "gourmet burger" chain, beginning with the neo-urban look: glass walls, exposed ceiling, bold graphics, mod lighting treatments. The menu offers multiple swanky burgers, dogs, chicken sandwiches, salads, and sides, plus tempting add-ons and "create your own" options. The employees, especially dear Emma, are impressively on the ball. And the food is fresh and (for the most part) fantastic: The chicken club ($6.99) was a pretty stack of avocado and BLT atop a large grilled breast on a soft multigrain bun; veggie frites (side $2.99) — flash-fried asparagus, green beans, and mostly carrot sticks — were not a bit greasy. A very pleasing meal and darn near healthful to boot.
Chow, Baby's next order began, as its burger orders always do, with a nonconfrontational "Are you allowed to cook that medium rare?" Answer: not exactly. Emma explained the Smashburger system: "We smash the burger during cooking to sear in the juices." You do what now? What planet are you cooking on? On this one, smashing while cooking is the most efficient way to drive the juice out of a burger. That's Burger Cooking 101: Don't smash the patty. And yet Smashburger's third-pounder ($4.99) was astoundingly juicy and flavorful, though the meat itself was dry, tough, and thoroughly brown. How do they do it? Oh. Right. Look at all that liquid soaking the bun. It ain't coming from the meat.
This was confirmed on a later visit through Chow, Baby's trademark adroit questioning: "Do you add juice back on the meat after it's cooked?" Manager-type: "Oh, sure." Aided by this nonchalance, Chow, Baby is leaning toward the view that adding juice is no more cheating than adding salt or garlic to enhance a food's flavor. But that's not the issue, not anymore — the issue is that this whole smashing thing is a gimmick. It's not a cool new way to make great burgers; on the contrary, it's so burger-destructive that the cooks have to go out of their way to compensate for it. Chow, Baby is, yes, offended that Smashburger thinks we're all stupid enough to fall for this hooey. Smashed burgers, indeed. Wonder in what other ways you're trying to dupe me.
So now on the one hand Chow, Baby has plenty o' righteous indignation over this … this hoodwinkery; on the other hand, which is drenched with meat juice, it has the remaining half of a mighty fine garlic-sautéed-mushroom and Swiss burger ($5.99, with added-on fried egg 99-cents), extraordinarily tasty, all warm and gooey on a big egg bun. (On the table is a pile of killer-good crispy-fried onion strings, $1.99.) Chow, Baby really likes this burger. Chow, Baby really, really hates being gimmicked. Eat? Fume? What to do?
Contact Chow, Baby at