Café Brazil is not one of those churrascarias, where sultry, gaucho-clad waiters serve meat from large sticks. The distinction is important. This Fort Worth diner on West Berry Street in the spot formerly occupied by Los Vaqueros' second location is the latest addition to the brightly colored, highly caffeinated regional chain's long list of locations, all east of here. Open 24/7, Café Brazil features an incredibly eclectic menu, one that puts many classic diner menus to shame. Seriously. There are 200 items on that thing. If you want breakfast –– eggs, crepes, omelets, French toast, you name it –– you can have it, no matter the time of day.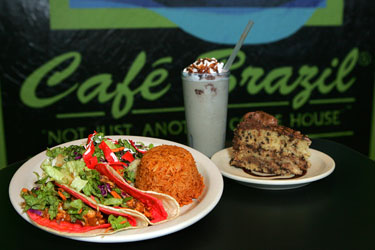 When my dining partner and I went in on a Sunday evening, we didn't feel much like breakfast for dinner. Out of curiosity, we gravitated toward the chorizo nachos: chips, cheese, and what the menu describes as "homemade chorizo," everything under a pile of pico de gallo, lettuce, and sour cream. The chorizo looked like ground taco meat, but it tasted heavenly: spicy and peppery. The cheese was of the easy-melt variety, but that wasn't necessarily bad, as the stuff did not turn to concrete halfway through the meal. And throughout the rest of the meal, we kept going back to the appetizer, because the chorizo-cheese combo was so tasty.
The chicken tortilla soup was a disappointment. The bowl contained a liberal amount of tomato, chicken, and veggies, but it didn't taste spicy or comforting like tortilla soup is supposed to. It was surprisingly bland. However, the black bean soup more than made up for our discontent. Black beans seasoned with a mirepoix, simmered for ages, and covered in sour cream and a little more pico to add spice –– now that's a good soup.
Because the restaurant sits across from Fuzzy's Taco Shop, the TCU area's go-to place for cheap fish tacos, Café Brazil's honey-chipotle fish tacos seemed like a must-try. The twist on Café Brazil's versions is that the tilapia comes bathed in extremely spicy-sweet sauce, making them more Indian cuisine-influenced than Baja-style. The taste of curry-like fish on red and white corn tortillas was unique. I loved it. My cowboy buddy did not. The plate comes with apple-corn salsa, a salad, and rice. The servings are generous, but the meal was a little more expensive than what you'd find across the street.
And salad: Why not? The trio featured liberal servings of chicken salad, spinach salad with feta and bacon, and fruit salad. The spinach salad, accompanied by a nicely sharp raspberry vinaigrette, was just fine. The chicken salad was plain, pure, unadulterated homey goodness: no celery, no poppy seeds, no odd spices, just tiny, julienned grapes to get in between the generous chunks of chicken and mayo. Delish. The fruit bowl came with some apple chunks, so if you wanted to get fancy, you could mix some of them into the chicken salad, adding a nice little crunch. The fruit salad also featured slices of fresh strawberries, melon, and pineapple.
Café Brazil's dessert menu is as generous as the regular menu, with a baker's dozen of sweets options. We tried the Chocolate Lover's Cake, which the server swore up and down was "homemade" in Café Brazil's Dallas catering shop. Perhaps it was. The best thing about it was the huge streak of ganache that doubled as the middle of the cake. The chocolate swirls and chocolate crust weren't as fresh-tasting as you would expect from a non-frozen, non-Sysco product. The better dessert choice proved to be the caramel-espresso freeze. Rich and creamy, the shake was so tasty that it was worth the brain-freezes we got from inhaling it.
You won't find any beverage stronger than a double espresso on this café's menu. Nor would the management look kindly on your bringing in a little whiskey to doctor up any of the 40 flavors of java. That's probably all right, given the plethora of options for beer and other stuff in the immediate neighborhood. At Café Brazil, it's theoretically possible to cram for an all-nighter, have a philosophical discussion about macroeconomics, or savor Sunday brunch. Maybe all at the same time.
Café Brazil
2880 W Berry St, FW. 817-923-7777. Open 24/7.
All major credit cards accepted.
Black bean soup ………………… $2.99
Chorizo nachos…………………. $7.99
Honey-chipotle fish tacos …… $9.99
Trio salad ………………………….. $8.99
Caramel-espresso freeze …… $3.99