Black Tie Dynasty is returning to Fort Worth, playing a show on Thursday with Denton's The Demigs at 8.0 Restaurant & Bar (111 E. 3rd St., downtown, 817-336-0880). "Returning" because the band is from here originally, broke up a couple of years ago after a six-year run, and has played several reunion shows since then but never here.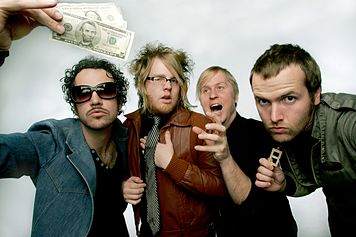 "We are now accepting and considering show opportunities as a way to stay in touch with our fans and to continue to do what we love to do, which is perform live together on stage," said BTD frontman Cory Watson, now a resident of that illustrious city to the east. "We'll always consider Fort Worth our home as a band, as the support and enthusiasm from our fans there has helped sustain and nurture our creative abilities over the many years." And while BTD has no plans "at this time," Watson said, to release another album, the suave frontman is working on another music project, one that involves contributions from BTD's Brian McCorquodale on keyb's and "some very notable artists across North Texas." (See: HearSay, "Twisted Black Ties," Feb. 23, 2011.) "We started the project in the hopes of exploring a wide range of musical tastes," he said. The "top secret" band's full-length will be released either later this summer or in the fall.
Musician/producer Zaq Bell ("Home Sweet Studio," Nov. 4, 2009) has a bunch of balls in the air –– pretty big balls (pardon the expression) –– that have been keeping him busy during his transition from Fort Worth life to life in L.A., a.k.a. Lalaland, a.k.a. Oz, a.k.a. Wonderland. Bell, who recently changed his handle from The Shadow to the awesome-sounding Top Hat Dracula, put together a soundtrack for a fashion show by noted Big Apple designer Angel Sanchez, whose A-list clients include Sandra Bullock, Annette Bening, and Eva Longoria. Bell, along with Fort Worth singer-songwriter David Matsler (Quaker City Night Hawks), also did the soundtrack to the movie Blissful Lies, a forthcoming feature-length indie drama by TCU grad Jennifer Brown Thomas, starring Emmy winner Lean Hunley and filmed in and around Fort Worth. Bell's studio, Fusion Project Studios, founded by Jarrett Vamvakidis, is now looking for ProTools-knowledgeable engineers to handle some projects in Bell's absence. Send resumés to jvam@fpsdfw.com.
Tony Ferraro (Fate Lions, ex-Eaton Lake Tonics) is another busy fella. He's started a new outfit, The Treelines, with Ryan Thomas Becker (RTB2, Missile Men), Amanda Newton, and Grady Don Sandlin. They'll make their debut on Thu., Apr. 28, at J&J's Pizza (118 W. Oak St., Denton, 940- 382-7769). Ferraro also helms One-Hundred-Second Dash, a free digital compilation series now in its third volume. Tentatively set for release on Sat., Jun. 11, Vol. 3 will feature contributions from Fate Lions, Deep Snapper, Soviet, Writer (The "Matthew" of Matthew & The Arrogant Sea), the dearly departed cut*off, and John Dufilho (Deathray Davies, Apples in Stereo). True to the series' title, every song will clock in at about 100 seconds. Submissions are "never closed," Ferraro said. Nice. To submit, visit http://onehundredseconddash.blogspot.com/.
Contact HearSay at hearsay@fwweekly.com.