Chow, Baby tries so hard not to be a conspiracy theorist — well, maybe not that hard — and then along comes yet another scheme that benefits everybody except the consumer: separating money from its value, as in having to buy nonrefundable coupons (strip of 10, $10) at Main St. Arts Festival before you can hit the food booths. This set-up is common at festivals, carnivals, street fairs, and the like so that every concessionaire doesn't have to have a cash register (and somebody to supervise the cash), but the "nonrefundable" part also means that every unused ticket is a dollar straight from your pocket to the festival organizer's: pure profit.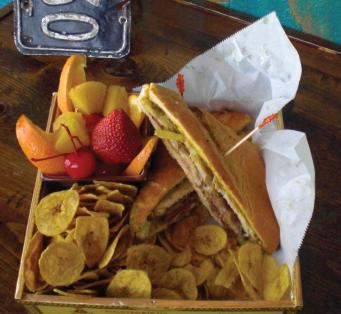 Of course frugal people and "you're not gonna sucker me" anti-conspiracists will be sure to spend every last ticket before they leave, perhaps by grabbing a large Woolley's chocolate custard (6 tickets) with strawberries (1 ticket) and, hmm, one ticket to go — ooh, Hershey's syrup. OK, we can go home now, and with great custard too. But most people don't care if they have a ticket or two left over, because the tickets don't really seem like money. Sure, I'll trade you seven teeny slips of paper for a plate of potato chips; what do I care?
At least consumers get added value in having 30 food booths within a 10-block stroll: E-Z taste-testing. And restaurateurs get to have umpteen-hundreds of people sample their wares at a fair price (most food-booth prices and portion sizes mirrored the restaurant's); if they like it, maybe they'll become a customer. An informed customer, even. Chow, Baby now knows that it definitely wants to lunch soon at Embargo (210 E. 8th St.), and it's definitely going for the torta Dominicana over the torta Cubana. The Dominicana ($6.95 menu) was fabulous: a pressed sandwich overstuffed with juicy carne asada piled atop ham, mozzarella, and grilled onions, with flavor-sparks of cilantro, chipotle, and sour cream. The Cubana ($6.95 menu) was neither overstuffed nor fabulous. For once in its life Chow, Baby will be able to visit a restaurant and confidently order without a lot of angst and is grateful in advance for that.
Chow, Baby is also grateful that it can strike Eagle's Nest Sports Grill (8455 Boat Club Rd.) off its Places to Eat list. Talk about lame: The rib-eye quesadilla ($8.95 menu) had texture but no flavor; the unimaginative chicken avocado wrap ($6.95 menu) was its insipid peer; the only saving grace of the rib-eye tacos basket (not on menu) was its side of seasoned, magically non-greasy fries. Sure, maybe the food's better on-site, who knows, but with that first impression blown, Chow, Baby is in no hurry for a second.
Though sometimes a second impression, or in Thai Tina's case more like 20th impression, is a good thing. Thai Tina's (600 Commerce St.) slipped off Chow, Baby's dive-focused radar after the restaurant moved from eclectic hole-in-the-wall to a beige hotel lobby in late 2009, and honestly Chow, Baby had forgotten how popping-fresh the spring rolls and egg rolls are and how flavor-packed the chicken satay (menu starters $7.95 each). If this whole day was a conspiracy to remind Chow, Baby of Thai Tina's inventive, delicious fare, it was worth it.
Contact Chow, Baby at chowbaby@fwweekly.com.