Nestled somewhat discreetly across from The Aardvark on West Berry Street near TCU, the recently opened Hammerhead Sushi is laid-back but also aiming to be something a little more than just a college joint. Tan walls with black and dark brown trim, a sleek black bar with black bar stools, and liquor bottles standing elegantly on black shelves around the walls offer a friendly sleekness that is nicely matched by the quality Japanese-Thai-Chinese fare served here.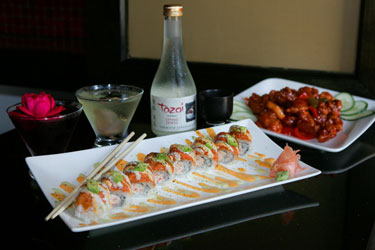 The dinner menu at Hammerhead Sushi consists not only of appetizers, sashimi, and specialty rolls but also a variety of familiar Asian dishes like Korean-style barbecue and Chinese curry. For an appetizer, we sampled the intriguing crawfish chorizo won tons: four hearty, deep-fried pockets stuffed with ground crawfish and Mexican sausage and served with dipping sauces that included a fiery wasabi condiment and a clear, fruity dip. The crawfish and chorizo didn't stand out as distinctive flavors but merged into a gentle, rich meatiness unique to the dish.
For a dinner item, we tried that old standby, pad Thai with chicken, and were pleased with the results. The plate was heaped with silky, golden, flat rice noodles; crunchy chopped peanuts; sharply flavored green onions; and small, tender pieces of chicken with a slight roasted flavor. Best of all, the "secret sauce" in this dish didn't contain the cloyingly sweet overload of tamarind that so many renditions of this dish suffer from.
The sushi rolls we tried ranged from average to excellent, but here's the good news –– Hammerhead Sushi doesn't skimp on the raw seafood. You may have noticed that certain Asian restaurants serve rolls with fish quantity so minute you need a high-powered microscope to detect it. But Hammerhead's spicy salmon roll and spicy scallop roll were filled with plump, flavorful portions of each fish. The rice-and-seaweed rolls were flecked with sesame seeds and what appeared to be tiny bits of parsley and were drizzled in a creamy, mayo-based yellow sauce that had a hot pepper kick. They were delicious. The Dragon Roll, a house specialty, consisted of ample slices of tender eel atop rice-and-seaweed rolls with chopped sweet crab meat and narrow slices of smooth avocado in the center. Here, though, the dark brown, too-sweet eel sauce drizzled on top distracted from the flavor of the roll.
Hammerhead also has a standout list of original mixed drinks that, at 2 p.m. on a workday, we didn't dare try. (Happy hour runs from 3 to 8 p.m. daily) Selections include the Dirty Hammerhead (Tito's vodka with blue cheese-stuffed olives), the Hammerhead Cosmo (Tito's, Grand Marnier, cranberry juice, lime juice), and the deadly sounding Horned Frog-tini (Tito's, Grand Marnier, blue Curaçao, grenadine, sweet and sour). If the food doesn't have the older TCU crowd saving up its coins, the drinks just might.
Hammerhead Sushi
2858 W Berry St, FW. 817-927-0420. Closed Sun, 11am-10pm Mon-Thu, 11am-11pm Fri-Sat.
All major credit cards accepted
Crawfish-chorizo won tons …… $5
Pad Thai w/chicken ………………. $9
Spicy scallop roll ………………….. $6
Dragon roll …………………………. $13