The Beaver (PG-13) Jodie Foster directs and co-stars in this film about a business executive (Mel Gibson) who suffers a mental breakdown and communicates with the world solely through his beaver hand puppet. Also with Jennifer Lawrence, Anton Yelchin, Riley Thomas Stewart, and Cherry Jones. (Opens Friday in Dallas)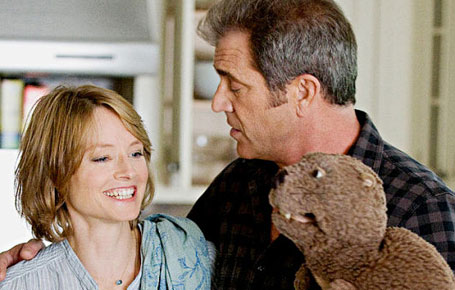 Carancho (NR) Pablo Trapero's thriller stars Ricardo Darín as an ambulance-chasing Argentinian insurance lawyer who puts his life in danger when he seeks to expose his profession's dirty secrets. Also with Martina Gusman, Carlos Weber, José Luis Arias, Loren Acuña, and Gabriel Almirón. (Opens Friday in Dallas)
Dumbstruck (PG) Mark Goffman's documentary profiles five professional ventriloquists as they attend a convention in Ft. Mitchell, Ky. (Opens Friday in Dallas)
Last Night (R) Keira Knightley and Sam Worthington star in Massy Tadjedjin's drama about a married couple who are both tempted to stray when they're separated one night. Also with Eva Mendes, Guillaume Canet, Anson Mount, Stephanie Romanov, and Griffin Dunne. (Opens Friday in Dallas)
Rammbock (NR) Sebastian Achilles stars in this German horror film about a man who barricades himself in his apartment while zombies take over the world around him. Also with Anna Graczyk. (Opens Friday at AMC Grapevine Mills)
The Strange Case of Angelica (NR) The latest movie by 102-year-old filmmaker Manoel de Oliveira stars Ricardo Trêpa as a Portuguese photographer in the 1950s who has some strange experiences when he's hired to photograph a hotel owner's recently deceased daughter (Pilar López de Ayala). Also with Filipe Vargas, Leonor Silveira, Luís Miguel Cintra, and Ana Maria Magalhães. (Opens Friday in Dallas)
There Be Dragons (PG-13) Roland Joffé (The Mission) directs this drama about the Spanish saint who founds the Opus Dei movement (Charlie Cox) and his friendship with a seminary student (Wes Bentley). Also with Dougray Scott, Unax Ugalde, Olga Kurylenko, Golshifteh Farahani, Ana Torrent, Jordi Mollà, and Geraldine Chaplin. (Opens Friday)
Thor (PG-13) Chris Hemsworth stars in this adaptation of a comic-book series about a Viking warrior god punished for his arrogance by being forced to live among humans. Also with Natalie Portman, Tom Hiddleston, Stellan Skarsgård, Kat Dennings, Clark Gregg, Idris Elba, Colm Feore, Ray Stevenson, Tadanobu Asano, Adriana Barraza, Rene Russo, and Anthony Hopkins. (Opens Friday)
Arthur (PG-13) As much fun as flat champagne, this remake of the 1981 comedy stars Russell Brand as a spoiled drunken British playboy in New York who must either stay wealthy by marrying a socialite he hates (Jennifer Garner) or give up his fortune for a tour guide he truly loves (Greta Gerwig). Brand's ad-libbing yields a few funny lines, but he doesn't have the charming guilelessness that Dudley Moore brought to the original. The lack of charisma makes a fatal hole in the center of this comedy. Just as the tour guide can do better than Arthur, the female talent here can do better than Arthur. Also with Helen Mirren, Luis Guzmán, Geraldine James, John Hodgman, and Nick Nolte.
Atlas Shrugged: Part I (PG-13) No matter what you think of Ayn Rand's "I make the world better by turning myself into a super-wealthy robot" philosophy, this airless, soulless, joyless, humorless adaptation of one part of her longest novel is a rickety train ride. In a near future when oil prices have made rail travel indispensable, a railroad executive (Taylor Schilling) tries to keep her conglomerate from being taken down by corrupt government officials and cowardly labor unions. In dramatic terms, what this translates to is a bunch of people in boardrooms droning on and on. The bad acting doesn't help, nor do the low production values. Who is John Galt? Who the hell cares? Also with Grant Bowler, Michael O'Keefe, Matthew Marsden, Edi Gathegi, Graham Beckel, Patrick Fischler, Jsu Garcia, Michael Lerner, and Jon Polito.
The Conspirator (PG-13) Robert Redford's commentary on civil liberties disguised as a period legal drama is much easier to take than it should be. James McAvoy portrays the real-life lawyer who takes on the case of boardinghouse owner Mary Surratt (Robin Wright) after she's accused of helping her son and his friend, John Wilkes Booth, kill Abraham Lincoln. Perhaps because of the low budget, Redford can't evoke a sense of the mass panic that's behind the prosecution, so his movie never feels as big and important as it's meant to. As the lawyer employs every trick to try to impede an unfair legal proceeding that's bent on grinding up his client, McAvoy exhibits the tensile and cunning moral outrage that is the heart of this thing. Also with Kevin Kline, Tom Wilkinson, Evan Rachel Wood, Justin Long, Alexis Bledel, Norman Reedus, Colm Meaney, Jonathan Groff, James Badge Dale, Stephen Root, Johnny Simmons, and Danny Huston.
Fast Five (PG-13) This fifth installment of the Fast and the Furious series takes place in Brazil, where our band of outlaws (Vin Diesel, Paul Walker, and Jordana Brewster) lie low, though their idea of lying low seems to involve huge car chases and shootouts with both a Brazilian slumlord (Joaquim de Almeida) and a DEA agent (Dwayne Johnson). The attempts at humor are regrettable, and the movie gets soggy trying to portray the outlaws as some sort of family. But the climactic chase scene with two muscle cars towing a giant steel vault is nicely done. Also with Tyrese Gibson, Ludacris, Sung Kang, Matt Schulze, Gal Gadot, and Elsa Pataky.
Hanna (PG-13) What's this movie trying to say? Saoirse Ronan portrays a 16-year-old girl raised in seclusion by her dad (Eric Bana) to assassinate a sinister CIA section chief (Cate Blanchett with a Kentucky bourbon accent). The backstory emerges in dribs and drabs but never coalesces into a cracked fable about kids growing up. Director Joe Wright films this action thriller like one of the Bourne films, a distinctive approach that fails to evoke the fairy-tale atmosphere that he's going for. The onscreen talent is personable — Ronan and Jessica Barden make a nifty comedy team in the frankly hilarious middle section, when Hanna hitches a ride with a bohemian British family and becomes best friends with their pop culture-obsessed daughter. It's a delightful piece of randomness in a scattered story. Also with Tom Hollander, Sebastian Hülk, Mohamed Majd, Martin Wuttke, Olivia Williams, and Jason Flemyng.
---
Hoodwinked Too! Hood vs. Evil (PG) The sequel to an animated 2005 film that you probably forgot features Red Riding Hood (voiced by Hayden Panettiere, subbing for the original's Anne Hathaway) and her friends trying to stop a wicked witch (voiced by Joan Cusack) from eating Hansel and Gretel (voiced by Bill Hader and Amy Poehler). Some of the background gags and musical selections score laughs, but the relationships are uninteresting and the script relies on too many tired pop-culture references instead of jokes. If there's another sequel six years from now, we'll have even more trouble remembering where this one left off. Additional voices by Glenn Close, Patrick Warburton, Cory Edwards, David Ogden Stiers, Martin Short, Brad Garrett, Andy Dick, David Alan Grier, Heidi Klum, Phil LaMarr, Wayne Newton, Cheech Marin, and Tommy Chong.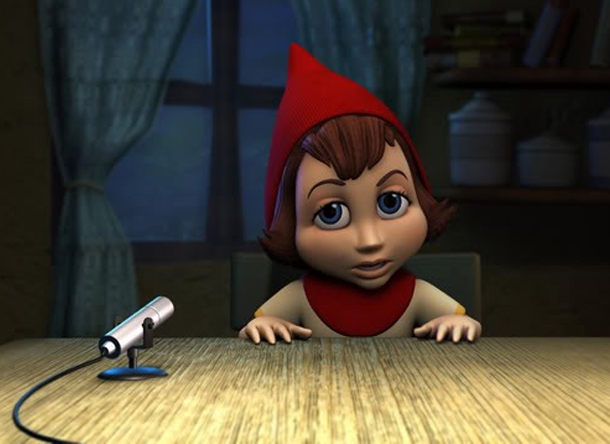 Hop (PG) This stinks like a garden full of Easter eggs left out for a month. This film that mixes CGI animation with live action starts with a nice premise: A rabbit (voiced by Russell Brand) who's about to be crowned as Easter Bunny decides he doesn't want the job and runs off to Hollywood to become a rock drummer. Yet the creative team behind the Alvin and the Chipmunks movies — that should tell you all you need to know right there — treats this with a bunch of lame punchlines and pop culture references. The human performances (especially James Marsden as a slacker guy who freaks out when a bunny talks to him) don't help, and a promising subplot about an uprising of Easter chicks goes to waste. Hop ain't hip. Additional voices by Hugh Laurie and Hank Azaria. Also with Kaley Cuoco, Elizabeth Perkins, Gary Cole, Chelsea Handler, and David Hasselhoff.
Insidious (PG-13) The director and screenwriter of the original Saw try to take on the limitations of a PG-13-rated horror flick and come up with a few good scares. Patrick Wilson and Rose Byrne play the parents of a boy (Ty Simpkins) who falls into a coma after a household accident. The couple finds strange things happening around their home even after they do the smart thing and move into a different house. The movie does great in the first half, when the sinister stuff is only suggested, but loses steam in the second half, when the horrors become more explicit. Still, the good points outweigh the bad, and if this is short of a classic haunted-house flick, it's still a worthy addition to the genre. Also with Andrew Astor, Lin Shaye, Leigh Whannell, Angus Sampson, and Barbara Hershey. — Cole Williams
Limitless (PG-13) Bradley Cooper stars in this clever sci-fi thriller about a struggling writer who finds a magic pill that boosts his brainpower to genius levels but has nasty side effects. Screenwriter Leslie Dixon and director Neil Burger adapt this from Alan Glynn's The Dark Fields, pulling surprises and coming up with a better ending. The movie works best as a dark comedy, with a slapsticky shootout at the end and the hero taking extreme measures to ingest the last of his pills. It's also a great showcase for the star, who gets to be both a confident charmer and an arrogant douchebag. The premise would collapse if not for the intelligence glinting in Cooper's icy blue eyes. Also with Robert De Niro, Abbie Cornish, Andrew Howard, Johnny Whitworth, Tomas Arana, Robert John Burke, Ned Eisenberg, and Patricia Kalember.
The Lincoln Lawyer (R) Matthew McConaughey is back in his sweet spot as a smooth-talking, morally shifty L.A. attorney who works out of his chauffeured luxury car in this throwback legal thriller based on Michael Connelly's novel. The story revolves around the lawyer defending a wealthy client accused of sexual assault (Ryan Philippe), only to discover that the guy is guilty of far worse. The dense, knotty plot takes in a huge array of characters played by actors who relish their material. McConaughey comfortably holds the center, and first-time writer-director Brad Furman does a superb job laying out all the plot twists. Also with Marisa Tomei, William H. Macy, Josh Lucas, John Leguizamo, Laurence Mason, Michael Peña, Bob Gunton, Frances Fisher, Margarita Levieva, Pell James, Shea Whigham, Katherine Moennig, Michael Paré, Trace Adkins, and Bryan Cranston.
Prom (PG) The title might lead you to expect a brooding science-fiction thriller about a killer virus that might wipe out humanity, but this is actually a comedy revolving around a senior prom that's so ridden with clichés as to make your eyes glaze over. A tiny percentage of the jokes score, but every single plot development is visible from miles away. The acting is abysmal, with female lead Aimee Teagarden among the worst offenders though certainly not the only one. Also with Thomas McDonell, DeVaughn Nixon, Danielle Campbell, Yin Chang, Jared Kusnitz, Nolan Sotillo, Dean Norris, Jere Burns, Christine Elise, and Faith Ford.
Rio (G) Casting Jesse Eisenberg as the voice of a neurotically squawking parrot is a great idea. Too bad the inspiration in this animated family film largely stops there. Eisenberg is the voice of Blu, a sheltered and critically endangered macaw who's brought to Brazil to mate with the last female of his species (voiced by Anne Hathaway) when the two birds are kidnapped by exotic pet smugglers. Director Carlos Saldanha (from the Ice Age movies) relishes the chance to set a movie in his homeland and makes the most of the Brazilian scenery, but the voice work is slack, the characters are dull, and the movie seems unsure as to whether it's a musical. The result is disjointed and bland. Additional voices by George Lopez, Jamie Foxx, will.i.am, Jemaine Clement, Leslie Mann, Rodrigo Santoro, Carlos Ponce, Tracy Morgan, Jane Lynch, Wanda Sykes, Gracinha Leporace, Sérgio Mendes, and Bebel Gilberto.
Scream 4 (R) What should be the death knell for a series that was never as funny, clever, or scary as it seemed to think. Neve Campbell is back as Sidney Prescott, now a self-help author whose return to her hometown sparks yet another series of murders for her, the local sheriff (David Arquette), and his ex-reporter wife (Courteney Cox) to solve. Both the murders and the layers of metafiction have devolved into tedious repetition, and the only new element is the unattractive bitterness from director Wes Craven toward a generation of dumb kids who'd rather watch the Paranormal Activity movies. We don't scream for Scream 4. Also with Emma Roberts, Hayden Panettiere, Rory Culkin, Marley Shelton, Erik Knudsen, Nico Tortorella, Marielle Jaffe, Aimee Teagarden, Brittany Robertson, Alison Brie, Shenae Grimes, Lucy Hale, Mary McDonnell, Anthony Anderson, Adam Brody, Kristen Bell, Anna Paquin, and Heather Graham.
Soul Surfer (PG) You wouldn't think the story of a girl surfer who had a shark bite her arm off would make for a dull movie, yet here it is. AnnaSophia Robb stars in this biography of Bethany Hamilton, the 13-year-old Hawaii native who lost her left arm in 2003 and overcame her misfortune to become a professional surfer. Director/co-writer Sean McNamara wraps the story in cozy platitudes and tries to immerse us in the world of surfing but only succeeds in confusing movie fans who don't know the jargon. The special effects are low-grade, the inconvenient emotions in the story are all dealt with too neatly, and the actors are muffled, even the ones who really should be better. (Not among the latter: Carrie Underwood in a regrettable turn as a youth minister.) Even the surfing sequences don't provide any spark. Also with Dennis Quaid, Helen Hunt, Ross Thomas, Jeremy Sumpter, Lorraine Nicholson, Sonya Balmores, Kevin Sorbo, and Craig T. Nelson.
Source Code (PG-13) An ordinary-looking Hollywood sci-fi thriller that gives way to some spectacular vistas. Jake Gyllenhaal portrays a soldier who takes part in a military science experiment, trying to find the perpetrator of a recent terrorist bombing by repeatedly reliving the last eight minutes in one of the victims' lives. Like a video game hero, every time he dies, he goes back to the last save point and pursues a different course of action to try to alter the outcome. Director Duncan Jones (Moon) takes full advantage of his first big-budget outing with bigger stars and glossy visuals, yet the movie retains an intimate feel with its small cast of characters. Even after the terror plot is resolved, the script still saves up its biggest emotional punch and the most mind-blowing implications of its plot for the very end. This is what great science fiction is supposed to do. Also with Michelle Monaghan, Vera Farmiga, Jeffrey Wright, Michael Arden, Cas Anvar, and Russell Peters.
Sucker Punch (PG-13) Zack Snyder's crazed, Moulin Rouge!-inspired fantasia stars Emily Browning as an orphaned girl committed to a mental institution by her abusive, murderous stepfather. She imagines herself and four other inmates (Abbie Cornish, Jena Malone, Vanessa Hudgens, and Jamie Chung) as dancers in a sleazy nightclub, then as soldiers carrying out missions in a fantasy world. This trashy, incoherent exploitation flick pays lip service to feminism (cartoonish male villains) while pandering to male fantasy (little schoolgirl outfits). Yet the visuals and the soundtrack are awesome, and it's fun watching some of Hollywood's least badass actresses look credible as they slice and shoot their way through medieval orcs, giant samurai, killer robots, World War I zombies, and a fire-breathing dragon. There's also a musical number over the end credits. As an empowerment fable, this is a fraud. As a stylishly surreal action thriller, it's pretty hypnotic. Also with Carla Gugino, Oscar Isaac, Scott Glenn, and Jon Hamm.
Water for Elephants (PG-13) Sara Gruen's best-selling novel becomes this intelligent but emotionally distant period drama starring Robert Pattinson as an orphaned veterinary student who joins a traveling circus in 1931 and falls dangerously for the star performer (Reese Witherspoon), who's married to the circus' cruel, capricious owner and ringmaster (Christoph Waltz). Director Francis Lawrence keeps this from dragging, and Waltz gives a terrific performance as a self-loathing, self-destructive dictator. Still, the chemistry between the romantic leads is all wet, and the movie never attains the grandeur and power that it aspires to. Also with Paul Schneider, Jim Norton, Mark Povinelli, and Hal Holbrook.
Win Win (R) The latest film by Tom McCarthy (The Visitor, The Station Agent) shows off his delightfully low-key sense of humor, ability to handle actors, shallow characterizations, and overly tidy resolutions. Paul Giamatti plays a small-town New Jersey lawyer and high-school wrestling coach who finds himself coaching a troubled phenom (Alex Shaffer, whose experiences as a real-life high-school wrestling champion give weight to the wrestling scenes). The cast is sharp, especially Bobby Cannavale as an overly enthusiastic assistant coach. Yet the movie consistently trades in broad comedy for catharsis and emotional complexity, and even the complicating touches in the characters feel dictated by convention instead of natural. This slice-of-life comedy is pleasant but unsurprising and too smooth. Also with Amy Ryan, Jeffrey Tambor, Melanie Lynskey, Margo Martindale, and Burt Young.
DALLAS EXCLUSIVES:
I Am (NR) Tom Shadyac (Liar Liar, Bruce Almighty) directs this documentary about what's wrong with the world and how to improve it. Also with Desmond Tutu, Noam Chomsky, Howard Zinn, Lynne McTaggart, John Francis, Coleman Barks, and Marc Ian Barasch. (Opens Friday in Dallas)
POM Wonderful Presents: The Greatest Movie Ever Sold (PG-13) Financed entirely by product placement and advertising, the latest documentary by Morgan Spurlock (Super Size Me) examines the role of product placement and advertising in pop culture.