Ballet Frontier came of age last weekend in Scott Theater with a striking new production of August Bournonville's La Sylphide. In just a few seasons, the company felt strong enough to present its first full-length story ballet, an 1836 cousin of Giselle not seen in Fort Worth before, and came away a winner. Lovingly staged by company director Chung-Lin Tseng and handsomely set with homegrown scenery and set pieces, La Sylphide took the company a major step forward.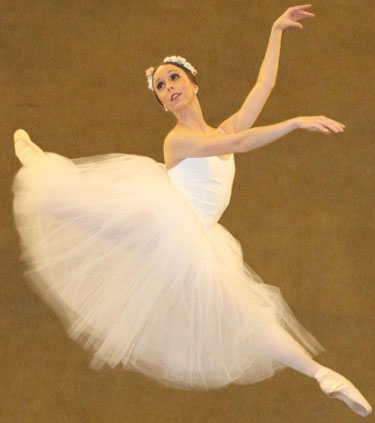 Lee Westfield designed the first-act set, a cozy interior of an old Scottish farmhouse boasting an Elizabethan plaster-and-beam ceiling along with an oversized stone fireplace and rustic staircase. A small army of volunteers must have helped with the construction and decoration. Rhonda Moore and Jeania Phillips also must have worked overtime putting together the massive number of costumes required for the extensive cast.
And the dancing was some of the best Ballet Frontier has offered. The Scottish folk dancing in the first act, featuring a corps of 18, was drilled to a fare-thee-well, and 18 nymphs in the second act were admirably in sync. The style of this early-Romantic ballet, with its languid arm movements and effortless jumps for the women, is harder to approximate than the later, flamboyant, classical style that's more familiar to modern audiences, but the ballerinas here were on the right track.
Erin Reece, in the title role, was impressive, particularly in her stationary balancing on pointe. (One can only marvel at the endurance of Marie Taglioni, the first sylph, who had no covered blocks in her toe-shoes but only extra darning in her slippers for cushioning.)
The story of La Sylphide is strange for a ballet. The title character is not really admirable. In fact, she's remarkably selfish. A forest nymph, she falls in love with James, a young man about to be married in his home, and begins to entice him away from his intended, a village girl named Effie, on his wedding day. As a parting shot, La Sylphide runs off with the wedding ring James is about to give his bride, which stops the wedding cold. Madge, a village fortune-teller-cum-witch, appears mysteriously and offers to tell everyone's fortune. Effie learns that she will indeed be happily married but not to James — rather, to his best friend, Gurn. In a fury, James throws Madge out of the house and runs out to find the sylph. In revenge for his rude treatment, Madge whips up a poisoned scarf and gives it to James, who in turn gives it to La Sylphide, who promptly dies. Madge cackles her triumph as James holds the lifeless spirit and sees Effie walk by with her new husband. No happily-ever-after here.
A non-dancing character role, Madge was brilliantly performed by company artistic advisor Enrica Tseng. Known for her intense acting and command of balletic pantomime in her days with Texas Ballet Theater, she was evil personified here, plotting revenge with joyous abandon. She's played crazy before. With TBT, she lit up the scenery with her Carabosse, the witch in Sleeping Beauty, and also with the lunatic in TBT artistic director Ben Stevenson's Peer Gynt.
Daniel Westfield was a strong James, an unusual role that demands no partnering. To increase the illusion of a spirit creature, and to emphasize her teasing nature, James only briefly touches the sylph at the end of their big duet, holding her waist as she bends deeply in arabesque. Otherwise there are no lifts, no supporting moves, just solo dancing as the characters move past each other. Only in death does he get to hold her, before she is carried away by her fellow nymphs.
Tessa Moore was an affecting Effie, and Paul Adams, on loan from TBT, was splendid in his first-act solo as Gurn. The music, by little-known composer Herman Lovenskiold, was pleasant enough, even though it left no tune to whistle on the way out. The music was a recording. La Sylphide ends the company's current season. The group will be seen again in November performing The Nutcracker in Will Rogers Memorial Auditorium.