Patty Shack Burgers might best be described as a hole-in-the-wall with ample attitude. Unfortunately, the place suffers from a distinct lack of external signage. Once you turn off Highway 360 and onto Avenue K in Grand Prairie, make an immediate right at the Valero gas station. The storefront that you'll quickly see is unimpressive. Inside, the place comes across as a gumbo of N'awlins swamp culture, kitschy signs, and a heaping helping of sass. (My favorite sign was "Today's Menu: Take It or Leave It.") However, the space also boasts several large-screen televisions and some of the best burgers in the area.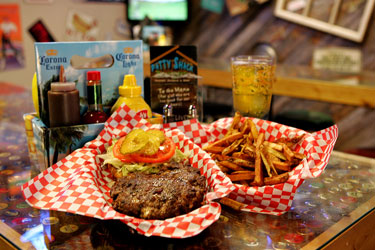 For an appetizer, the corn nuggets are an odd, delightful choice. Picture spoonfuls of creamed corn dropped into a thick, slightly sweet batter and then fried to deliciousness. They're so yummy, they're addictive.
The wings are a good deal at eight for only six bucks. The menu offers six spice levels, but be really careful. Do not, under any circumstances, get the Hot A**. No matter how much you like spicy food, don't be tempted, unless you're not partial to the upper layers of skin on your lips and the roof of your mouth. The sauce is some of the spiciest I've ever tasted. After one bite, I whimpered, looked around for milk, and, finding none, tried to soothe the fire in my mouth with some corn nuggets. Only after a few of them and half a glass of water was I able to taste again. I shoved the Hot A** wings to the side and went for the spicy barbecued ones: deliciously sweet-hot and not nearly as scorching. The mild wings were pleasantly vinegary and, blessedly, very mild.
On to the burgers. The cooks moosh the toppings into the meat before grilling. That way, the flavors get to really influence one another –– and the only things that may fall off your sandwich and into your lap while you're eating are the usual fixin's (lettuce, tomato, pickles). Select your toppings/fillings from a list of about a dozen. The Jethro was a juicy, tasty combination of bacon, blue cheese, and what the menu calls "Cajun spice." You can also order a pre-made patty or get additional, traditional toppings.
Patty Shack also features obscenely large hot dogs. The kiddie version was way too big for an actual child to eat; the Home Wrecker (grown-up size) was a half-pound all-beef hot dog served on a "homemade wiener catcher," according to the menu. We opted for a "dirty" Home Wrecker, which means our hot dog came topped with some spectacularly good chili, shredded cheddar, and diced onions –– the chili might have been better than the actual wiener. Either way, there was plenty for lunch plus leftovers.
Despite a few minor flaws, Patty Shack Burgers offers some high-quality food and fancy chain-store-ish decorations in an otherwise low-key environment. In the restaurant's own words: "If you didn't have to cook it –– and the baby ain't crying –– it's all good."
Patty Shack Burgers
510 E Av K, Grand Prairie. 972-606-6700.
Sun 11am-9pm, Mon-Thu 10:30am-9pm, Fri 10:30am-11pm, Sat 11am-10pm.
All major credit cards accepted.
Corn nuggets ……………. $4
Jethro Burger ……………. $6
Sweet potato fries …….. $2
Dirty Home Wrecker…… $6
Hot wings (8) ……………. $6